Getac, a leading manufacturer of rugged computers, today announced a portable, lightweight and feature-rich rugged tablet for field service. The Getac RX10 incorporates some of the most advanced features and specifications needed to tackle the toughest tasks in the harshest environments.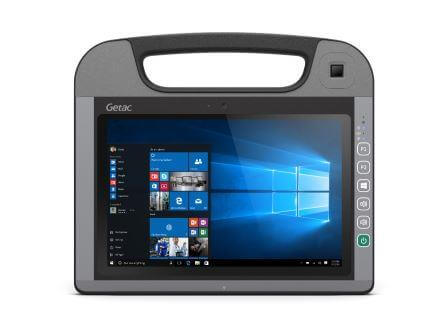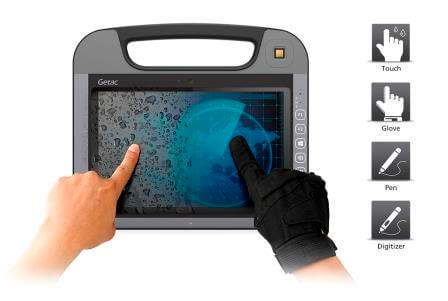 The Getac RX10 was designed with field service professionals in mind. By combining extremely fast processing speeds with energy efficiency, the device is light, and its ergonomic handle makes it easy to tote around during a full work shift without sacrificing critical features. Field service professionals are faced with ever-changing data capture requirements on a day-to-day basis, and with Getac's exclusive LumiBond® 2.0 technology, users get a brighter, tougher display with vibrant colors and higher contrast for easy readability, even in direct sunlight. The SnapBack add-on accessories also provide enhanced functionality. The detachable rugged rubber keyboard and kickstand allow users to transform the RX10 to a 2-in-1 device, supporting data input in the field. The rubber keyboard is easy to clean and features a backlight function and IP54 dust and water protection.
"Portability and responsiveness are two critical features that field service professionals need in their rugged devices," said Rowina Lee, Vice President of Global Sales & Marketing of Getac. "The RX10 fully rugged tablet presents a form factor that is easy to transport while providing uninterrupted operation in severe temperatures."
Secure, connected and long-lasting
The Getac RX10 provides a variety of security and connectivity features essential for protecting and sharing confidential information. Its multifactor authentication includes password protection, RFID, fingerprint reader and a smartcard reader. In addition, TPM 2.0 enhances security to help keep confidential documents and information secure.
For connectivity, the RX10 incorporates Intel's wireless AC 7265, which delivers fast 802.11ac speeds with lower power consumption and optional 4G LTE. For vehicle deployments, the RX10 can be configured with tri pass-through antenna ports, allowing users to simultaneously connect high-gain GPS, WWAN and WLAN roof-mounted antennas for expanded signal range.
Most of all, battery life is critical to working in the field, and the Getac RX10's performance exceeds industry standards and expectations. In addition to providing up to eight hours of battery life on a single charge, the LifeSupportTM hot-swappable design allows users to swap the main battery and replace it with a fresh battery without ever shutting down apps or the operating system.
Advanced features and functions
The Getac RX10 combines a powerful Intel® Core™ M Processor for exceptionally fast processing speeds with energy efficiency and a large 10.1-inch LCD FHD LumiBond®2.0 display. Getac's proprietary technology also enhances screen sensitivity in wet environments while using a stylus, digitizer or even gloves, an essential feature for field service professionals. At just 1.88cm thick and only 1200 grams, the RX10 is light enough to tote around in a full work shift without sacrificing critical features or battery life with our LifeSupportTM hot-swappable battery technology. The RX10 includes an front-facing HD camera, 1D/2D barcode reader, USB 3.0/2.0 ports, micro HDMI port, and headphone/mic combo. Also, on the backside are an 8MP camera and POGO-style dock connector pins. The Getac RX10 was developed with the user in mind and designed to support and sustain functionality without interruption.
The Getac RX10 provides operation in temperatures as low as -5.8 degrees and as high as 131 degrees Fahrenheit, providing functionality in most field service environments. The device is independently tested and certified for MIL-STD 810G and IP65, guaranteeing the unit is built to survive drops, vibration, water, dust and extreme temperatures.
The new RX10 is available for order and will begin shipping in December 2015. The product will be distributed exclusively by Synnex Australia Pty Ltd. in the Australia and New Zealand now with the MRSP starting from AU$3,101. For more information visit: http://www.getac.com.au or contact Getac's Authorized Reseller Synnex Australia on
1300 100 104.