Certifications
Rigorous third-party testing helps Getac solutions meet high standards of ruggedness and reliability, providing you with technology that works where you do.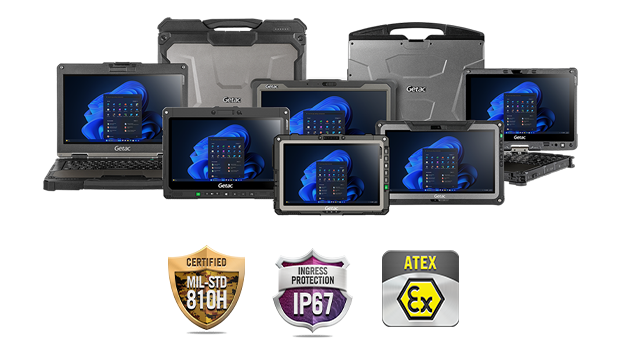 Getac Certified Rugged Tablets and Laptops
Ruggedness is essential to the many different industries we serve, with professionals performing highly demanding tasks in extremely harsh environments. Working in demanding jobs and harsh environments requires equipment that operates in extreme conditions, and our fully-rugged laptops and tablets are built to work where you do. Certified by outside testing companies, our devices can withstand extreme temperatures, drops, dust, and submersion in water, as well as working in explosive atmospheres.
Military Standard (MIL-STD) certified solutions
Military standards, abbreviated as MIL-STD, are a benchmark for products that meet specific requirements of ruggedness and readiness for extreme conditions. Developed by the U.S. Department of Defense, some of the most common MIL-STD are MIL-STD-810H, MIL-STD-810G and MIL-STD-461G. We offer rugged tablets and laptops that can withstand extreme temperatures and are shock, water, and drop resistant. We also deliver devices tested for electromagnetic emissions and susceptibility.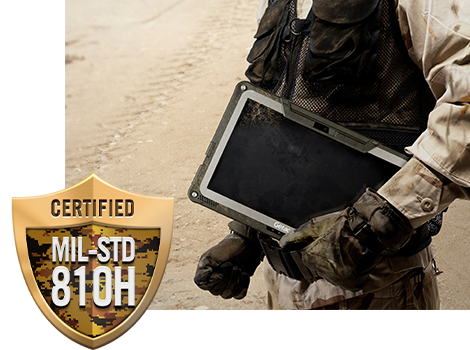 IP certified dust and moisture resistant laptops and tablets
Moisture and dust are the enemies of electronics, whether you are sitting in an office, a vehicle, or out in the field. Knowing how well your laptop or tablet is protected from water and dust is where IP ratings come in. The Getac IP65 and IP67 certified rugged laptops and tablets meet international standards for sealing effectiveness, protecting your devices from dust and moisture when you are working.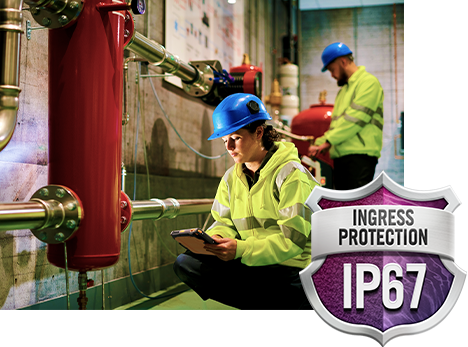 ATEX Certifications
For professionals working in industries where explosive environments may be present, ATEX or IECEx certified products are essential. Getac offers a variety ATEX/IECEx certified solutions, because work doesn't stop in hazardous locations. Find a Getac ATEX or IECEx certified rugged tablet that works for you.