Once again Defence & Security Equipment International (DSEI) has been bigger than ever and Getac have kept pace by bringing a stunning new stand to highlight the latest product developments in rugged mobile computing.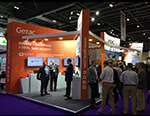 Key messages for Getac this year have been the expansion of the Getac Secure range with the F110 Secure fully rugged 11.6" tablet, expansion of the ATEX product range for use in potentially explosive environments and also highlighting how Getac products fit into a wide range of military solutions with demonstrations from software and hardware partners.
The introduction of the F110 Secure has been an important step forward for Getac, as it means that now the flagship thin and light fully rugged tablet is available, through Centerprise Internatioal, with a hardware encrypted ViaSat Eclypt solid state drive, providing CAPS approved secure data at rest up to Top Secret. In addition to the F110 Secure, Getac's partner SERBUS were demonstrating the Cryptify secure voice & data app on the new T800 Android and long-time software encryption partner Becrypt were demonstrating both Titan secure device management for Android devices on the Z710 Titan and Disk Protect for Windows devices on the F110.
Two interactive demonstrations were shown by Helyx to illustrate the potential of Geospatial data collection, analysis and application and presentation on various Getac platforms. The first demo featured a web application in which mobile units moved around a map of the ExCel Centre. The application was accessed from both the Getac X500 Server and Getac Windows F110 Tablet, highlighting Getac's credentials as a server and how this can seamlessly integrate more broadly with other Getac devices. The second demo was a storyboard which featured five maps. Getac products were also present on several other stands including CRFS, who were demonstrating the X500 Server with their integrated Radio Frequency Surveillance system, and Harris Radio, who had both the T800 and V110 in demonstration with their military communications equipment.
Overall, DSEI provided Getac with a solid foundation in which to showcase the full suite of rugged products to its desired target market, thus improving the level of brand awareness within the military sector. The scale of DSEI makes it the only event of its kind, which, hosted every two years means this a must attend event for Getac to secure and receive the recognition of being a world leader in rugged mobility. Likewise, with many competitors showcasing their products, ensuring a presence at DSEI is imperative towards Getac establishing and maintaining a position within the UK defence market.
During the course of the week, Getac and our supporting solution providers received a high level of interest in both device and solution offering, enabling us to strengthen and build on both existing and future business relationships.