Getac Technology Corporation, a leading manufacturer of rugged computers, announced a new rugged tablet designed for use in all healthcare environments. The RX10H helps medical professionals gather patient information and expedite administrative paperwork all from a single device, supporting the delivery of exceptional and efficient healthcare services.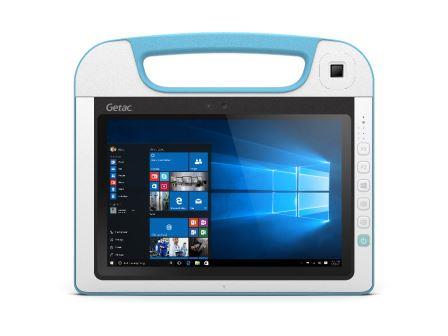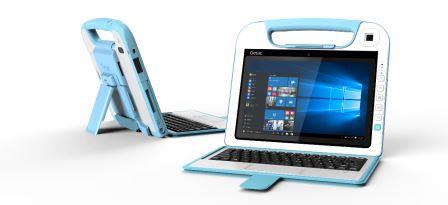 The new thin and light Getac RX10H with Windows 10 rugged tablet provides a fast, secure and sanitized way for doctors, nurses, home health providers and field EMT's (Emergency Medical Technicians) to monitor patients and quickly access a patient's electronic medical history, view test results and capture current medical data.  The Getac RX10H was designed with caregivers in mind to deliver the most reliable, multi-function mobile computing solution currently available.  This tablet will enable the sharing of vital medical information between providers and patients regardless of location. With options like a detachable keyboard, the RX10H becomes a 2-in-1 device that transforms from a tablet to a laptop instantly.  The rugged keyboard is IP54 rated, providing protection against dust and liquid spills and has the durability to withstand frequent sanitization.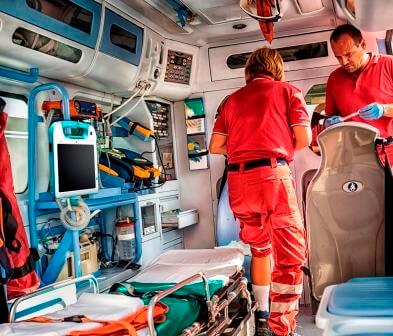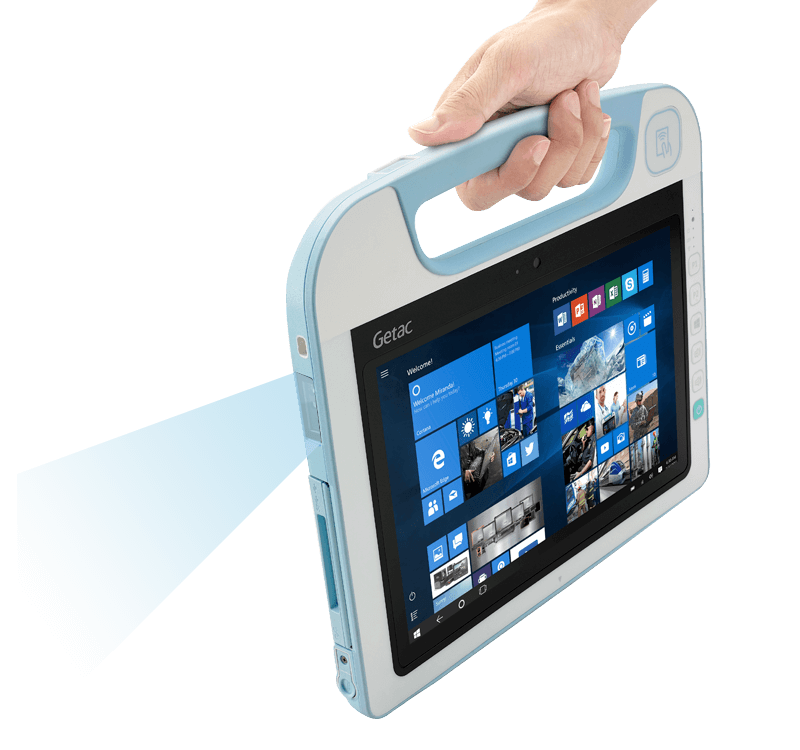 "No other market has had the technological mandates of the healthcare field," said Rowina Lee, Vice President of Global Sales & Marketing of Getac, "With the RX10H, we have designed a product to fill a much needed void in the healthcare environment, combining a lightweight, ergonomic design with the durability to withstand the tumbles and fluids a device is exposed to in the healthcare environment. The initial feedback has been incredible," Lee concluded.
In addition to mobile use throughout hospitals and medical facilities, home healthcare professionals will also find the RX10H to be an invaluable tool for collecting, storing, and monitoring patient information.  Designed with enough power to last through an entire shift of work, the RX10H comes standard with the LifeSupport™ hot-swappable battery, allowing you to replace your battery with a fresh one without ever shutting down applications or the Windows OS.
Safe, Secure and Sanitary
The Getac RX10H rugged tablet is certified to medical regulations EN/IEC 60601-1 and incorporates an antimicrobial surface to resist the growth of harmful organisms.  The RX10H has also been tested to withstand the frequent chemical sanitization that occurs in the healthcare environment.
The device offers powerful security protection for keeping patient records safe.  Its Multifactor Authentication includes password protection, RFID reader, fingerprint reader and Smartcard reader.  In addition, TPM 2.0 further enhances security to protect private health information.
Advanced Features and Functions
The RX10H weighs 1.2 kilogram and its overall design, and ergonomic handle make it easy to transport throughout a medical facility or remotely. The Getac RX10H is the industry's first dedicated medical tablet with a 10.1-inch full HD display and capacitive multi-touch screen, including use with gloves.  The widescreen display provides plenty of surface area to run Windows 10 and view any electronic medical records solution currently available.
"Getac RX10H is an innovative solution that enables healthcare workers to be more efficient and  share information more effectively, resulting in better care for patients," said Peter Han, Vice President of Worldwide OEM Marketing, Microsoft Corp.  "This device running Windows 10 offers the security and reliability that is required for these demanding professionals."
In addition, the screen incorporates Getac's exclusive LumiBond® 2.0 technology to achieve a display that is brighter and tougher while offering better contrast and crisper colors than any other dedicated healthcare tablet display available today.  Getac's proprietary technology also enhances screen sensitivity in wet environments while utilizing a stylus, digitizer, or even gloves, an essential feature for healthcare professionals.
The Getac RX10H can easily operate in temperatures ranging from -20˚C to 55˚C and is engineered to protect the tablet against four-foot drops, shock, spills, vibration, dust, and liquid.  The RX10H has been independently tested and certified to MIL-STD 810G and IP65 standards where special sealing and fan-less design prevent liquids from entering the device during cleaning or wet environments.
The RX10H is available for immediate order, starting at an MSRP of AU$2,960 and will begin shipping December 2015. If you are interested in our products or you would like to become an authorized Getac Partner, or require detailed information please visit: http://www.getac.com or contact your Synnex Account Manager on 1300 100 104.