Police: Patrol and Critical Awareness
Information is key to police critical awareness, and ultimately vital to officer safety. Getac is proud to deliver police solutions that lead to enhanced critical awareness with our fast, powerful and responsive technology.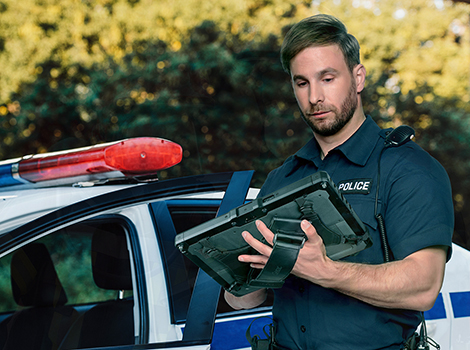 Portable public safety technology
Our tablets and convertible laptops are not only lightweight, weighing just a few pounds, but also are easy to bring with you where your job requires. The days of travelling back and forth to the station between calls to complete paperwork are in the past. Mounted on the dash, or simply used in the field, Getac solutions allow you to do your police work anywhere. With touchscreens up to 11.6" and a full-size keyboard, we have also made it easy to complete your reports onsite while retaining a physical police presence on the streets.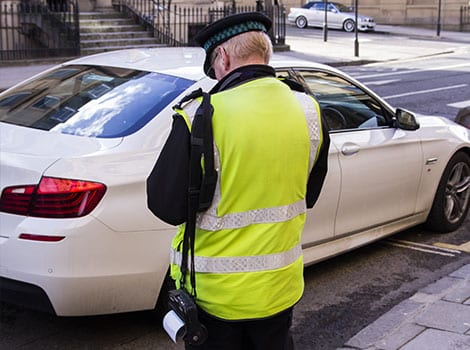 Police work and paperwork simultaneously
Increases in crime and decreases in budgets have required changes to the policing model. Officers are responsible for responding to more incidents and processing more paperwork, while simultaneously increasing information accuracy and speed. Getac solutions offer fast and powerful WiFi and advanced 4G LTE WWAN connectivity with state of the art internal antennas, enabling on-scene information collection to share vital intelligence in real-time.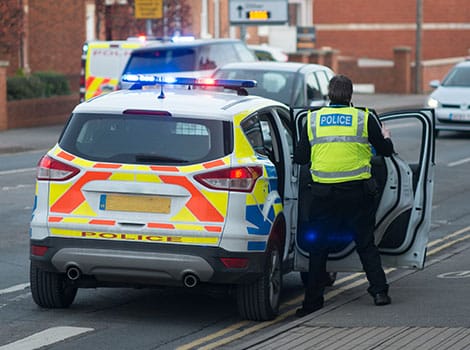 Built with officers in mind
Getac devices are built rugged, tested by independent sources, and are certified up to military standards such as MIL-STD 810H and IP67. This enables police officers to work in all environments even If attending a critical incident during the brightest of days or you have to enter information during an incident at nighttime, we have designed our equipment to cope with these demands too. Sunlight readable screens and red backlit keyboards provide a comfortable and easy data entry that won't cause your officers eyes to strain in the darkness. Our solutions are also electronically shielded so as not to interfere with other electronic equipment and have hot-swapping battery technology, which allows you to change out the battery quickly, without having to shutdown applications or the system just in case the critical incident lasts longer than expected and you are away from a charging source.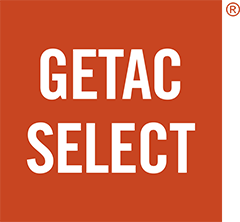 What is "Getac Select® Solutions?"
As a leader in providing rugged mobile solutions in the industry, we listen to customers and want to take our Customer Experiences to the next level. We understand the challenges in your daily business and the frustrations you may have while selecting suitable solutions to achieve your business objectives or solving these challenges. To further separate Getac from the competition, Getac now offers a comprehensive Industry solutions program, called "Getac Select® Solutions". With our years of industry knowledge and experience, and combined with our successful deployments to our customers globally, "Getac Select® Solutions" shortlists the most appropriate solution options for you to choose from.
Need a quote? Let's talk!