Digital transformation is going mobile, and tablet computers have become standard equipment in a variety of field service and front-line professions. But if the job keeps people away from a wall-plug or charging station for most or all your work shift, or if users are working in an extreme environment – they need a rugged tablet.
Why Rugged?
Standard tablets are built to be used in standard air-conditioned indoor areas (i.e., offices and homes). Even if they have a rubberized or hardened casing that resists impact, drop or occasional water spillage, these tablets will not deliver the full range of what you need them to. A rugged android tablet can deliver more on the following:
Extreme Tolerances. Rugged tablets are built for extreme cold, summer heat, rain, snow, dust, impact, and other environmental stresses with the right certifications (MIL-STD-810G/H and IP65/IP66 minimum).
Brighter Screen. For a tablet to be viewed in broad daylight, the screen must be brighter than would be required indoors. The average tablet delivers a maximum brightness of about 450 nits. It falls short of what is needed for clear readability and viewability under direct sunlight. This is more pronounced if users consider heat generation and power consumption such brightness. A rugged tablet can deliver a brighter image without straining itself.
Long Operation. A rugged tablet can guarantee full-shift operation, either through special high-capacity batteries, a dual-battery setup (enabling battery changeout without device shutdown), or both.
Built-For-Purpose Features. Rugged devices can offer more productivity features for frontline work. These can include a built-in barcode scanner, a smart card reader, a stylus for document signing, or the ports and software needed for legacy compatibility.
Enhanced Security Standard tablets may offer security features that come with the operating system. Frontline workers may have special needs, which could include rapid unlocking in emergency situations, webcam privacy, and data management. Rugged devices are built for this reason.
Rugged Android Makes Sense
As a mobile-first operating system built to run on mobile-first hardware, the benefits of the Android OS complement those of a rugged tablet. Here are more reasons to consider Android-powered rugged tablets:
Affordability. Android as an operating system is inherently excellent value. Mobile-first chips and graphics hardware can make it a better value by lowering the capital expenditure required for a rugged tablet deployment.
Less Power Consumption. Another benefit of Android's mobile-first hardware and software is power efficiency, which can translate to a full-shift battery life in the right rugged device.
Fast Intuitive Operation. As a mobile-first OS designed for one-touch or "few-touch" convenience, Android works well in frontline and emergency response situations. It is quick and easy to learn since most users are already familiar with the OS in consumer applications.
Variety & Freedom. Android gives users access to millions of ways to enhance productivity through Google Play. It is also an open operating system, making it easy for developers to create new apps. Android likewise has good compatibility with Bluetooth technology.
File-level Encryption (Android 11). Android 11 brought an extremely useful upgrade for rugged tablets: file-level encryption. This eliminates the need to encrypt and decrypt an entire storage drive. This enables users to enjoy the highest levels of data privacy and security currently available.
Android may be mobile-first, but mobility should not have limits. Even as Getac's first Android-powered rugged tablet models, the ZX70 and ZX70-EX 7" devices, proved popular with customers for their fully-rugged tolerances and full-shift battery life, Getac encountered growing demand for something more. These requirements included comparable resilience, portability but with a larger screen, more versatility, and a more comprehensive set of productivity features.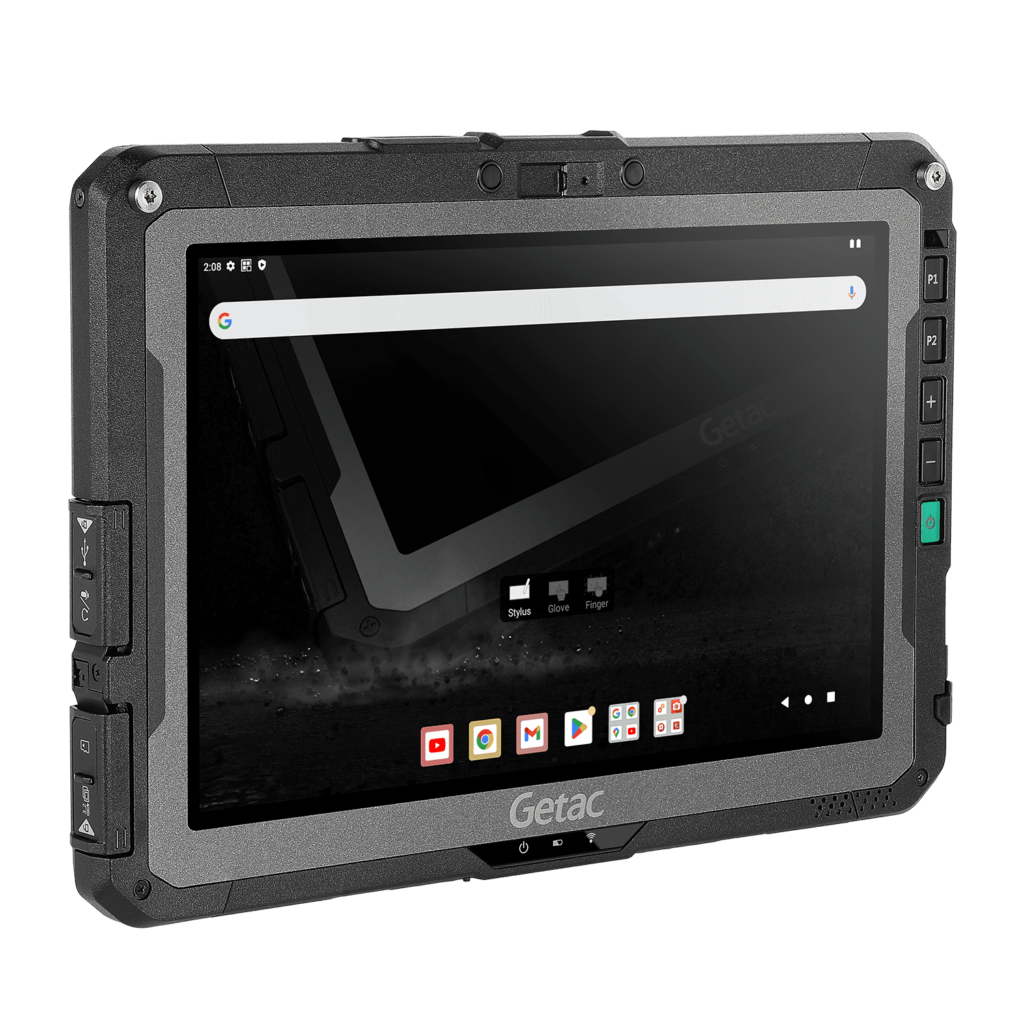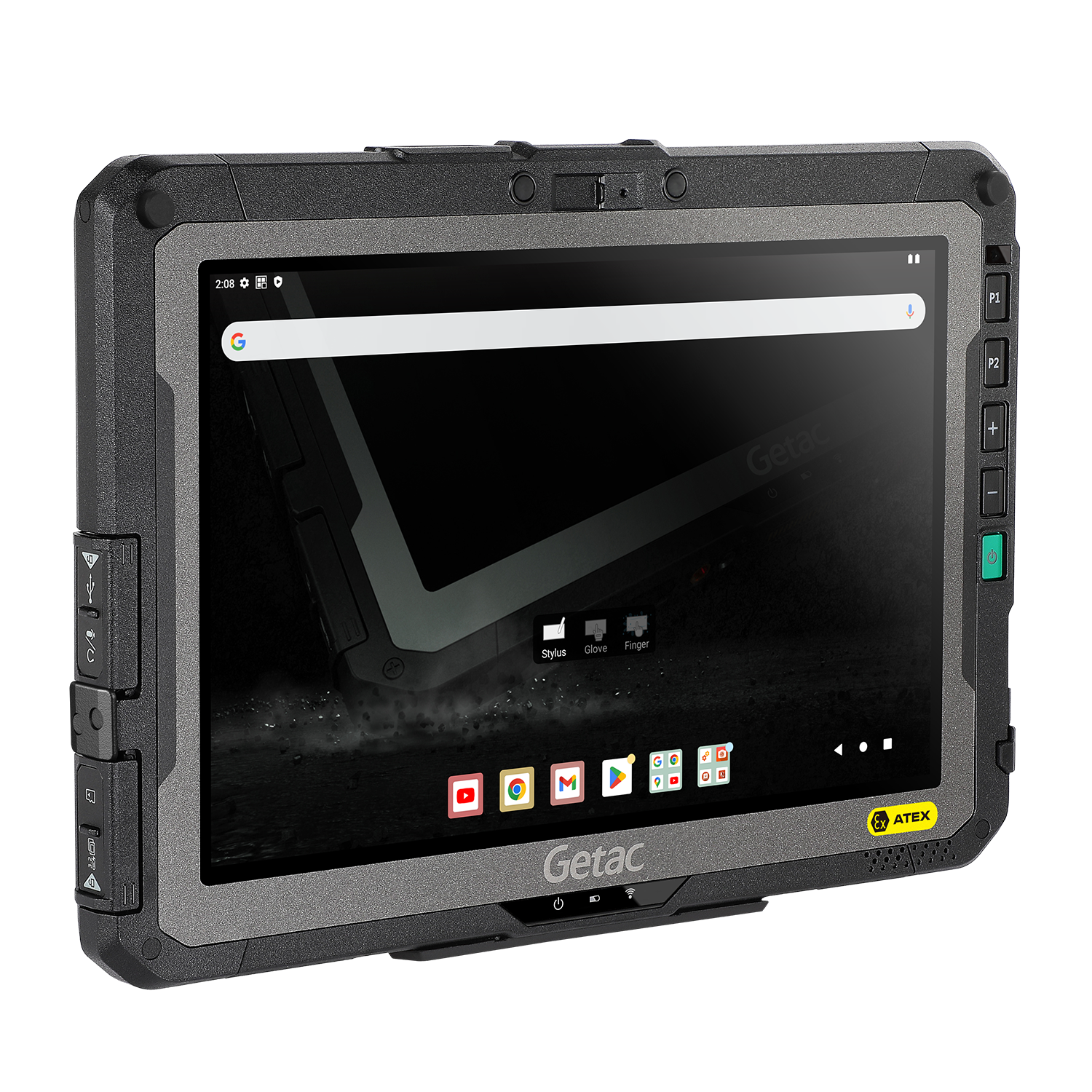 Getac ZX10: Rugged Android Versatility
The ZX10 is Getac's newest and largest fully rugged tablet to feature the Android 11 operating system. It combines all the benefits of rugged with the benefits of Android into a slim but highly versatile profile. This fully rugged device is well-suited for video conferencing, remote guidance, information capture, and online documentation.
See More
The ZX10 features a spacious 10" sunlight-readable touchscreen, powered by Getac's proprietary LumiBond® technology. This enables an image of superior color, contrast, and clarity, as well as easy document reading and signing (via stylus, glove, or bare finger) in the cold, sunlight, or rain. And with its best-in-class front/rear (8MP/16MP) camera combo, with front-camera privacy shutter, the ZX10 provides excellent photos and video capture.
Do More
Under the hood, the ZX10's Qualcomm Snapdragon 660 mobile platform with Adreno™ 512 GPU delivers a seamless useless experience. Dual 4G-LTE SIM card capability enables easy switching between mobile carriers. Dual hot-swappable batteries are also standard, enabling uninterrupted operation well into overtime, with diverse productivity options also available. ZX10 has an integrated industrial-grade laser barcode scanner, a smart card reader, and an RFID reader.
Go Farther
The ZX10 is certified fully rugged to MIL-STD-810H and IP66 standards, with a slim (less than one inch thick) and comfortable form factor. It is configurable for a variety of custom straps and harnesses with an optional hard handle (with multi-notch orientation). These portability features enable users to use the device in a diverse variety of frontline scenarios.
Speaking of versatility, the ZX10 works well in the following industries and scenarios:
Emergency Medical Care
In healthcare, first responders such as EMTs and ambulance workers are able to save lives when getting prompt access to patient identification, insurance information, and electronic patient health records (ePCR). The ZX10's dual-SIM capability enables easy access to this information, via CBRS or standard LTE. The optional barcode, RFID, and smart card reader aid ID verification and procedure checking, thereby ensuring patient confidentiality.
Energy
Workers in the energy industry increasingly rely on remote support during the inspection and maintenance of assets. With the ZX10's dual LTE SIM connectivity, best-in-class front/rear camera combo, dual noise-canceling microphones, and dedicated GPS, they can interact and share information with colleagues around the world in real-time to get tasks right the first time.
Logistics
In the logistics industry, warehouse employees and forklift drivers often track and move items from cold storage to summer heat or heavy rain (and vice versa). The ZX10's rugged tolerances assure seamless transitions between environmental extremes without damage or disruption. The optional barcode/RFID-reader and programmable buttons make identification and processing work faster and easier.
Utilities
When carrying out geographic information system (GIS) mapping, onsite repairs, or other outdoor activities, utility engineers need an always-connected, work glove-usable device. Moreover, it needs to have a dedicated GPS, a full-shift battery life, and fully-rugged tolerances to weather stresses or extreme conditions. The ZX10 delivers on all these requirements.
Getac Goes the Extra Mile
The ZX10 is available with Getac's industry-leading three-year bumper-to-bumper warranty, which covers normal accidental damage it might encounter. It is also available as part of the Getac Select industry solutions program, which covers tech and accessory procurement, pre-configuration, software integration, device management, professional services, lifecycle support, and much more.
Learn more about the ZX10.