Railroad Management
Railroad management involves the operation and maintenance of complex systems that span vast areas in extreme weather and industrial conditions. Increasing demand for safety and security is driving requirements for better surveillance, maintenance and inspection. This involves the upkeep of thousands of miles of track and hundreds of trains as well as the installation of computing solutions that can survive in these environments. Other applications, such as worker collaboration by remote video, can also make a significant contribution to safety. Getac's solutions for railroad applications provide a solid platform for the professionals that keep railroads working efficiently and safely.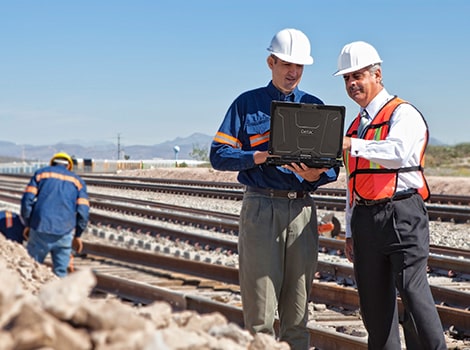 Natively Rugged
Computing solutions for the railway sector face two big challenges; surviving long-term operation on trains and harsh outdoor environments. Getac solutions are inherently rugged, certified by international third parties to MIL-STD 810G and up to IP65. They thrive in extreme weather conditions and withstand impacts, vibrations, harsh temperatures, humidity, dust, and drops up to six feet.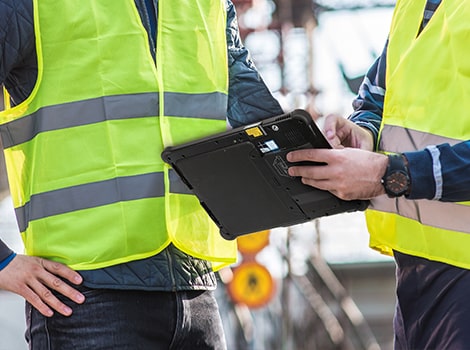 Enhanced Connectivity with 4G LTE
Connectivity is vital for a railroad management solution. With dedicated GPS, 4G and IEEE 802.11ac Wi-Fi, our solutions help professionals in their work. If the Wi-Fi network fails, the device can seamlessly switch to another connection type, allowing for continuous operation.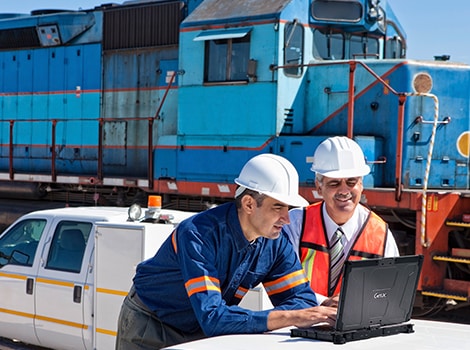 Sunlight-Readable Touchscreen
Professionals involved in railroad maintenance, management and inspection spend significant time outdoors. Our LumiBond®2.0 display technology delivers improved touch control (with gloves and also with a digitizer pen or a stylus), and provides a display that is highly readable in areas with very different lighting conditions, with better contrast and crisper colors both indoors and out. Rain or shine, our devices' highly readable screens help professionals access the information they need.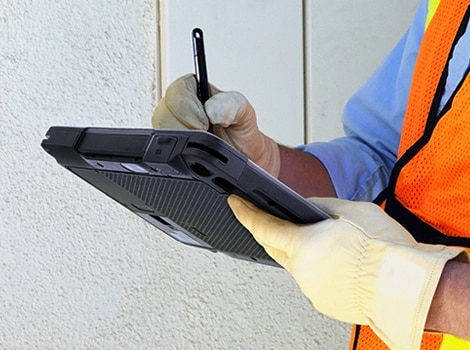 One-Handed Operation with Digitizer Pen
Getac's mobile solutions include rugged tablets that deliver critical service work instructions and diagrams in the hands of railroad technicians when conducting train and track inspections or handling tasks in trains and stations. Our digitizer pen (optional) and stylus help replace pen and paper for record-keeping, while the devices' cameras render many verbal descriptions unnecessary, thus making data easier to capture and transfer.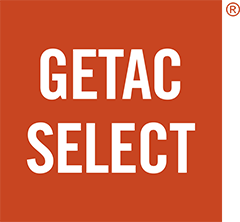 What is "Getac Select® Solutions?"
As a leader in providing rugged mobile solutions in the industry, we listen to customers and take our customer service to the next level. We understand the challenges in your daily business and the concerns you may have while selecting suitable solutions to achieve your business objectives. Getac now offers a comprehensive industry-focused solutions program, called Getac Select® Solutions. Combining our years of industry knowledge and our global deployment excellence, Getac Select® Solutions collates the most appropriate solution options for you to choose from.
---