Getac Rugged Mobile Computer Decontamination
The following procedures help to protect your employees, equipment, and the community.
WHO Recommendations and General Guidelines
The World Health Organization (WHO) offers general guidelines for cleaning surfaces. These are considered best practices for the prevention of coronavirus and other viral respiratory illnesses in office, community, and house settings.
WHO recommendations and general guidelines:
Ensuring your workplaces are clean and hygienic. Surfaces and hi-touch areas need to be wiped with disinfectant regularly.
Using 70% ethyl alcohol to disinfect small areas between uses or sodium hypochlorite at 0.5% (equivalent to 5000 ppm) for disinfecting surfaces.
Getac Cleaning Guidelines
Wear disposable gloves made of latex when cleaning and disinfecting surfaces.
Remove cables, close all port covers & doors to prevent solution ingress.
Power off your notebook and tablet before cleaning and unplug the power cord along with other connected devices.
It is recommended to use an Isopropyl Alcohol 70% and 30% water solution.
Use a clean cloth to dry the surface. Do not use materials such as paper towels or toilet paper.
Extra attention should be given to screw holes, unflattened areas, strips, and finger touchpoints. Unplugged cables should also be wiped down.
Although our rugged products are IP65 rated, please do not spray any sanitizer liquids directly onto the display, cooling vents, or keyboards. Use a dry cloth or cleaning wipes as previously recommended.
Ensure the disinfected surfaces are thoroughly dried before turning the device back on after cleaning. Wait until there is no visible moisture on the surfaces of the product before powering it on.
Clean your hands after removing your gloves.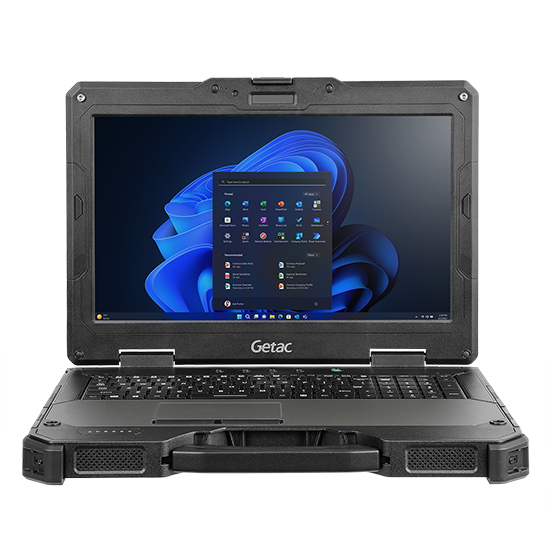 Recommended Disinfectants
Getac selected some of the most common disinfectants and tested them. The test procedures covered the device, not the accessories. A robotic arm swiped each device 10,000 times at a pressure of 1kg/cm2. Below is the portfolio of Getac products that have passed the sanitization tests and remain fully functional.
 
Tablets
Laptops
Active Ingredients
A140
F110
K120
T800
UX10
ZX10
ZX70
B360,
B360 Pro
S410
V110
X500,
X500 Server
X600,
X600 Pro
Diisobutylphenoxyethoxethyl dimethyl benzyl ammonium chloride 0.28%
✓
✓
✓
✓
✓
✓
✓
✓
✓
✓
✓
✓
✓
✓
✓
✓
✓
✓
✓
✓
✓
✓
✓
✓
Dimethyl ethylbenzyl ammonium chlorides 0.125%
Dimethyl benzyl ammonium chlorides 0.125%
✓
✓
✓
✓
✓
✓
✓
✓
✓
✓
✓
✓
70% Isopropyl Alcohol
✓
✓
✓
✓
✓
✓
✓
✓
✓
✓
✓
✓
Sodium Hypochlorite 0.55%
✓
✓
✓
✓
✓
✓
✓
✓
✓
✓
✓
✓
Under normal operations, Getac devices that were sanitized with the above solutions and others with the same active ingredients were found to maintain full functionality. Getac does not endorse any specific commercial sanitizer or manufacturer nor guarantees its effectiveness.
This site does not provide any medical or health care advice. The medical or health care information contained herein is completely relayed from the authority for general information only and is not a substitute for professional advice. Accordingly, before taking any actions based upon such information, we encourage you to consult with the appropriate professionals. The use or reliance of any medical or health care information contained on this site is solely at your own risk.