Construction Laptop: Rugged and Reliable for the Job Site
The construction industry is facing a growing number of pressures. Tight deadlines and budgets and the need for better collaboration are just a few.
Team members need the right technology to keep up to meet the scale of work and cooperation required.
Rugged laptops are proving to be the answer.
Laptops streamline processes and communication, simplify approvals, and help construction industry professionals stay on top of high-stakes responsibilities in dangerous environments.
We have rugged laptops and tablets suitable for construction sites to help you connect, evaluate, record, and communicate.
Getac S410
The S410 notebook is a tool for many jobs, delivering more power, more mobility, more connectivity, and more capability than ever before.
With a brighter screen, more storage, super-fast data transmission, and up to three batteries, the semi-rugged S410 enables a superbly productive workday.
Its robust security and easy-to-swap design eliminates the hassle and worries of vertical users.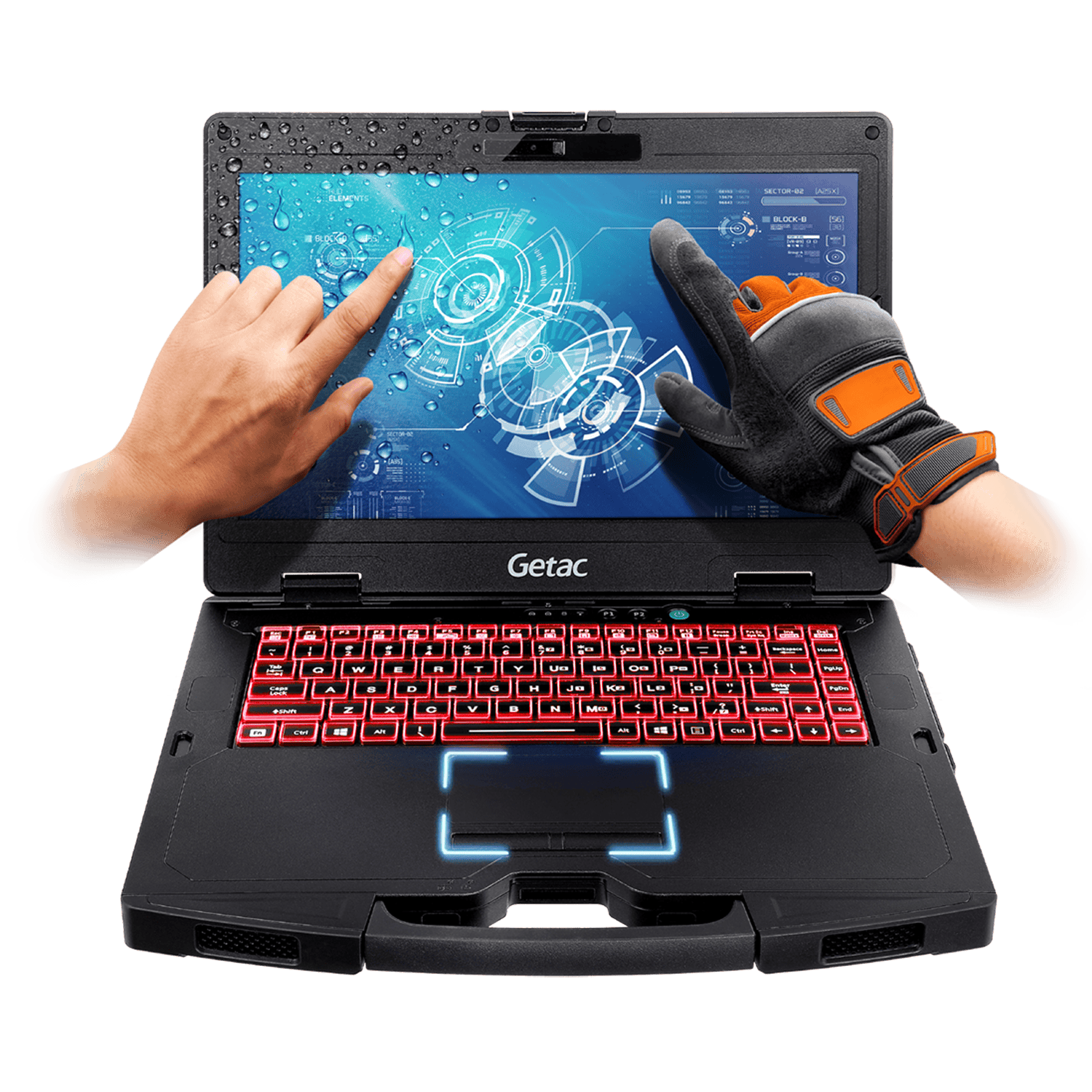 The S410 is built to go mobile and stay mobile like never before.
Its brilliant screen (up to 1,000 nits) ensures daylight viewing outdoors and when mounted in vehicles, while an optional third battery makes sure that the increased screen brightness does not compromise the battery life our customers have come to rely on.
A wide operating temperature range (-29 °C to 63 °C) maintains productivity in all environments and next-gen Wi-Fi 6 connectivity enables faster and more reliable wireless transmission than ever before.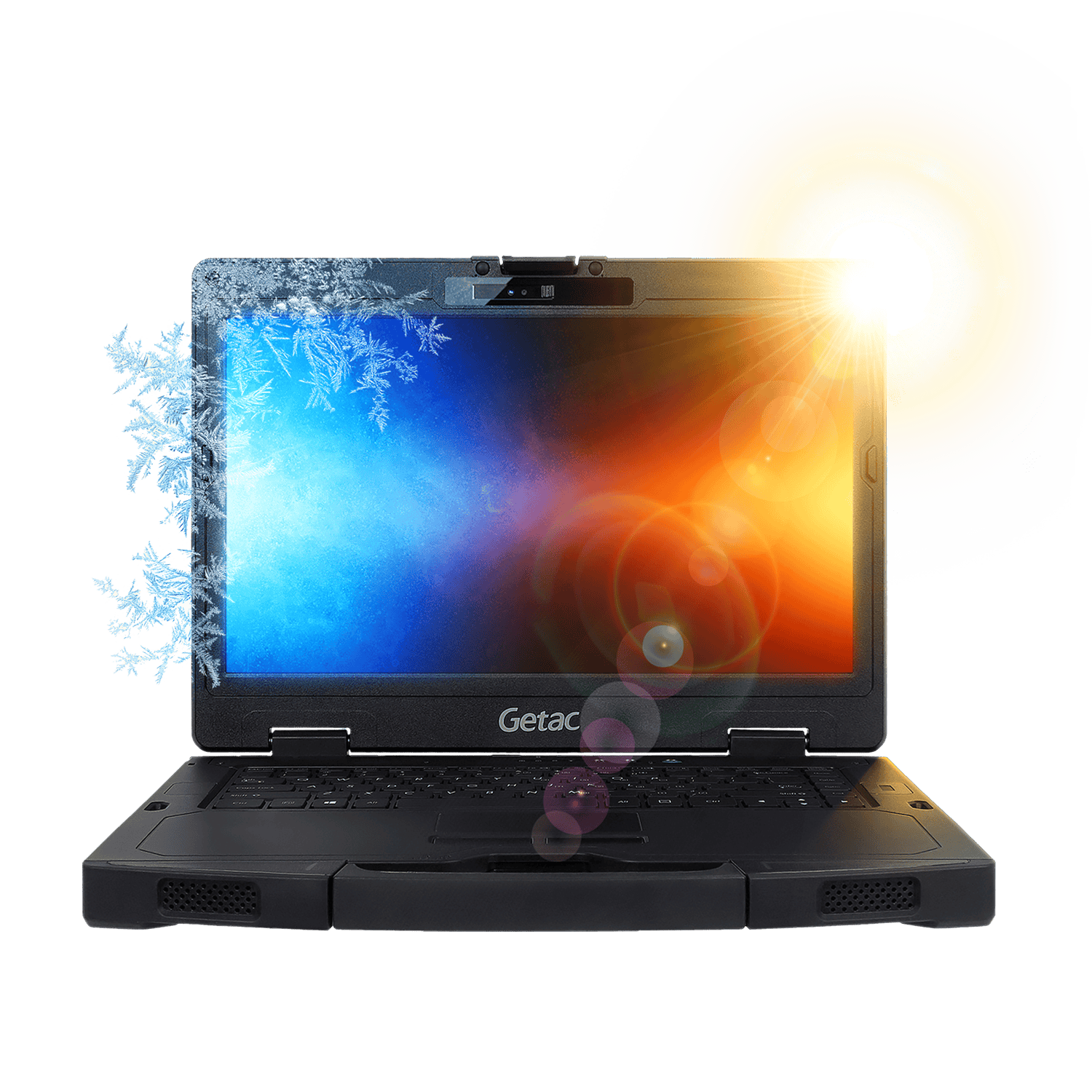 Greater Comfort - Bright Screen
The S410 is designed to make work less like work, and to work the way you work.
Its new and brighter 14-inch, 1000 nits screen makes for very easy reading under direct sunlight, while its diverse touchscreen input options, including fingertip, pen, or glove, minimize your chances of being caught without the right input tool.
And in the absence of ambient light, the S410 offers a backlit keyboard, coupled with our new larger touchpad, which minimizes potential mistypes and other input errors while working in the dark.
In an era of Agile Operations, Digital Twins, and the Internet of Things (IoT), you need a tool that can process, store, and transmit, very large amounts of data without breaking a sweat.
The S410's latest-generation Intel® Core™ CPU can carry out multiple computationally-intensive tasks simultaneously, while its removable PCIe NVMe Solid-State-Drives (SSD) can load, save, and transfer data at very high speeds.
Thunderbolt™ 4 compatibility makes it easier to share data with other devices, and advanced wireless connectivity, including Wi-Fi 6, Bluetooth 5.2 and optional LTE-Advanced, can keep the S410 in touch with a diverse variety of IoT devices.
The integrated Intel® Iris® Xe Graphics also brings high efficiency for graphic consuming tasks.
Nothing says quality like a manufacturer standing behind their product.
We've designed the S410 rugged notebook from the inside out to survive drops, shocks, spills, vibrations,s and more.
We're confident in our build quality, and that's why the rugged S410 comes standard with a three-year warranty. It's the peace-of-mind protection of knowing you're covered.
Getac B360
Ready to perform when you are, the fully rugged B360 is your next-generation portable computing powerhouse.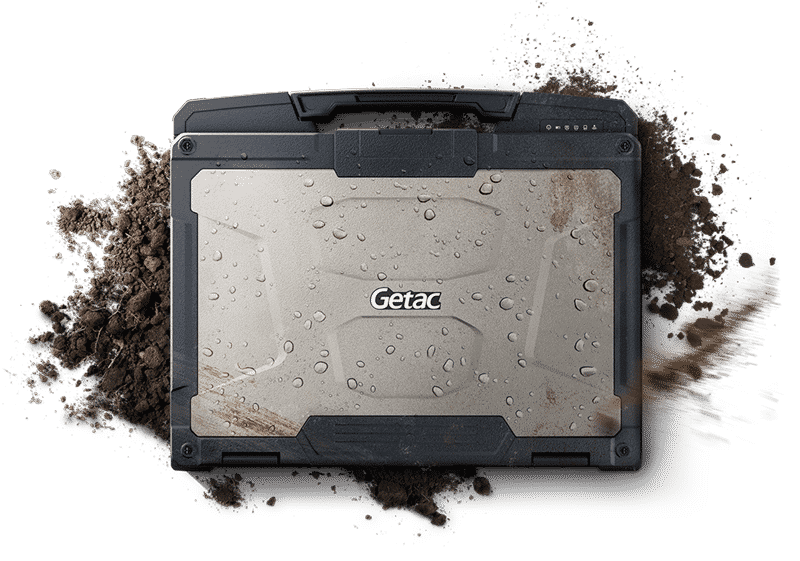 Sleek and strong. Portable and Powerful.
The all-new B360 delivers lightning-fast response through 10th Generation Intel® Core™ processor and Intel® UHD graphics. This fully rugged laptop is light, portable, and meets the rugged certifications. Built for extreme conditions, the B360 is reliable and ready for work.
Engineered for survivability in extreme conditions, the B360 will stand up to rain, dust, shock, and vibration, and has an optional salt fog certification.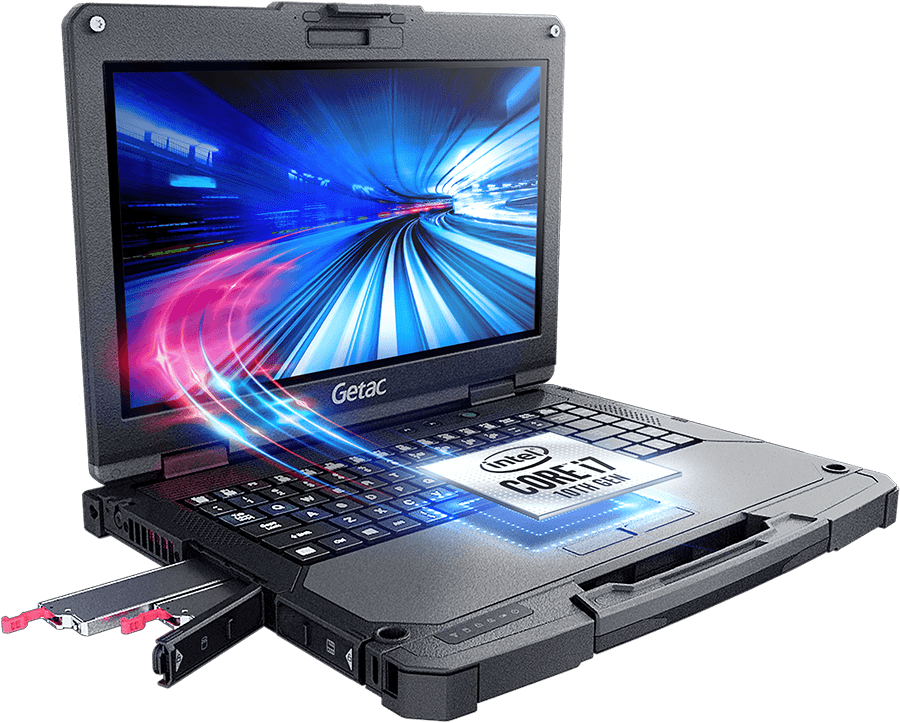 Your ever-changing environment needs a machine that can adapt. The B360's touchscreen display responds seamlessly to a diverse range of touches.
Complete with LumiBond® 2.0 Technology, the capacitive touchscreen is responsive to a finger, pen, or glove.
FHD LCD display provides crisp readability on our energy-efficient and super bright display. Get a clear image at night and in direct sunlight regardless of outdoor light levels.
The B360's sunlight-readable solution boosts brightness up to 1400nits, giving the B360 one of the brightest multi-touchscreen on the market.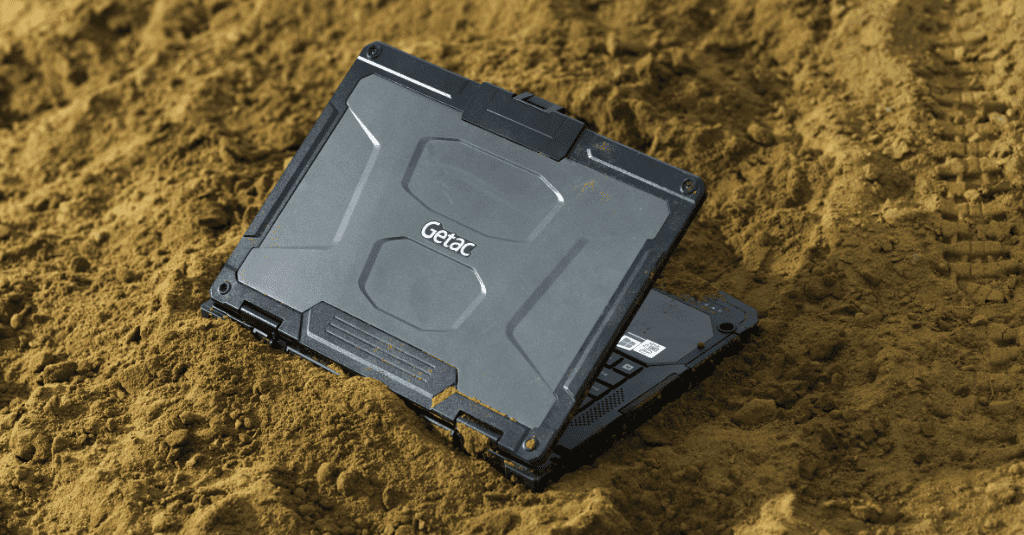 A lightweight and portable device
Cumbersome equipment can put undue strain on workers in already stressful conditions.
The nature of the job requires your team to carry their mobile data terminal. Getac helps to lighten their load with a portable computer that will work with them–not against them.
The B360 easily transitions between vehicle and field operation. This solid and fully rugged laptop weighs in at only 2.32kg (5.11 lbs). Its compact size saves space when docked in-vehicle or stored in a compartment.
In-vehicle solutions include rounded corners for safety, portable performance in demanding environments, and easy connecting through I/O port replication at the docking station.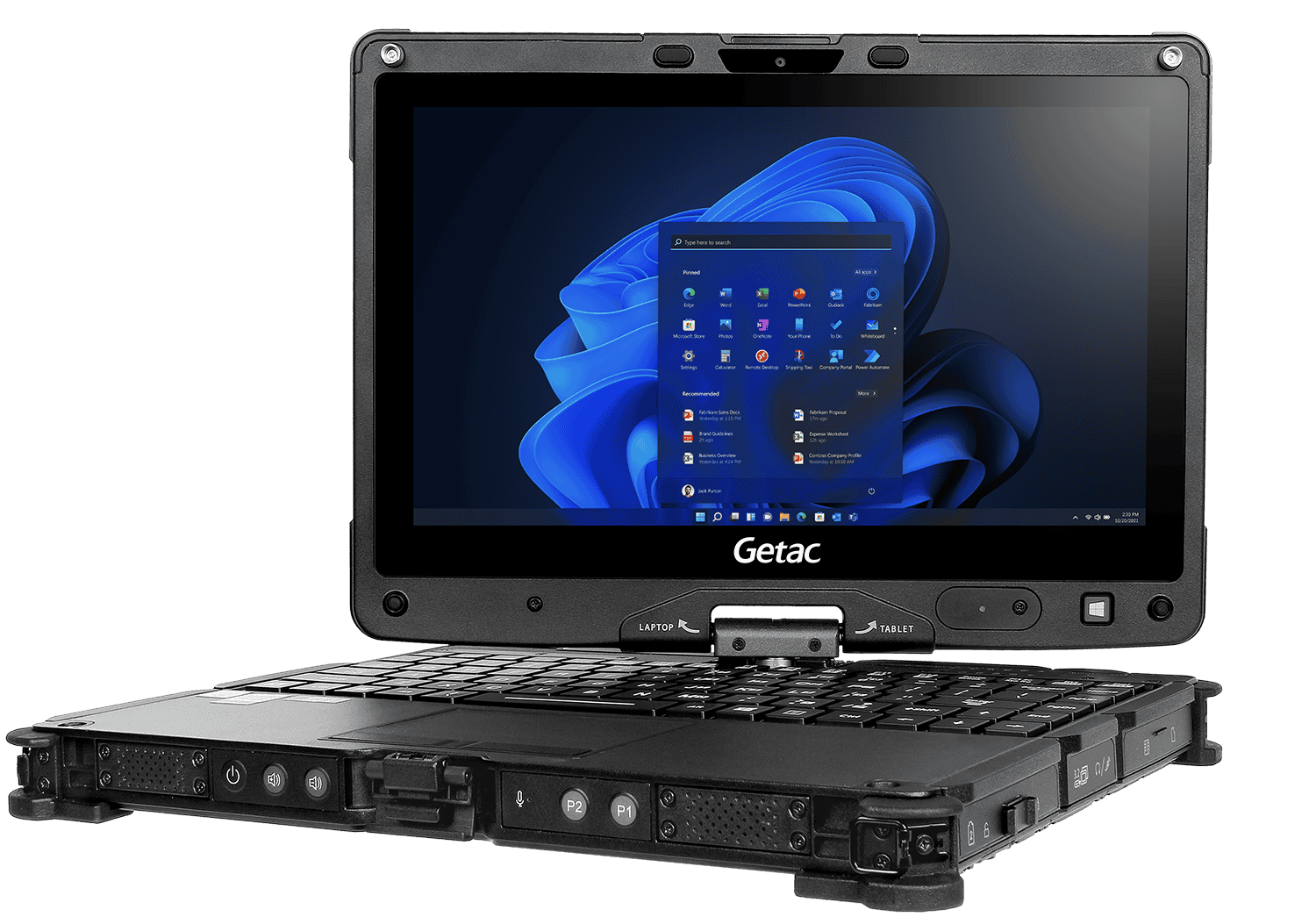 Getac V11O
A lightweight, rugged laptop for construction with an 11.6-inch display that can transform to offer tablet mode to fit different user scenarios.
Brilliant 11.6 Large Display
The V110 features a large 11.6" display that utilizes LumiBond® technology for incredible clarity both indoors and outside in direct sunlight.
The 11.6" widescreen display is ideally suited to providing plenty of real estates to run Windows and your apps on.
The V110 is built to perform, featuring a powerful 12th generation Intel® Core™ processor, flash storage, and responsive graphics. It's the fastest rugged laptop we've ever built.
Dual Battery for long-lasting Power
The V110's unique, hot-swappable dual-battery design allows for potentially everlasting, uninterrupted battery life. This enables you to remove one of the two rechargeable batteries and replace it with a fresh battery without ever shutting down apps or your Windows OS.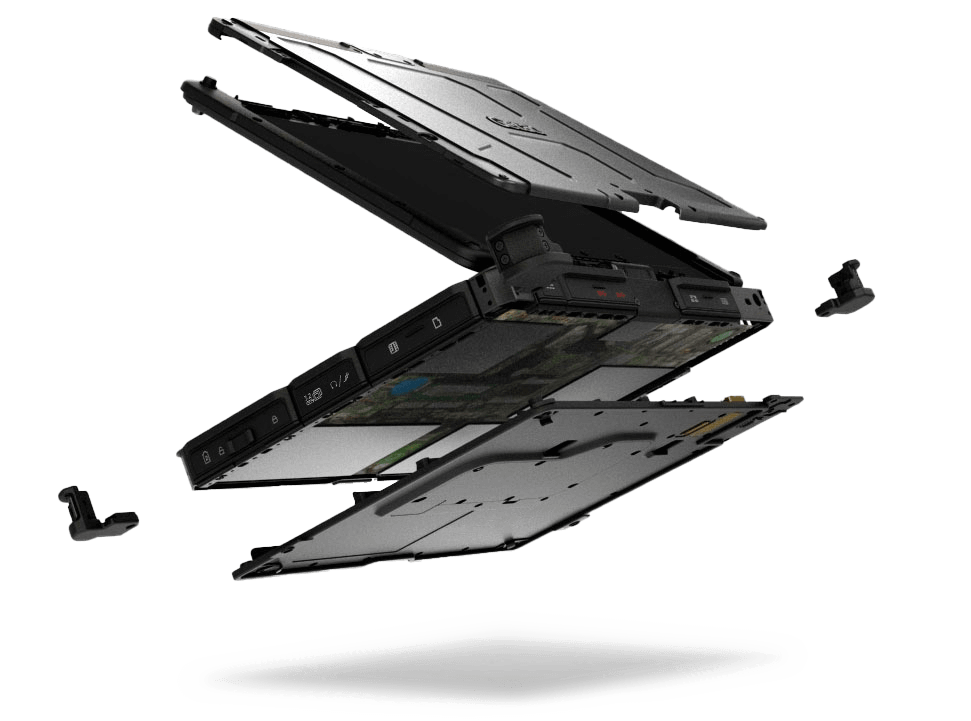 Getac F110 - Tablet
Getac is a dedicated rugged device specialist, with our new F110 built to exacting standards. Its fully-rugged chassis is now even more resistant to shock, spill, vibration, and drop resistance without damage or disruption.
Military-grade certification, with the new MIL-STD-810H standard, guarantees extreme and improved temperature operability from -29°C to +63°C (-20°F to 145°F), with its ingress protection has also been upgraded with the new IP66 rating, guaranteeing complete resistance to dust, and improved water tolerance.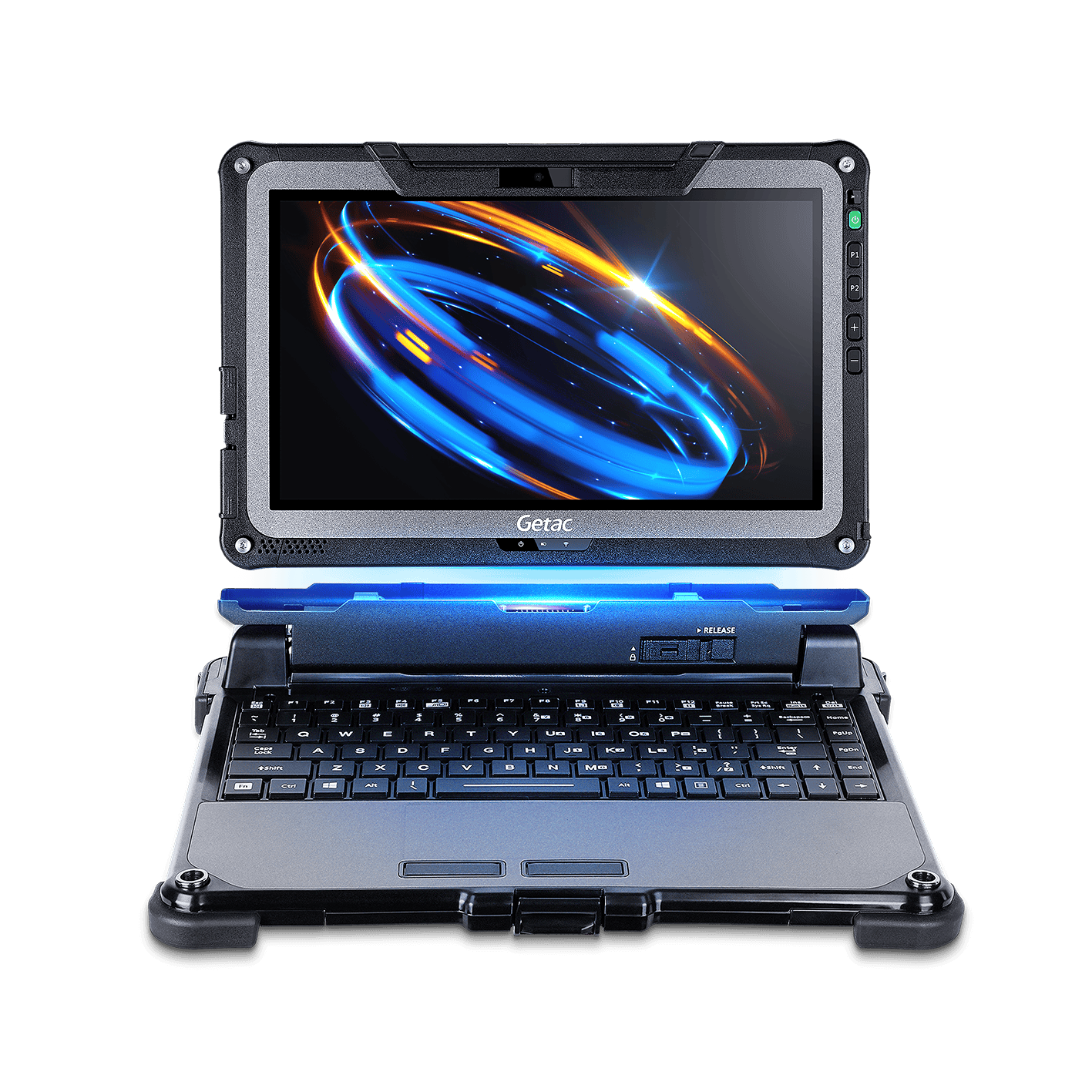 Work Friendly Accessories
The F110's custom accessories, all designed and manufactured by Getac, include an office dock, rotating hand strap with kickstand, and a new detachable keyboard, offering the ease and comfort of typing without compromising ruggedness or mobility.
The detachable keyboard docks via a Pogo Pin connector on the bottom of the F110 tablet, allowing you to easily transform the tablet into a laptop without reliance on extra tools or accessories.
Featuring red back lighting, 88 full-size keys, and an integrated touch pad, the keyboard allows for a user-friendly, laptop-like operation to minimize mistakes and increase the efficiency as you perform data-intensive tasks.
The new fully-rugged F110 offers an office computer's power and functional diversity without compromising a tablet's slim form factor and easy vehicle-mounted operation. Its 11.6-inch screen delivers a very comfortable touchscreen or split-screen experience, while cutting-edge connectivity enables a superbly productive workday.
The new F110 delivers more power, enhanced data storage, improved battery capability, and faster connectivity, minimizing your workday's wait time, lag time, and downtime. Its 11th-gen Intel® Core™ Processor with integrated Intel® UHD Graphics can handle anything a tablet might be asked to do, while its new PCIe Solid State Drive (SSD) reads and loads nearly five times faster than its predecessor.
Getac UX10 - Tablet
The UX10 is a new level of ruggedness, certified with the IP66 and military-grade MIL-STD 810H standards. It resists water, dust, salt, vibration, and will withstand temperatures from -29°C to +63°C (-20°F to 145°F), and a 6-foot (1.8m) drop while operating.
In a world where devices must work 24/7, 365 days a year, power-up continuity is essential, and for portable devices, that means a focus on battery configuration. The UX10 offers a range of battery configurations and options, including an optional high-capacity battery and an optional bridge battery that ensures a 'hot swap' capability. In effect, you need never power-down the UX10*, making it an ideal solution if you need a device that can be pooled among workers or utilised across multiple work shifts.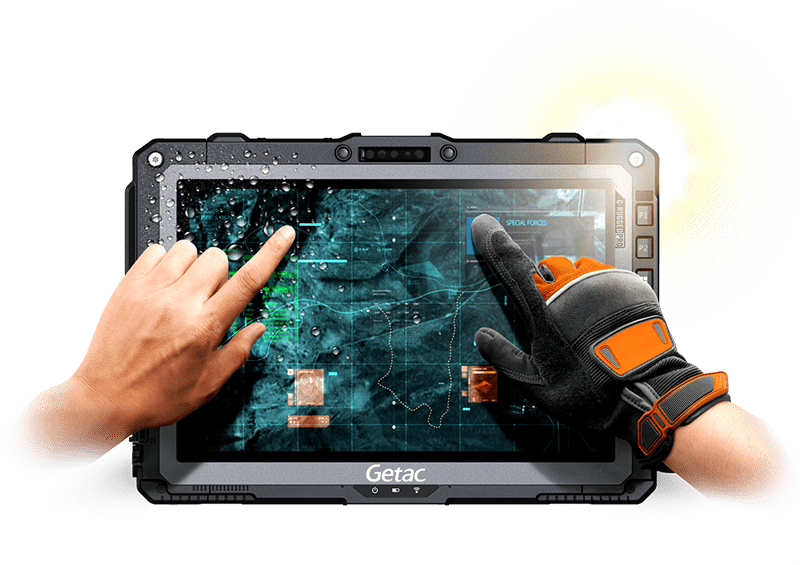 Paired with its superior drop resistance and temperature tolerance, the UX10's LumiBond® screen ensures usability in all conditions. 1000 nits of brightness make the display readable even in sunlight, while it's rain and glove touch capability guarantee visibility and productivity even in many extreme conditions.
Supporting seamless digital transformation, the UX10 offers digital connectivity through Bluetooth 5.3, Wi-Fi 6E AX211, and optional 4G LTE, ensuring a stable connection even in highly congested environments. An optional RS232 port supports legacy equipment, and an optional RFID reader allows information feedback into the management system. All these functionalities ensure that the UX10 stays connected wherever you need it, whether indoors or outdoors.
Laptop Like Featuring 4-level red backlighting, 82 full-size keys and an integrated touchpad, the keyboard dock allows for a user-friendly, laptop-like operation to minimize mistakes and increase the efficiency as you perform data-intensive tasks. It also carries a variety of I/O ports for connections to peripherals and other devices.
Its Double-locking mechanism strengthens the tablet-keyboard connection and prevents the keyboard from accidentally falling off. It also features a retractable handle that can be pulled out to create a stable base, allowing the tablet screen to be safely tilted back for comfortable viewing.
What to look for in a rugged laptop for construction?
The industry needs rugged laptops for improved worker productivity on construction sites.
The minimum requirements for laptops for construction site are that they need to be durable, fast, and reliable always.
Here are additional features to find the best laptop computer for construction.
Some construction operations run around the clock, so the last thing a team needs is a low or dead battery.
The very best laptops and rugged laptops will be able to keep up with 24/7 projects with long-lasting excellent battery life and other technical solutions to prevent interruptions on the job site.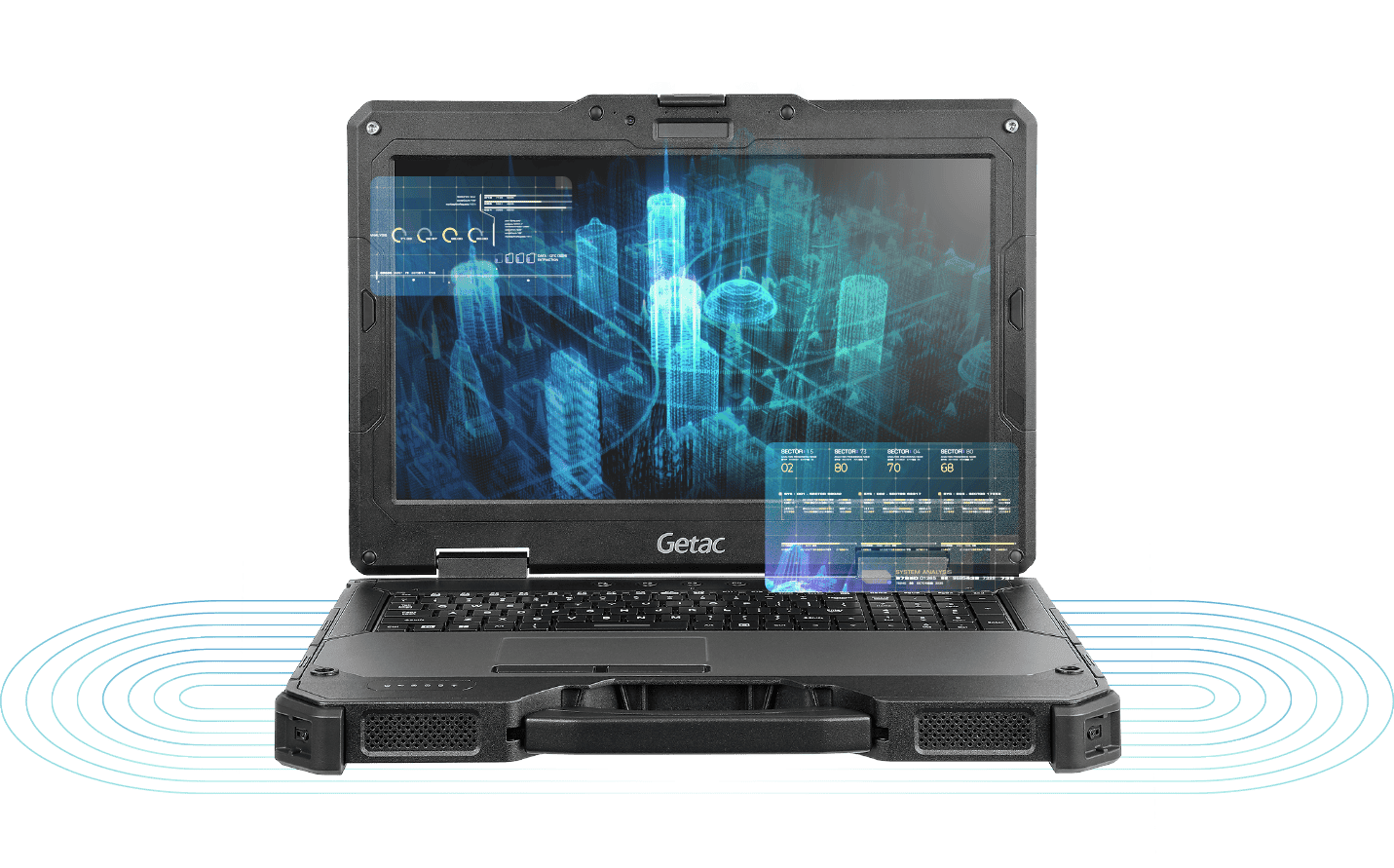 All-Day Brightness - Extra Bright Displays
Laptop screens must also be easy to read and use all day without harsh glare. Construction requires workers to be outside in all weather conditions, including bright and sunny days and stormy, overcast days.
Rugged laptop screens need to be made from quality materials to clear the images without draining much-needed battery life.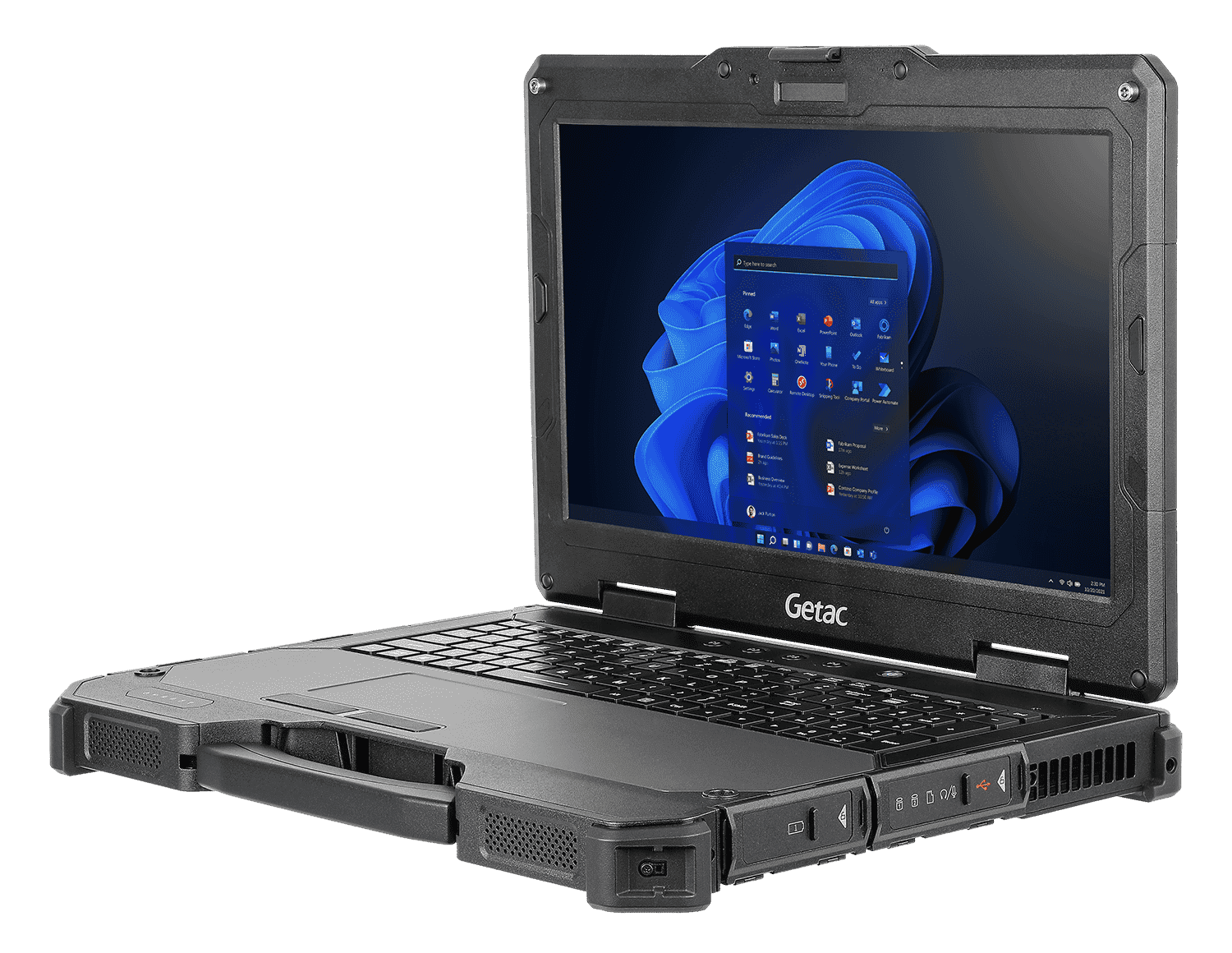 Laptop screen sizes vary, but for onsite construction, a larger screen size is often best so that workers can view details, get the complete picture, and discuss on-screen elements with others.
Sometimes a smaller screen size is sufficient, but It's best to find the right balance between portability and visibility, which often falls under a 9×13 inch screen.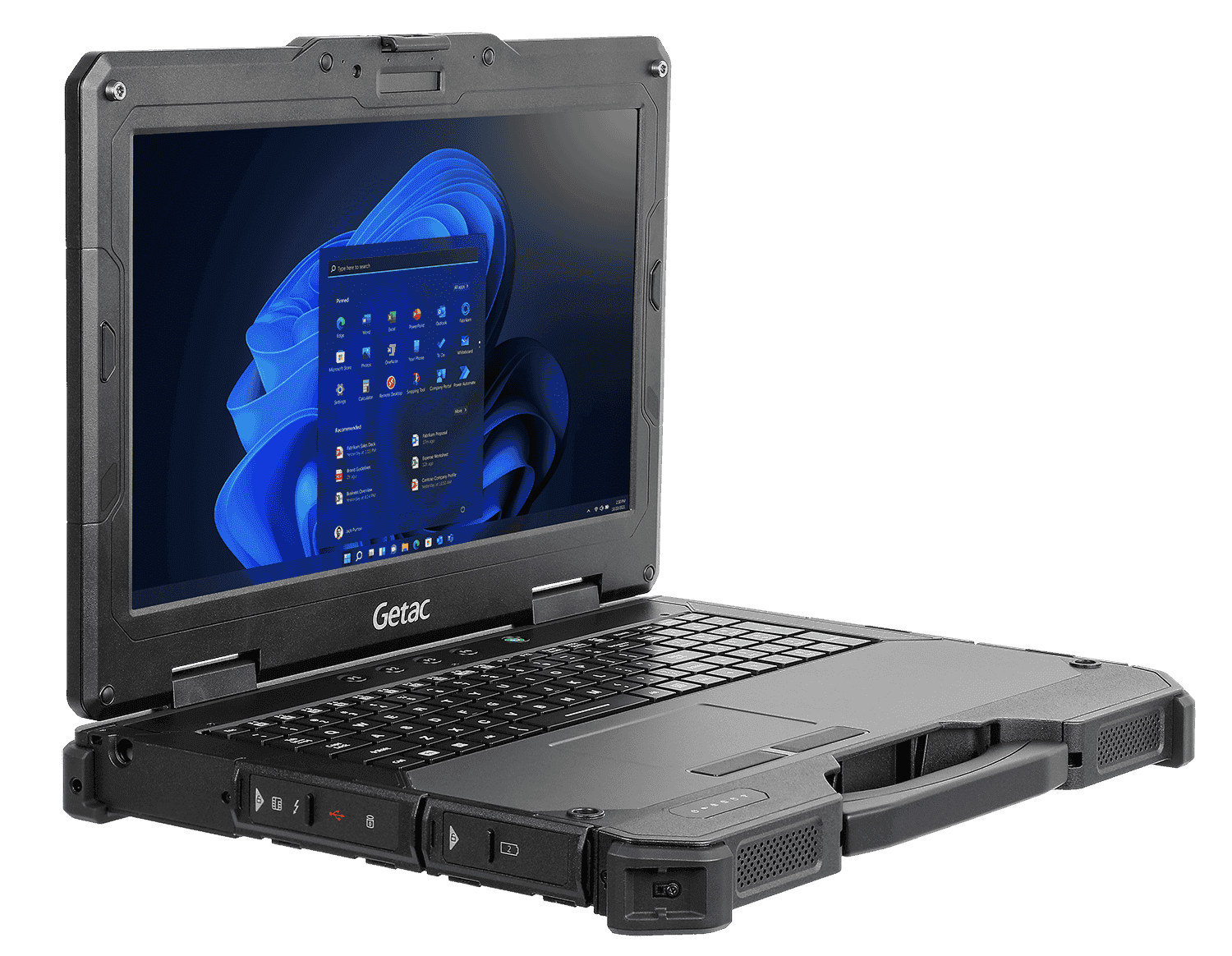 A rugged laptop alone isn't the only item necessary for onsite work.
Finding the safest and easiest ways to implement laptops into a construction environment is critical for any job.
That's where rugged accessories come in. Rugged Laptops accessories like straps, styluses, stands, and others separate a construction laptop from consumer-grade off-the-shelf devices.
Laptops must withstand harsh weather, dusty environments, and extreme temperatures.
If a worker drops a device while on a construction site or the wind stirs up dust regularly, well-designed hardware on a good laptop back can protect both the laptops and the data.
Why use rugged laptops for construction management?
Rugged laptops can enable greater efficiency for any construction company, saving time and money.
Beyond primary benefits, rugged tech is becoming an industry standard, making them more and more essential onsite.
Using rugged laptops and other tech upgrades to increase your bottom line is the future of the construction business.
The need for technology in new construction methods
How construction happens today is changing.
3D printing of homes is gaining some traction. Kit of parts construction, where parts of a unit are built offsite and assembled on-site, is also becoming a popular way of saving on labor costs and increasing efficiencies through modular design.
In addition, the materials used for construction are themselves changing as the industry faces increasing pressures to move toward sustainability.
Processes like building information modeling (BIM) are becoming an integral part of the construction industry.
They allow all project stakeholders to work together with the same plans and information from design to construction to government inspection and approvals.
Accessing these data points on the job site is becoming increasingly necessary for the construction management teams.
Only Getac designs and manufactures its rugged laptops down to the chassis. Our expertise in magnesium alloy and impact-resistant polymer manufacturing allows us to build a quality rugged computer that can withstand drops, bumps, and other impacts while remaining lightweight and mobile.