Modern-day policing comes with a lot of digital gear; in-car cameras in the front and rear, 360-degree cameras around the vehicle, body-worn cameras, microphones and more. That technology collects a magnitude of data and Getac Video Solutions' VR-X20 solid-state storage is powerful enough to process all the collected information in one device. This rugged solution captures superior video quality, comfortably supports six to eight cameras, and when compared to other hard drives in the field, it's loaded with extras. Here are six ways the VR-X20 stands out from the competition.
1. Purposely Built to Exceed the Needs of Law Enforcement
The VR-X20 has a built-in backup battery, crash sensors, GPS and uses the latest Intel® Core™ i3, i5 or i7 chipsets, all in one compact device.
"Our DVR has many components built into it compared to some of our competitors that require additional add-on devices at extra costs," said Kaleb McDaniel, Getac Video's Lead Solutions Architect.
The latest Intel® Core™ i3, i5 or i7 chipsets provide the power behind the DVR, processing information from multiple cameras and pushing the data through to the server and command center in real time. The built-in backup battery keeps your gear fully functional in case of a collision or a dead car battery.
The crash sensor is unique in several ways. While most sensors require mounting an additional device in the center of the car, the VR-X20 can be installed anywhere in the vehicle and still detect a crash. "We are in a unique position," said McDaniel. "We have an accelerometer and gyroscope built into our device, and it can be calibrated based on how the DVR is mounted." Using g-forces, the DVR can detect a crash if, for example, there is an immediate change of 2 g's.
Additionally, the VR-X20 has several inputs and outputs. According to McDaniel, these are sensors fed into and out of the DVR based on different triggers such as weapons release or lightbar activation. These triggers capture extra metadata, which can be used in a variety of ways. For example, if a police cruiser was in a crash, the GPS from the DVR could be used to see how fast the car was traveling and what the road was like, while brake sensors could be looked at to see if the brake was appropriately applied. The amalgamation of the metadata can provide insight into an officer's driving habits or can help decipher what happened leading up to an event from the officer's perspective.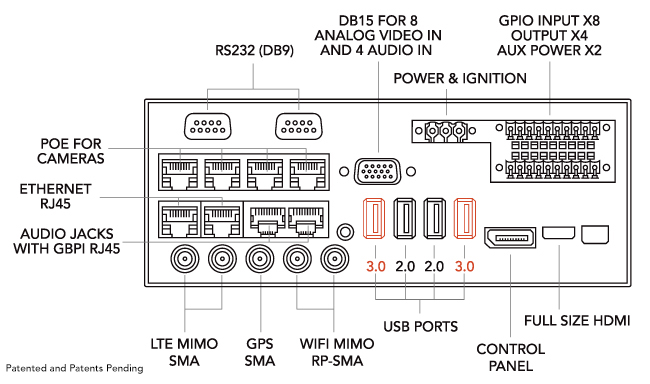 The VR-X20 also has built-in AC Wireless, which currently is one of the highest frequency ranges supported on major access points or routers, according to McDaniel. The DVR has AC Wireless radios built-in, which allows for wireless communication, data offloading and wireless connection to vehicle routers. If a department chooses to be hardwired or use an ethernet connection, the DVR also has the capability to connect to the internet and communicate with the server. AC Wireless provides communication, data transfers and server communication, which supplies real-time awareness and live streaming
2. LTE SIM Slot
The VR-X20 has a SIM card slot for either AT&T or Verizon to connect the DVR and the server. This card allows for live streaming and uploading of data from the field to the server. "LTE gives users a lot more control and vision on how their devices are out there serving the community from the perspective of administrative capabilities," said McDaniel.
One of the most popular police cars on the road today is the Dodge Charger Pursuit and the VR-X20 can seamlessly integrate with the latest release for the Charger's Uconnect® screen. Typically, the DVR is controlled using a 5-inch HD Display, which isn't necessary if you're driving a Charger. Instead, the Uconnect® screen controls the DVR.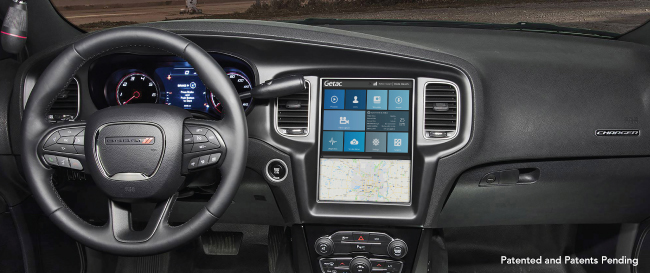 "I would say that is a unique separator between ourselves and others right now," McDaniel said. "No one else can do this regarding specific Dodge Uconnect® and DVR integration."
4. Rugged, Robust, and Configurable
The VR-X20 is a rugged piece of equipment built to withstand temperatures up to 160 degrees Fahrenheit. McDaniel also shared the VR-X20's ability to withstand significant vibration, saying he has seen departments offloading data even after the police cruiser has been in a crash or taken a significant impact.

As with all of Getac Video's solutions, the VR-X20 is configurable to each department's workflow and needs. Departments can choose between the latest Intel® Core™ i3, i5 or i7 chipsets and can select what sensors they would like to trigger cameras.
5. Conserve Resources and Streamline Processes
Getac Video's newest DVR is even powerful enough for some police departments to use it as their computer to conserve resources, according to McDaniel. Instead of a separate laptop inside the patrol fleet, agencies are saving money and space by using the Getac Video DVR to record video, and they are installing their applications on it. The VR-X20 is one of the only devices that runs the Microsoft Windows operating system; this allows Getac Video to have clients install their computer-aided dispatch (CAD) systems and records management systems (RMS) on the DVR—which eliminates the need for another component such as a laptop.
6. Evolving with the Times
As policing and technology evolve, the VR-X20 is ready for technological updates such as Automatic License Plate Recognition (ALPR). ALPR is a technology that will use one or two cameras specifically for scanning and reading license plates. When a police car drives through a parking lot or down the street, these cameras would specifically scan the license plates and see if there are any hits on stolen vehicles or vehicles owned by individuals who may have a warrant out for their arrest. This technology is anticipated in the coming months, and McDaniel says the VR-X20 is ready for it.
"When that [ALPR] comes out, the VR-X20 will be ready to receive up to two DB9 inputs from an ALPR solution," McDaniel said. The power from the latest Intel® Core™ i5 or i7 chipsets enables the DVR to process the information quickly.
The VR-X20 is a purpose-built tool for your department, and its capabilities are wide-reaching. Learn more about how the VR-X20 could benefit your agency by visiting Getac Video Solutions or contacting the sales team.