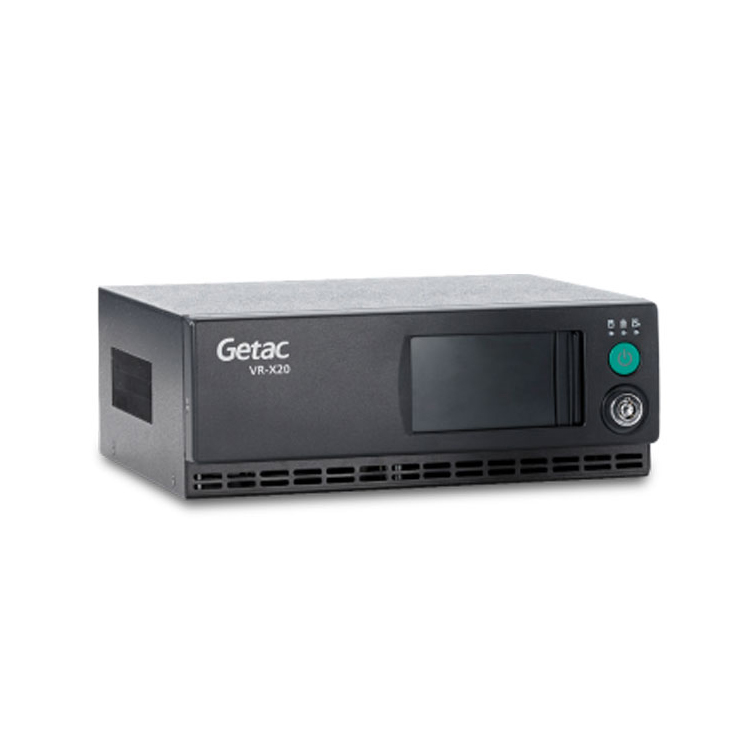 You don't get to choose where the job takes you, but you can choose the equipment you bring with. The Getac Video Solutions VR-X20 DVR captures the highest video quality and ensures connectivity, even in the most extreme conditions.
The VR-X20 acts as a powerful real-time gateway. It merges video and data from multiple sources at once and enables multi-tasking, quick response time and trusted in-field intel from the command center. The VR-X20 captures multiple camera sources simultaneously to high-performance, solid-state storage, so you can trust that you have the whole picture, not just one side of the story.
As an added bonus, with the VR-X20 you can use your body-worn camera as a microphone to reduce the number of devices you need to carry and manage.
Speed for Multi-Tasking
The VR-X20 can be configured with either the latest Intel® Core™ i5 or i7 processor, delivering an amazing level of CPU performance.
Intel® Media SDK
Integrated with Intel Media SDK for fast video playback, processing, media format conversion, acceleration of video and image processing.
Powerful, Yet Efficient
Run at 100% capacity at 160 degrees F temperatures
Backup Battery
Powerful backup battery keeps you fully functional in case of vehicle collision or dead battery.
Purpose Built Configuration
The VR-X20 no-compromise configurable options provide you with a truly "purpose-built" tool for more successful implementations.
Dodge Charger U-Connect Compatible
The VR-X20 is validated to work with Dodge Charger Displays.
LTE
Full LTE integration for a total and true all-in-one platform.
Avoid Power Disruptions
The VR-X20 has a built-in battery backup with a 20-minute power supply that will operate the system in case of abrupt power loss, accidents, and vehicle starts.
Optional Body-Worn Cameras
The Mobile Edge Platform is fully integrated with Getac Body-Worn Cameras, allowing them to offload to a Self-Host or Cloud infrastructure via the Mobile Edge.
Industries Using VR-X20 DVR
VR-X20 DVR Technical Specifications
CPU

Intel® Core i5-7300HQ 2.5GHz processor with Turbo Boost Technology up to 3.5GHz
Intel® Core i7-7700HQ 2.8GHz processor with Turbo Boost Technology up to 3.8GHz

Memory

4GB / 8GB /16GB

Storage

128GB / 256GB / 512GB / 1TB SSD PCIe only

VGA Controller

Intel® HD Graphics 630

Communications

802.11ac WiFi
Optional LTE (Standard with i7)
GPS

I/O Interfaces

2x RS232 (DB9)
4x POE top row RJ45
2x Ethernet RJ45 (bottom row two on left)
2x Audio jacks with GBPI RJ45 (bottom two right)
1x DB15 for 8 analog video in and 4 audio in
2x USB 2
2x USB 3
1x Display Port
1x Full Size HDMI
8x GPIO Input
4x Output
2x Aux Power
1x GPS SMA
2x WIFI MiMo RP-SMA
2x LTE MiMo SMA (Optional)