Law enforcement encounters challenges more complex than ever before. In addition to historic criminal strategies, a new wave of constantly-evolving digital misconduct makes police work even more difficult. Fortunately, public-sector officials can adopt advanced technology themselves.
Two examples of these solutions are rugged tablets and laptops, tools that have become essential to law enforcement officers. It is vital to get technology access to police with as little interference as possible. An important mechanism for this task is employing a police car laptop mount and docking stations. Rugged docking solutions and mounts aim to provide worry-free technology access and installation. These devices ensure police occupants' safety while freeing them up to perform critical tasks.
What is a Vehicle Laptop Mount?
It is helpful to distinguish a vehicle laptop mount from a docking station. Docking stations fix a portable, rugged tablet or laptop to an interface point via a sliding lock. Along with communicating with the police car's radio antennae, this design offers sturdy port replication to charge the mobile device.
Conversely, mounting solutions provide structural support, positioning, and hands-free technology access to the occupant. No matter how advanced the technology software is, if the mobile device is not secure, it can become a projectile.
Mobile devices prioritize spatial efficiency, making them denser per unit volume in the vehicle. In addition, failing to secure the device can inhibit a police officer from accessing the technology during time-critical situations.
Laptop Mounting Designs and Use Cases: Enabling Public Safety
There are two types of mount designs: cradles and universal trays. Cradles do not offer port replication. Their purpose is to hold the device where needed and are unique to the device. Universal trays can mount multiple devices, offering flexibility to adapt to evolving technology.
Police Laptop Mount
Selecting the best mounting strategy depends on the use cases for public safety. Law enforcement has many uses due to the high number of officers. These mounting opportunities are often familiar to many consumers:
Install the device off of the vehicle's center console for ease of access


Trunk mount with a remote screen to preserve space in the cabin


Dash-mounted, similar to newer passenger vehicle displays


Passenger seat-mounted device for ease of access
Firefighting Device Mount
Considerations for mounting rugged technology for firefighters share similar concerns with police car laptop mounts. The primary difference is the need for mounting solutions to navigate the additional equipment inside the fire truck cabin and gear the firefighters wear. Minimizing the technology footprint is paramount when responding to a fire. The mounting solution must provide the safety personnel room to maneuver and access safety equipment and technology simultaneously.
Emergency Medical Services (EMS) Mounting
EMS use cases create another layer to consider, adding to the regular use of police cars and fire response mounts. Device mounts need to integrate into the vehicle cabin seamlessly. They should also be able to navigate response vehicles' equipment and add medical-caliber cleaning concerns to the strategy.
EMS device mounts must be easy to clean to ensure the environment is sanitary for EMS personnel and recipients. In addition, the monitoring equipment must provide accurate vital signs to optimize emergency care. The mounting structure should also be easy to maintain.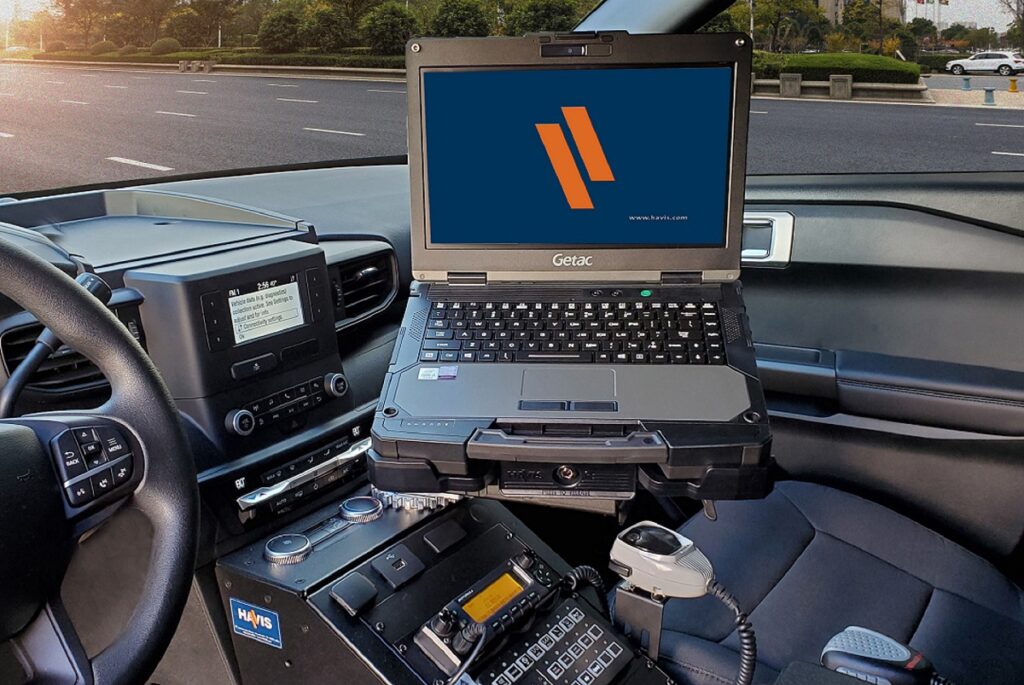 What to Look for in a Police Car Laptop Mount
There are several criteria for an optimal solution for police car laptop mount. First, engineers should pursue a convenient, easy-to-align, intuitive dock/undock experience to minimize dealing with technology. Speed and flexibility are essential for public safety workers. The mounting strategy should provide rapid, non-rigid access to technology and let officers attend to the task at hand.
Future-proofing for new and emerging technology is another consideration when deciding on a rugged device mount for public safety. Technology becomes outdated in around 12 months for some use cases. Mount designers should balance that timeframe with a 5-7 year average vehicle active lifetime and a 3-5 year device technology horizon.
In addition, designing for the known advancements permeating the market, like 5G and USB-C, are intelligent segments of a future-proofing strategy. Considering additional supercomputing form factors like handhelds and phones are also helpful.
A third consideration is port replication needs and the power path. Does the police car laptop mount need port replication to charge the device? Where will it draw its power to assure perpetual technology access while preserving vehicle range?
Engineers can utilize device connections or route a new one, depending on power needs. These device power paths should change significantly as electric vehicles enter public safety agencies.
Finally, after deciding on the technology form factor, technology refresh strategy, and power needs, selecting a mount that offers flexibility for these considerations at desired locations within the vehicle is crucial. The primary goal of the mount is to be invisible to the user while performing consistently.
Vehicle Mounting Trends and Other Considerations
The market is shifting from laptop-driven solutions to rugged tablet-based options for improved flexibility and portability. Designing the mount for [reasonable] worst-case scenarios can allow the officer enhanced freedom of movement within the vehicle cabin during mission-critical situations.
Communication between the device mount and technology is critical for always-on performance. Therefore, the mount and docking station need to guarantee constant communication between the computer and display—no matter the cabin location—to avoid intermittency that can compromise emergency response.
It is also vital to consider peripheral technology like keyboards, cameras, video, and other accessories. Selecting devices and mounts that enable accessory use (or addition over time) assures connection robustness in an ergonomic design. This is to maximize the technology ROI with a minimal cabin footprint.
Rugged Solutions and Integration With Advanced Mounting
Havis offers versatile, high-performance rugged docking and mounting solutions for mobile workers in demanding environments. Havis has developed an intelligent cable management system that provides seamless docking and undocking after installation.
There is a high innovation rate in technology in concert with vehicle electrification. It is wise to prioritize flexibility and adaptability when designing police car laptop mounts.
Integrating technology into the vehicle enhances public safety workers' performance when they need it most for law enforcement, firefighting, and EMS solutions.
Planning and selecting the right mounting strategy now, with an eye on likely potential future advancements, is the best way to maintain high-performance levels efficiently for service agencies.
In the latest episode of the Getac Podcast: All Things Rugged, we discussed Havis docking solutions and vehicle mounts. Listen to the pod and let us know what you think!