Police Car Computer: Law Enforcement Solutions
Patrol and Situational Awareness - Alerting Police on Patrol Cars.
Police teams count on data to maintain public order.
Getac computers support many multi-factor authentication options to quickly identify the user and unlock data without delay, cost, or distraction.
Getac's demountable computers and excellent connectivity are ideal resources for on-scene information collection, video, and real-time intelligence exchange.
Rugged Computers Used in Public Safety
Getac V110
A compact and lightweight laptop with an 11.6-inch display that can transform to fit different user scenarios.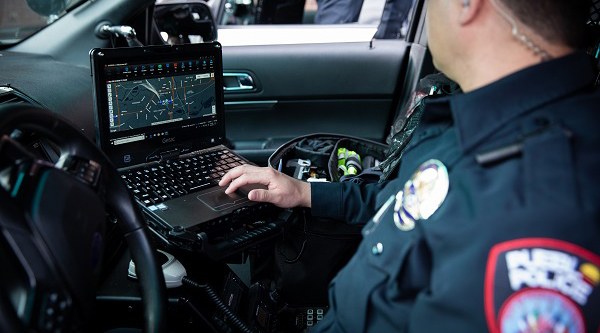 You need the next-gen V110 if
You need computers that connect to a Router/Gateway device with easy vehicle mounting/dismounting.
You need rapid & reliable report upload/download via MDC connectivity, in car or out of the vehicle.
Security is paramount, and you need an integrated camera to capture video evidence and take witness statements, w/optional fingerprint or facial recognition.
You need extreme head & cold tolerances w/easy reading under sunlight.
You need a versatile keyboard for data entry, dispatch, and record management.
Ready to perform when you are, the fully rugged and FirstNet Ready® B360 is your next-generation portable computer.
Rugged, powerful and light. Mounted in a patrol car or used on the go, the Getac B360 has been designed to serve the needs of public safety professionals.
At only 2.32kg, its compact size saves space when docked in-vehicle or stored in a compartment. In-vehicle solutions include rounded corners for safety and easy connecting through I/O port replication at the docking station.
True Mobile Connectivity on Patrol
Keep connected while patrolling. The B360 computers bring you enhanced transfer speeds and bandwidth. 5G-compatible and with support for Dual Band 802.11ax Wi-Fi and Bluetooth 5.1, GPS, and 4G LTE.
In-vehicle docking with Tri Pass Through capability is available.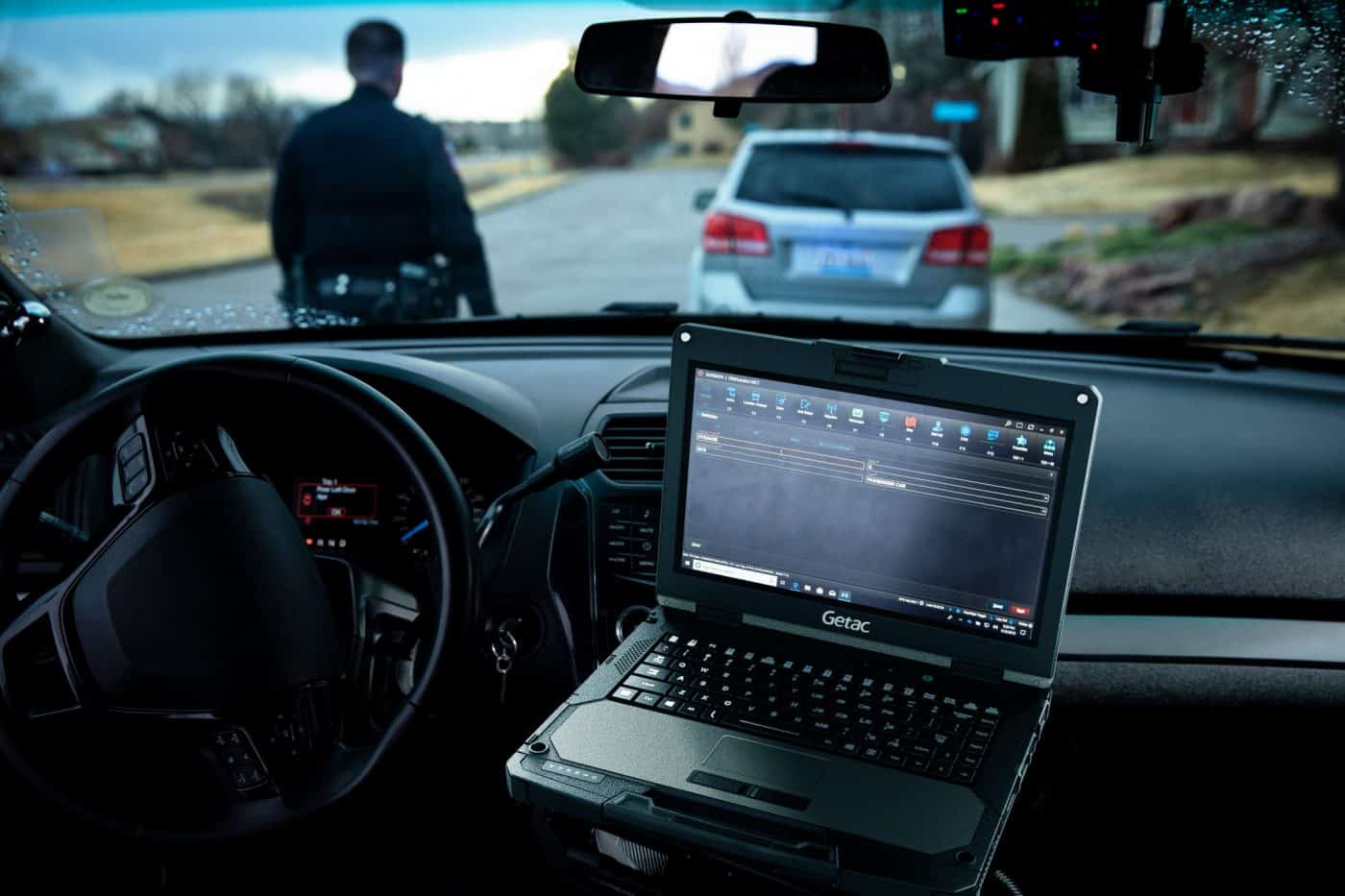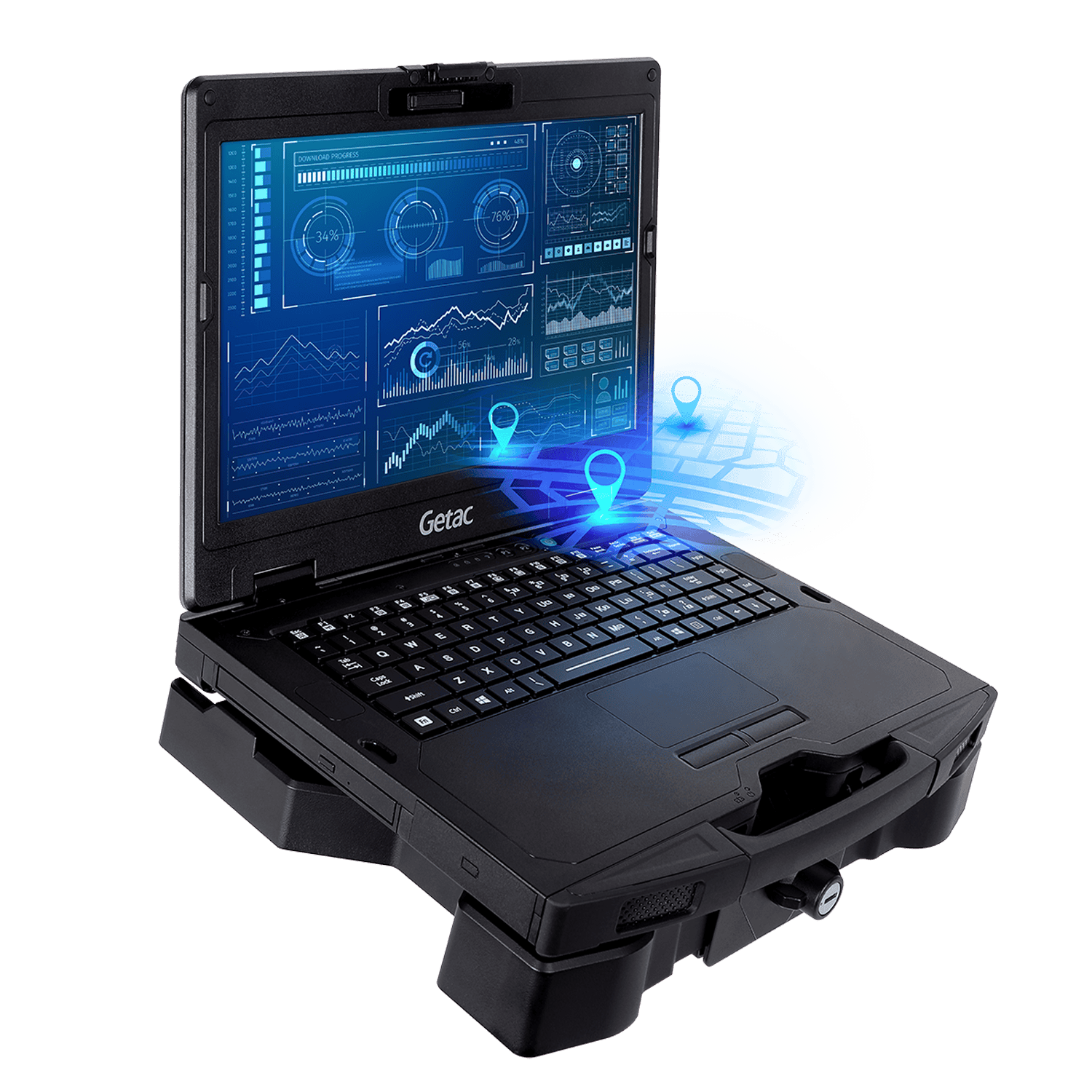 Getac S410
The S410 notebook computer is a tool for many jobs, delivering more power, more mobility, more connectivity, and more capability than ever before.
After the Altoona Police Department conducted thorough research and looked at systems from multiple vendors, Getac's F110 and S410 were chosen as the computers of choice for Blair County's 15 departments and 64 police cruisers.
Rugged Tablets used by Police Officers
Getac A140
The Getac fully rugged tablet A140 delivers exceptional performance, industry-leading security, and a spacious 14" display, with wide viewing angles that provide more room to get things done with less scrolling.
A host of convenient carrying and mounting options makes it ideal for maximum mobile productivity.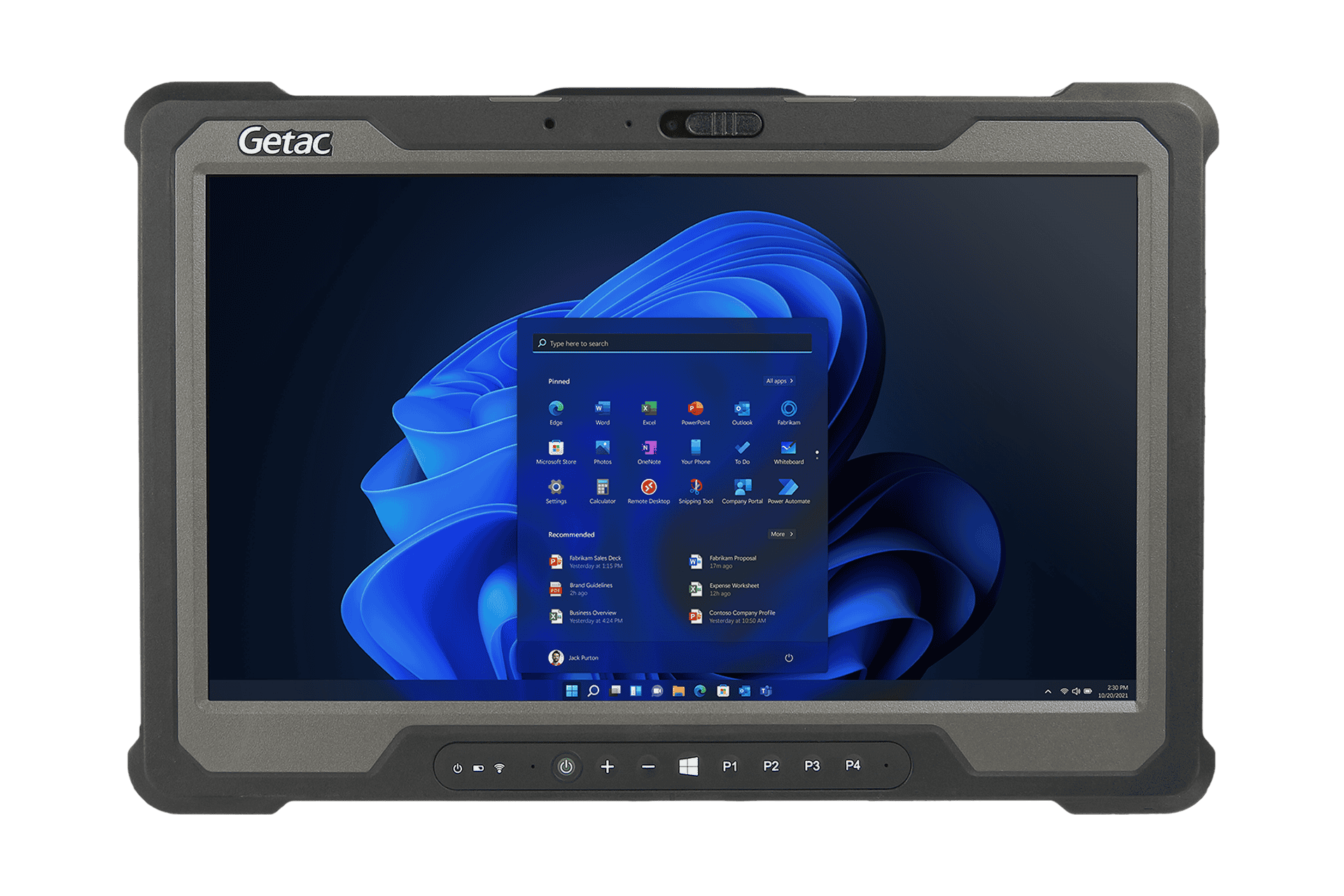 The new Getac A140 fully rugged tablet is the largest, most secure tablet and device the company has ever produced.
Equipped with a brilliant 14-inch, 1000 NITs sunlight readable display, available Intel Core i5 and i7 processors, dual hot-swappable batteries for continuous use, and a suite of security features.
The A140 is the most robust, purpose-built, fully rugged tablet for public safety, automotive and military personnel in the industry.
The optional multifunction hard handle serves as a support point to stand and cradle when working and an effective way to grab-and-go when time is critical.
Police Integrated Vehicle Solutions Enhancing Police Performance Reliably
For police in patrol cars and teams on the go, Getac computers and tablets fit easily in small vehicles and withstand harsh shocks and vibration from high-speed pursuit.
Our computers and tablets integrate smoothly with essential call systems, policing software systems, and routing system applications.
Portable Police Computers and Tablets
Our tablets and convertible computers are not only lightweight, weighing just a few pounds, but also easy to bring with you where your job requires.
The days of traveling back and forth to the police station between phone calls to complete paperwork are in the past.
Mounted on the dash of patrol cars or simply used in the field, Getac solutions allow you to do your police work anywhere.
With touchscreens up to 11.6" and a full-size keyboard, we have also made it easy to complete your reports onsite while retaining a physical police presence on the streets.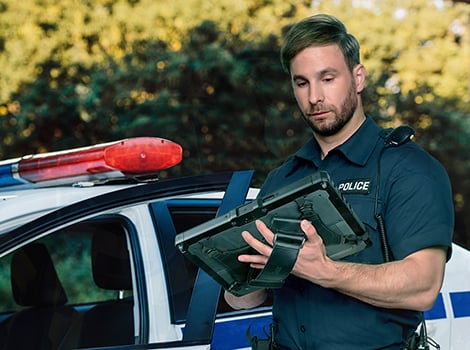 Success Stories - The City of Pueblo outfits their police, fire & public works with Getac Computers
Getac V110 convertible computers were chosen due to their lightweight design and sunlight-readable display and were outfitted with custom barcode readers and GPS for drivers license recognition and location positioning.
After a rigorous two phase field pilot program, several formal command staff presentations, and onsite visits every few weeks to answer questions, Getac and HP suggested the Getac V110 fully rugged convertible computer.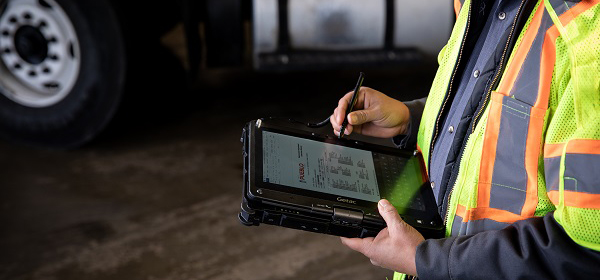 Benefits of Getac Computers
Getac presented a specialized rugged solution with a V110 laptop that can meet the extreme demands of public safety work.
Outstanding customer service included with every Getac product cuts crucial downtime to keep public safety operations up and running.
Over 150 Getac V110 computers have been deployed in the City of Pueblo with the majority of which going to police and fire units.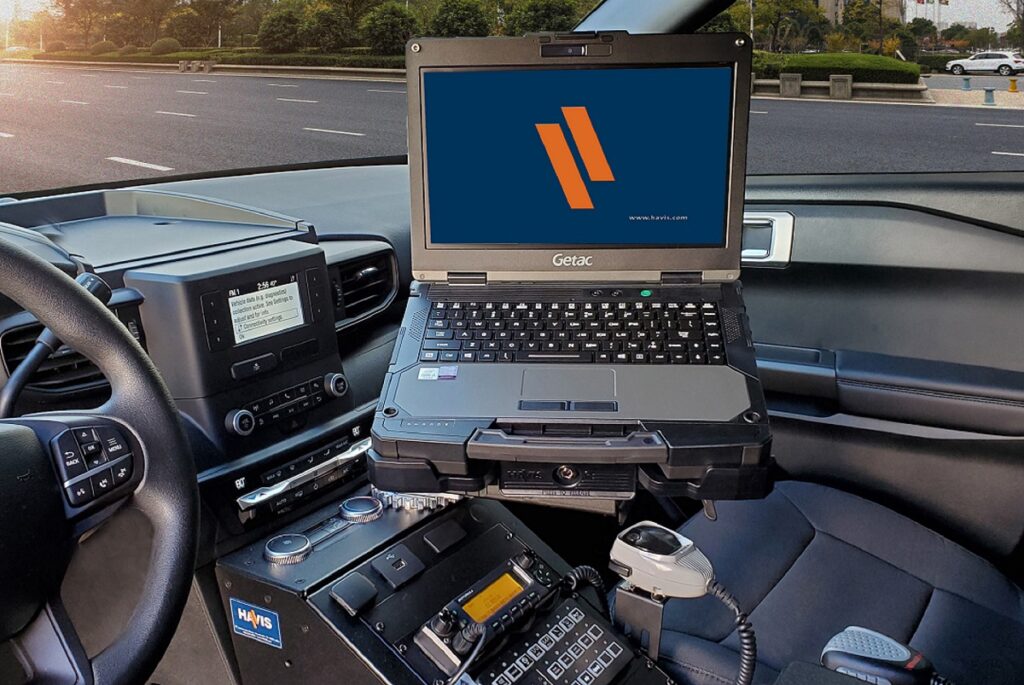 Public Works and City Water also refreshed their devices. The City of Pueblo chose Getac computers to improve public safety and response times. Getac and HP have the potential to expand this solution as needs increase with the population.