Getac Device Provisioning for Windows Autopilot
Getac partners with Microsoft to support and provide Windows Autopilot, a cloud-based service to pre-configure, reset, and recover computing devices for enterprise productivity.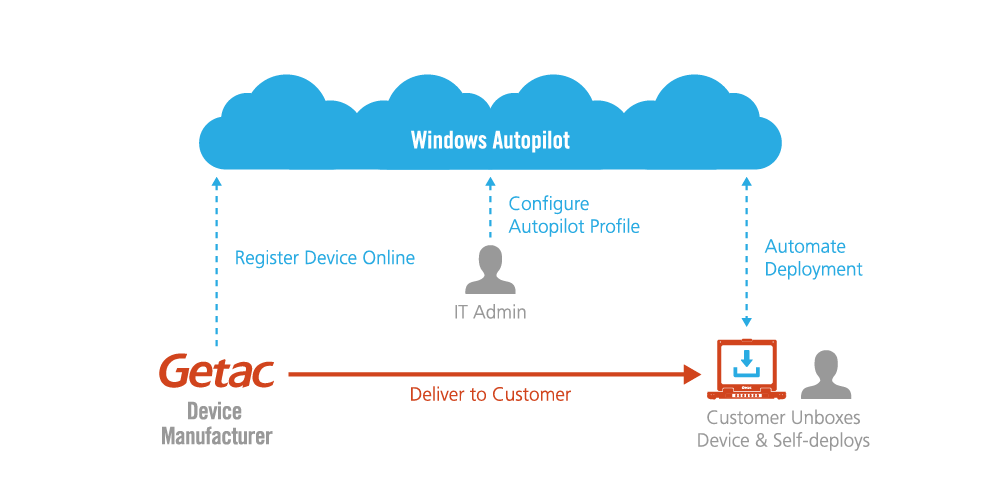 IT administrators' major challenge is the time-consuming process they go through to load custom enterprise configuration files to end-point devices. Getac automates the device registration for autopilot deployment service. With Autopilot ready, enterprises could extend their service to cover various MDM functions. Getac devices can be shipped to assigned locations unboxed by remote workers when all the set-ups are done in advance on the Cloud, saving IT professionals' time and effort.
Less Hassle for Users; Zero Touch for IT Professionals
Streamline Deployment
Reseller or OEM does the device registration
Configure, reset, and recover devices on the Cloud
Direct and speedy deployment to end users
Scalable
Deploy through the Cloud, support can be done at scale and at the same time to automate repetitive IT tasks.
Autopilot Service Requirements
Win 10 Pro

Win 10 version 1703 (RS3) or later

Azure Active Directory Premium
Global Admin of Azure Active Directory or Microsoft Store for Business
MDM service such as Microsoft Intune
Accept Getac Consent
Do not Support
Win 10 IoT Enterprise (LTSB/LTSC) 2016/2019
Windows Server 2016/2019
Click here to know more about how to authorize and provide Azure Tenant ID/Domain to Getac for Windows Autopilot device registration.
Empower Your Digital Workforce with Getac & Microsoft Autopilot