The E110 will be distributed by Synnex Australia Pty Ltd after the two companies announced a distribution agreement earlier this month.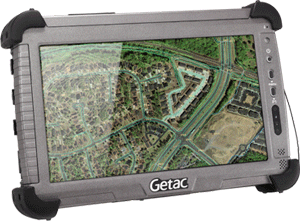 Designed specifically for operators working in the public safety, transport, logistics and utility sectors, the touch screen device includes a 10.1 inch (1366 x 768) HD sunlight-readable display.  The thin and light (1.6kg / 3.52lbs) unit also offers Lifesupport™ hot-swappable battery operation to extend operating time out in the field.
James Hwang, President of Getac, says the device will allow operators to work in the field for extended periods while maintaining seamless connectivity to central operations:
"The E110 is one of the most versatile devices in the Getac range – able to perform data capture operations in even the toughest of conditions," Mr Hwang says.
The device comes with WiFi and Bluetooth connectivity as standard and offers users the ability to add contactless high-frequency RFID and smart card readers, a 3MP auto-focus camera, and GPS SiRFstarIV™.
Mr Hwang says the E110 includes Getac's QuadraClear™ screen technology, offering a better contrast ratio and a wider viewing angle than its nearest competitors. The higher colour saturation and a viewing angle of more than 160° ensure excellent visibility out in the field and the device is particularly suited to operators who require an in-vehicle solution.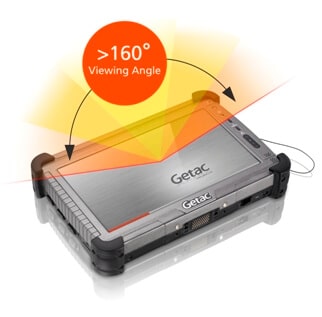 "The E110 delivers a world-class in-vehicle solution because of its compact, quick release docking station, its multi-touch screen and its programmable function key, making it an excellent navigation and communication device for field-based staff," comments Andrew Yu, Product Manager of Getac, from Synnex Australia.
The unit's programmable function key can be configured to suit individual operational requirements.  The hot-swappable battery ability means that the device will remain operational for 180 seconds whilst users change the battery. This allows the unit's working hours to be extended without users having to switch off the device and without affecting productivity.
Getac's unique, fanless design also provides users with a more powerful and reliable device in harsh conditions, as the heat from the CPU is dispersed evenly to prevent the processor overheating and avoid a reduction in performance.
"Getac has built this device to ensure that operators have tablet technology that allows them to maximise their productivity even in the most demanding environments," Mr Yu says.
The unit is IP65 and MIL-STD-810G rated, with an ability to survive three feet drops, vibrations, and capacity to work in temperatures from -21°C to 60°C. The E110 also includes an Intel® Atom™ N2800 1.86 GHz CPU and 64GB SSD storage.
"We are proud to offer customers a unique opportunity to view and feel this new device, together with other Getac ranges, at Synnex Alliance Roadshow across Australia," Mr Yu adds.
The E110 is showcasing in Perth, Brisbane, Sydney and Melbourne over July and August. The next Synnex Alliance 2012 takes place during 4pm – 8pm at the Brisbane Convention and Exhibition Centre, 25th July, follows by Sydney Showground, 8th August and ends at the Melbourne Olympic Park, 22nd August, 2012.
Getac E110 Rugged Tablet Features:
–       10.1 inch (1366 x 768) HD sunlight-readable display and more than 160° viewing angle
–       Lifesupport™ hot-swappable battery
–       Connectivity: WiFi, Bluetooth, and GPS SiRFstarIV™
–       Contactless high-frequency RFID and smart card readers (including 3MP auto-focus camera).
Synnex Sales Contact: Martin Gotthard / Justin Spencer – [email protected]
Synnex Service Contact: Khai Luu – [email protected]
About Getac
Getac Technology Corporation, a key subsidiary of MiTAC-Synnex Business Group (2011 consolidated revenue 25.3 billion USD), was established in 1989 as a joint venture with GE Aerospace to supply defence electronic products. Getac's business coverage includes; rugged notebooks, rugged tablet PCs and rugged handheld devices for military, police, government, communications, manufacturing and transportation applications ranging from fully rugged to commercial-grade rugged. Getac's strong R&D capabilities allow it to provide a high level of customisation and all-aspect hardware-software integration solutions. For more information visit https://www.getac.com/intl/
About Synnex
Synnex Australia P/L, a global IT Supply Chain services company and one of the largest distribution companies in Australia, is a significant division of Synnex Technology International Corporation, the largest IT distribution company in the Asia Pacific region and ranked the third largest worldwide.
Synnex endeavours to service all businesses in the IT industry including SME Resellers, System Integrators, Computer Retailers, Original Equipment Manufacturers, Corporate Retailers, National Retailers and VARsFor more information, please visit: www.synnex.com.au