Rugged computer designer and manufacturer, Getac today announced the release of the third generation F110 rugged tablet and V110 rugged convertible notebook. The new V110 and F110 benefit from optimised power performance, image processing, networking speed, and efficient power with Intel's sixth generation Core™processors (i5- i5-6200U 2.3GHz (2.8GHz) or Core™ i7-6500U 2.5GHz (3.1GHz)) and Windows 10 operating system, essential for power hungry field applications. Improved RAM (to DDR4-2133) provides lower power consumption, faster memory clock speed and support up to 16G. The devices will be available from 17th May 2016.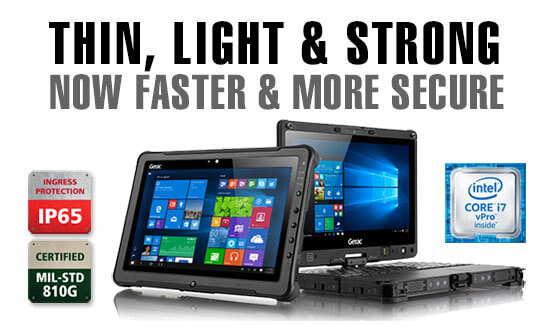 Chris Bye, President, Getac UK, comments; "Rightly our customers demand the highest levels of performance available from Getac devices. With the latest upgrades to the V110 and F110 we've clearly achieved that as well as incorporating new technology from Intel to protect customers against modern data security threats."
The V110 and F110 devices also provide enhanced security features. Robby Swinnen, Vice President – Sales & Marketing Group at Intel Corporation explains; "Data breaches start with misused or stolen user credentials. To address this concern, 6th generation Intel® Core™ vPro™ processors feature Intel® Authenticate Technology, a hardware-enhanced, multi factor authentication solution that strengthens identity protection by capturing, encrypting, pairing, and storing PINs, biometrics, keys, access rights, as well as other identification data in the hardware, thereby hiding the target from hackers to effectively strengthen the protection of corporate identities,"
The built-in Intel® dual band Wireless AC-8260 supports 802.11ac and Bluetooth 4.2 to provide smooth wireless connections. The Intel® HD Graphics 520 graphics card paired with a dual-lens design greatly enhances on-site evidence collection and image processing capabilities. The devices include Getac's exclusive LifeSupport™ hot-swappable battery design ensures uninterrupted productivity. The V110 and F110 devices are additionally certified to industry standards, including IP65 certification for water/dust resistance, protection against falling damage (up to 4 ft.), operating temperature range from -21°c to 60°c, as well as as well as MIL-STD 810G and MIL-STD 461F for military standards, and the e-Mark vehicle safety certification.
Screen enhancements include 11.6-inch capacitive multi-touch screens, which are equipped with Getac 800-nit LumiBond® 2.0 technology for clear visibility under bright lights, and greater accuracy of the touch feature on the devices as well as the introduction of a new stylus pen and digitizer pen for more accurate interacting with applications while on the go. A higher resolution FHD webcam will support video calls as well as streaming situations back to base, for example in healthcare or defence.
V110 Fully Rugged Convertible PC & F110 Fully Rugged Tablet Key Features:
Weight & Dimension
V110:1.98kg;299 x 223 x 34 mm
F110:1.39kg;314 x 207 x 24.5 mm
Intel® Core™ i5/i7 or Intel® Core™ i5/i7 vPro™ processor
Windows 7 or Windows 10
11.6″ TFT LCD or Capacitive dual mode touch screen(Multi-touch or digitizer)
800 nits LumiBond® display with Getac sunlight readable technology
Memory: 4GB DDR4 (expandable to 16GB)
Storage: SSD 128GB /256GB/512 GB
Dual Webcam design (Front: FHD,Rear: 8M pixels)
Bluetooth 4.2 / 802.11ac/Gobi™ broadband module option
Optional tri RF pass-through design (GPS/WLAN/WWAN)
MIL-STD-810G、MIL-STD461F & IP65 certification