Pioneering the way in innovative tablet technology, rugged computing manufacturer Getac UK has launched the world's toughest and most advanced tablet – the Getac Z710 – equipped with Android 4.1. The upgrade to the operating platform makes this model the most secure on the market.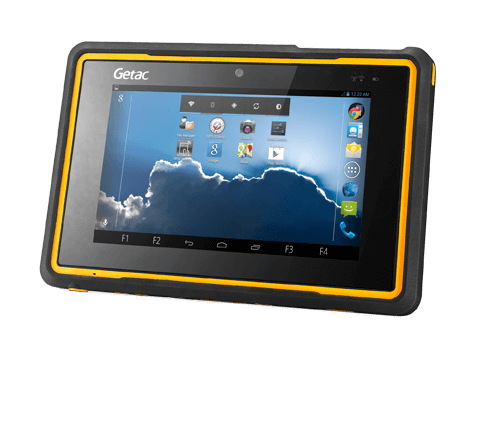 Aimed at sectors such as utility, automotive, transportation, and field services, which require a portable and lightweight device (just 800g), the Z710 comes with a battery life that is comprehensively longer than its competitors giving over 10 hours of operational time.
The device is fully integrated to boost performance in the field, no matter what the scenario. It includes a 1D/2D barcode reader enabling rapid data capture up to three times faster than other devices using software-based scanners.
Other key features include high sensitivity advanced GPS technology (SiRFstarIVTM) which is accurate to 1.5 metres for precision positioning, whilst a high frequency RFID reader, WiFi, Bluetooth and 3.5G WWAN with both data and voice capabilities provides high performance connectivity for fast, accurate data download and efficient communication.
A 7" capacitive touchscreen using proprietary LumiBondTM technology offers an ultra-sensitive touchscreen which can be operated even whilst wearing gloves and a high definition 5 MP auto-focus camera provides users with the ability to visually record information if required
"Getac is committed to producing industry-leading rugged technology and the Z710 with Android 4.1, sets a new standard for tablet computing in tough environments," says Getac UK President Peter Molyneux. "Not only do we design the tablet but we manufacture it too which allows us to listen to our customers' requirements and respond quickly with equipment that meets market demands."
The Z710 has been built to Getac's unrelenting rugged standards and is MIL-STD-810G and IP65 certificated. In addition to its rugged criteria, it is the world's first ANSI/ISA 12.12.01 certified fully rugged tablet – meaning it can be used in hazardous locations (such as areas where flammable gas may be present)
Thanks to the Android 4.1 Operating System, the Getac Z710 also offers a more fluid and smooth operation experience for users, improved security features, Google Play and other Google Mobile Services.
"The way in which our customers use devices in the field is changing at a rapid pace," Mr Molyneux says. "Getac is proud to be at the cutting edge of this change, constantly working with businesses to provide solutions which optimise performance in demanding environments."
Existing Z710 owners using Android 2.3 can quickly and easily upgrade to 4.1 by visiting Help & Support
Getac Z710 Fully Rugged Tablet Product Key Features:
— Android 4.1
–Thin and light (800g)
–7" capacitive touchscreen that can be operated with gloves on
–10-hour battery life
–Proprietary LumiBondTM technology for ultra-sensitive touchscreen
–Rugged, with IP65 Certification and MIL-STD-810G Rating
–ANSI/ISA 12.12.01 certified
–SiRFstarIVTM High Sensitivity GPS for enhanced positioning accuracy
–WiFi / Bluetooth / 3.5G WWAN with both data and voice capabilities
–All-in-one and instant capture 1D/2D Imager barcode reader
–High definition 5 MP auto-focus camera
–High frequency RFID reader