Getac Technology Corporation, a leading manufacturer of rugged computers, today released the updated F110 rugged tablet and the updated V110 rugged convertible notebook, making Getac's fastest-selling products even better, making Getac's fastest-selling products even better. The second generation F110 and V110 products each feature a fifth generation Intel Processor, Intel HD Graphics 5500, and eight-megapixel rear camera, a front HD webcam and an updated LumiBond 2.0 touch screen that allows glove-on use. Both products will be distributed exclusively by Synnex Australia Pty Ltd. in the Australia and New Zealand Regions.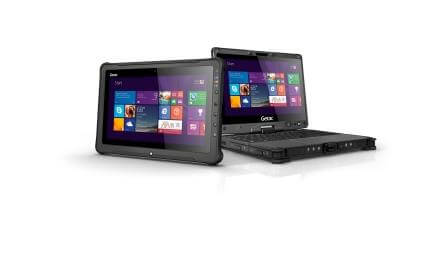 "Demand for the F110 rugged tablet and V110 rugged convertible has been incredible," said Rick Hwang, president of Rugged Solutions Business Unit at Getac. "The F110 quickly became the fastest selling product in Getac history and opened up new vertical markets for us. The size, weight and flexibility of the F110 and the V110 have allowed us to expand into the manufacturing, automotive and healthcare markets while growing our market share in traditional rugged markets, including military, public safety and utilities."
The F110 is a large-screen rugged tablet that packs superior performance and a large 11.6-inch display into a compact design. The F110 is less than one-inch thick and measures slightly more than 12 x 8 inches in size. At three pounds, this rugged tablet is one of the lightest large-screen, fully rugged tablets ever built.
The V110 is a thin and light rugged convertible that measures less than 12 x 9 inches in size, is a mere 1.3 inches thick and weighs slightly more than four pounds. A quick twist of the unique multi-position hinge allows the V110 to effortlessly transform from a laptop to a tablet, giving users the versatility needed in unpredictable environments. The V110 also features a large 11.6-inch display and a full-size, waterproof-membrane backlit keyboard that is 56% larger than the competition's. Its 88 standard-sized, island-style independent keys provide an unmatched premium feel and increased durability.
Both products incorporate the latest processors: the fifth generation Intel Core i5-5200U (2.2GHz), i5-5300U (2.3GHz with vPro Technology), i7-5500U (2.4GHz) or i7-5600U (2.6GHz with vPro Technology), together known as the Broadwell platform, which are designed for speed and efficiency. The i5 and i7 CPUs feature Intel Turbo Boost Technology, clocking maximum speeds up to 2.7GHz, 2.9GHz, 3GHz and 3.2GHz, respectively. In addition, the new Intel HD 5500 graphics provide an unparalleled level of responsiveness and frame rate for both 2D and 3D graphics.
One of the most useful features is also one of the simplest. Both the F110 and the V110 feature dual hot-swappable batteries that allow for endless power by simply "swapping" in a fresh battery without needing to shut down applications or the operating system. Each V110 set of batteries provide up to 13 hours of operation, and the F110 battery set provides up to 12 hours of operation.
The F110 and the V110 can be ordered with built-in multi-carrier 4G LTE on a single chip. Additionally, for vehicle deployment use, three pass-through antenna ports can be added, allowing customers to simultaneously connect high-gain GPS, WWAN and WLAN roof-mounted antennae.
With the revolutionary LumiBond® 2.0 technology that bonds the display glass with the touch panel and LCD, Getac has created a single pane that is more durable and improves readability with its wide viewing angle. This creates a display that is more readable and offers better contrast and more crisp colors than a typical rugged laptop display. The LumiBond 2.0 adds the flexibility to configure the display for use while wearing gloves or with direct exposure to rain—essential features when operating in inclement weather or working near hazardous materials when gloves are required.
The new F110 rugged tablet  and V110 convertible rugged notebook  will be available for sale in Australia and New Zealand with an RRP starting at AU$3,439 and AU$4,719 respectively. If you are interested in our products or you would like to become an authorized Getac Partner, or require detailed information please visit: http://www.getac.com or contact your Synnex Account Manager on 1300 100 104.