A ground-breaking scientific expedition to research the structure of the sea ice in the Arctic Ocean put Getac's rugged computer technology at the heart of its operation – in some of the most extreme environments.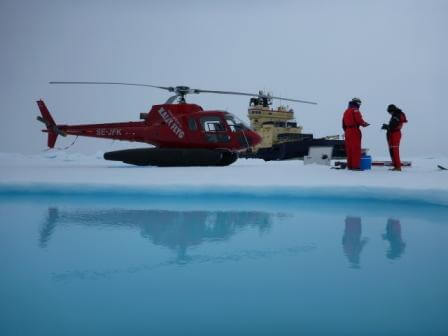 As part of an on-going project looking at the impact of ice-algae on the sea ice environment around Greenland, Associate Professor Lars Chresten Lund-Hansen and Associate Professor Brian Sorrell from the Department of Bioscience at Aarhus University in Denmark spent six weeks on the Arctic Ocean late last year.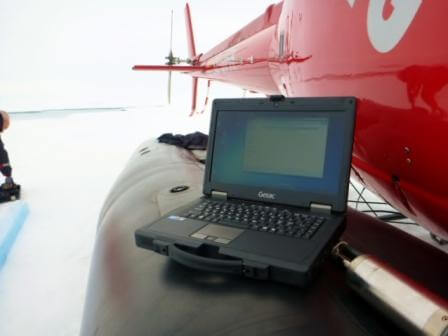 To understand how the algae lives in such extreme conditions, the scientists needed to study the microscopic plants that sit inside the bottom of sea ice, having adapted to an extremely dark environment in temperatures below freezing. This saw the research pair helicoptered onto the ice most days to drill out ice cores, collect samples of the algae for analysis and record associated data – which was collected on the semi-rugged S400.
"We relied on the Getac computer to record all of our information, no matter the weather. We knew the conditions were not always good up there with dense fog, wind and snow so we wanted something we could trust," says Lund-Hansen
"Even though the temperatures out there were below freezing, Getac's notebook worked really well for us," he adds. "We have tried other computers but they simply aren't up to the job, our colleagues recommended the S400 to us because of its ability to function in extreme environments.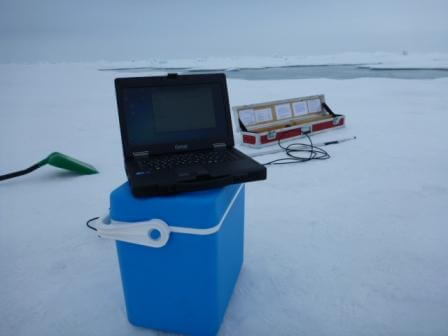 "The notebook's long battery life enabled us to stay out on the ice for long periods too, which was invaluable and helped us keep the amount of back-up equipment we needed each day to a minimum," continues Lund-Hansen. "We had purchased replacement batteries, but we didn't need them and even though the wind chill factor meant temperatures were pretty extreme at times the S400 did not let us down."
Getac's S400 has a 14" multi-touch screen with an anti-reflective, anti-glare display as standard and is available with optional 800 nits QuadraClear™ sunlight readable display.
"The readability of the screen was a real asset; light hitting ice flows can produce a lot of glare but the screen's anti-reflectivity properties meant it was easy to view, even in strong sunlight," says Lund-Hansen. "We were really impressed by the S400 and will definitely be taking it with us on our next expedition to the Arctic Ocean."
The S400 has Intel® Core™ i5 vPro™ technology for a fast, powerful performance in temperatures as low as -20°C up to 60°C. IP5X and MIL-STD 810G certification makes the semi-rugged S400 perfect for demanding work environments.
Getac UK President, Peter Molyneux, says: "The S400 is designed for those who have a tough job to do in extreme circumstances – exactly what the Aarhus University researchers experienced. All Getac products are designed to perform in extreme conditions to allow our customers to complete their work without interruption.