A British adventurer has broken the world record for rowing solo across the Atlantic Ocean, relying on little more than a six metre rowboat and a Getac rugged laptop.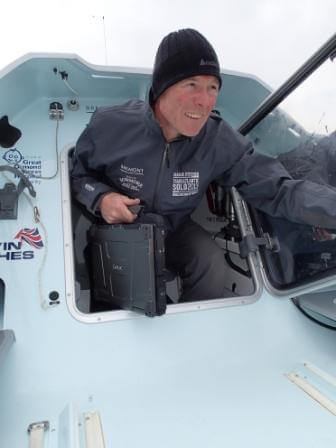 Charlie Pitcher, a 50 year old father of four, from Felsted in Essex, wiped almost six days off the existing record, completing the 2,700 mile journey in just over 35 days.
The extreme athlete said that when embarking upon a world record breaking adventure at sea, there are one or two items of equipment he won't leave home without: one of them is his Getac B300 rugged laptop.
Throughout the journey the robust laptop provided Pitcher with vital information such as weather conditions and navigational data, and offered a reliable way to communicate with his shore team and family whenever needed.
Such was his confidence in the device that Pitcher did not take along any back up equipment – despite knowing some of the tough conditions he would encounter. Temperatures soared to 40ºC and bad weather caused the boat to overturn more than once, scattering equipment everywhere – but the robust B300 continued to operate efficiently.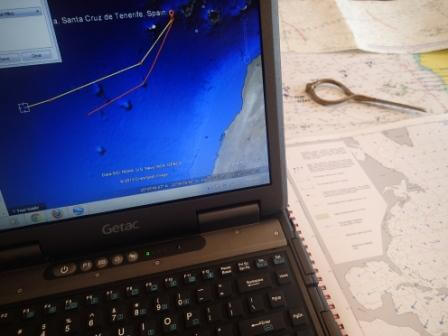 "It was vital that any technology I took with me was up to the job and the Getac B300 more than proved its worth. Its outright ruggedness allowed me to use the device whatever the temperature or conditions, and even when things were thrown around inside the cabin I could relax knowing that the laptop would remain intact and functional," said Pitcher.
"Communication was easy, I simply linked the B300 to my Iridium satellite phone to talk to my back up team, and could send and receive any data I needed quickly and efficiently; I had no problems at all. The screen's anti-glare properties also made things easier for me, allowing me to clearly see the information displayed, even in full sunlight.
Even when surrounded by huge mid-Atlantic swells and bombarding sea water, Pitcher says he continued to trust the Getac B300. "I've been sailing all my life and am well aware of the corrosive effect salt fog can have on equipment, and this journey really put the laptop through its paces in that respect," Pitcher continued. "And I spent several hours tapping out blogs on the keyboard with wet fingers so its resistance to water was thoroughly tested too, but whatever the challenge the laptop met it and passed with flying colours."
Pitcher left La Gomera in the Canaries bound for Barbados in a boat just 6.5 metres long and 1.5 metres wide on February 16th this year. His solo journey of 2,700 miles across the Atlantic Ocean took him just 35 days and 33 minutes, wiping 5 days, 9 hours and 11 minutes off the previous record set in 2010. During the challenge extreme weather and waves caused the boat to roll over and suffer several knockdowns, but despite these incidents, the B300 remains completely intact and fully functional.
"It was really tough going at times and there were one or two particularly bad days. The physical impact of such a huge challenge along with illness and being separated from my family took its toll, but the elation I felt when I realised that not only had I broken the record, I'd absolutely smashed it, made everything I'd been through worthwhile."
"We're thrilled that our technology helped Mr Pitcher to accomplish such a fantastic achievement," said UK President of Getac, Peter Molyneux. "It's not often we get to demonstrate how excellent our laptop is in such a spectacular way. His journey was the very definition of rugged, and Getac is proud to have been there every step of the way."
Pitcher is already planning his next big adventure and although he is not prepared to reveal what that is just yet he will confirm that the Getac B300 rugged laptop will be going with him.
About the transatlantic solo
Pitcher set out to achieve a world record and raise £100,000 for the famous London children's hospital, Great Ormond Street, and The C Group, a charity set up to support serving or ex-Royal Marines and their families, who find themselves in need through injury or hardship.
The transatlantic solo record has been achieved but the fundraising continues. Anyone wishing to make a donation should visit http://www.bmycharity.com/transatlanticsolo2013 to donate to The C Group, or http://www.justgiving.com/transatlanticsolo for Great Ormond Street Hospital.