WAREHOUSE & MATERIALS HANDLING
Cost-effective warehouse operations require effective workflows, accurate records, and minimal handling errors. Getac's rugged devices are built to withstand this demanding environment, operating seamlessly with leading inventory management, and WMS software to enhance visibility and maximise available space throughout the warehouse. They can also link directly with warehouse management systems, further improving operational efficiency by optimising available labour resources and reducing perishable product waste.
See the solution in action
INTEGRATED, VERSATILE & TRUSTED DEMOUNTABLE SOLUTIONS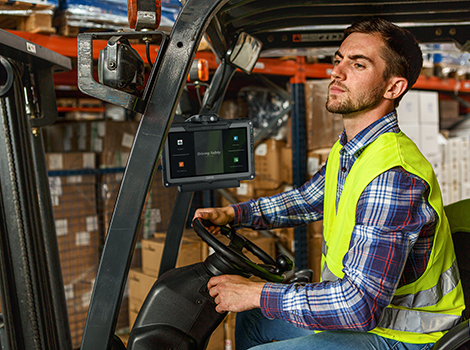 We ensure a smooth integration by offering you devices that are compatible with the market's leading Warehouse Management Systems, as well as with the mounts, docks and other accessories you need to create an excellent materials handling and warehousing solution. From forklift and pallet truck mounts to hands-free carrying options, we can supply everything you need.
RUGGEDNESS THAT SAVES YOU MONEY
Inventory and warehouse management professionals work in a variety of environments that can present robust challenges to conventional devices. Our solutions are inherently rugged, built to thrive in harsh operating environments and able to withstand impact and drops of up to six feet. They are certified by international third parties to MIL-STD 810H, and up to IP67 standards and ready to face the challenges professionals meet. Longer lifecycles and less disruption to operations help you save money.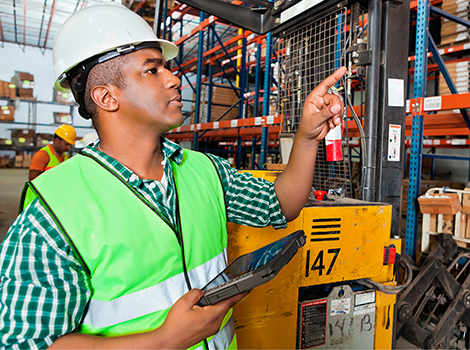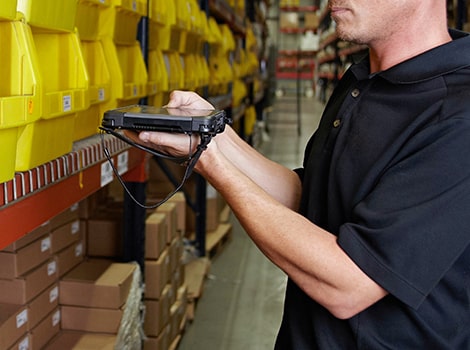 Barcode scanners and RFID readers are often needed to identify assets and inventory, both for quality control and shipping accuracy purposes. Getac's rugged devices offer 1D and 2D barcode reader options, to support operational efficiency.
Our offering includes several rugged tablets with configurable options, for materials handling professionals who need device durability in a lightweight form factor, for one handed mounting and dismounting with ease.
Our digitiser pen (optional) and stylus also help replace pen and paper for record-keeping, while the devices' cameras render many verbal descriptions unnecessary, thus making data easier to preserve and transfer and helping digitalise your operations.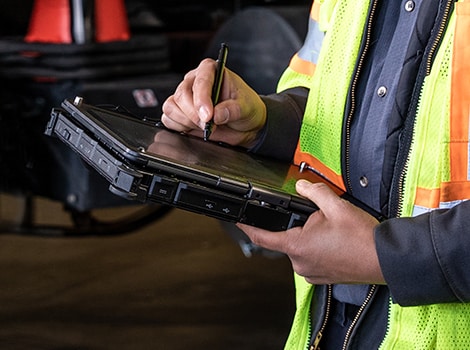 GETAC MATERIALS HANDLING SOLUTION GIVES YOU
PRODUCT LONGEVITY
Getac devices are built-rugged to the core – they can withstand extreme weather conditions, impacts, high vibrations, high and low temperatures, humidity, dust and drops from up to six feet.
A device portfolio with product development stability at its core, meaning that accessory backward compatibility remains fundamental to our product development.
Our fully rugged devices are supported with an industry leading and hassle-free 'Bumper-to-Bumper' accidental damage cover for the added peace-of-mind.
WIDE RANGE OF INTEROPERABILITY AND SOFTWARE OPTIONS
Getac devices can connect to your existing and legacy systems either through a hard connection or wirelessly. Getac has a range of devices suited to your needs, with an array of port options such as RS232, LAN, RFID, BCR, and software options including:
Getac Device Monitoring System
Getac Driving Safety
Getac deployXpress®
Getac OEMConfig
Absolute Software
TRULY DEMOUNTABLE
By combining the Getac mobile device with a purpose-built docking station or cradle allows the device to be demounted from the vehicle and used on another vehicle or in another location.
With a wide range of mounting brackets, we can provide a fixed modular solution for any vehicle or location.
Full shift working and device sharing is made possible using advanced battery technology, further expanded by hot-swappable battery functionality.
GETAC MATERIALS HANDLING SOLUTIONS
In every industry we support, we're passionate about ensuring uptime across mobile workforces. In materials handling, our rugged and complete solutions improve operational efficiencies, increasing productivity, and reducing downtime.

Whether you are picking, packing, managing stock levels or processing orders, Getac offer a comprehensive range of rugged devices to assist you in your workflow effectiveness.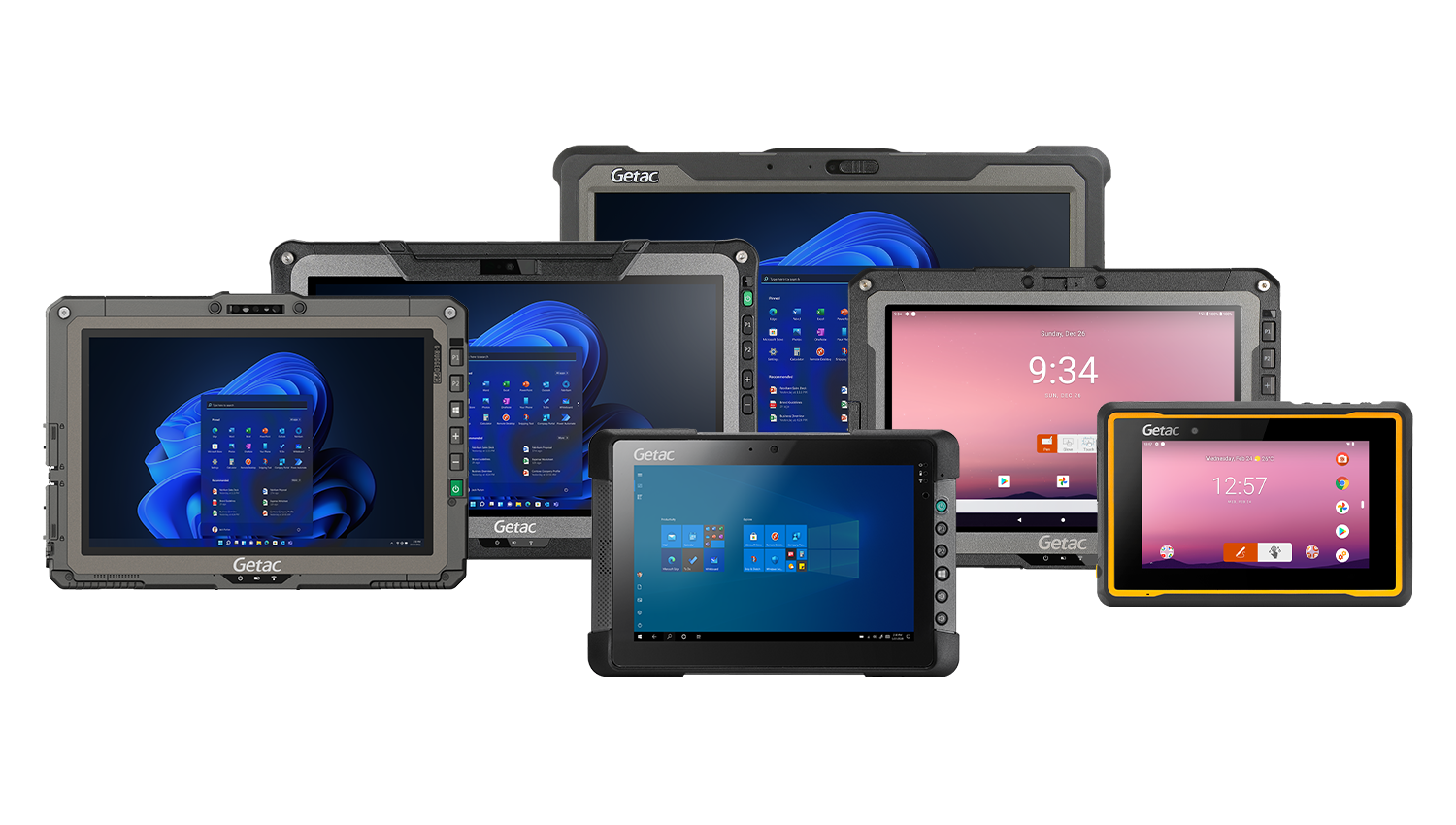 TRULY MOBILE & FLEXIBLE
Our rugged and demountable devices allow the user to quickly remove the device from the vehicle. Flexible mounting options help to meet individual requirements and further accessories permit extended portability and reduce user fatigue.

FULL PRODUCT PORTFOLIO
Our range of solutions allow us to support every use case across a range of sectors. In the office or on the forklift, indoors or outdoors, our solutions help professionals access the information they need where they need it.

GREAT PRODUCT LONGEVITY
We deliver an innovative rugged device portfolio with product development stability at its core, meaning that accessory backward compatibility remains fundamental to our future product development plans.

NATIVE RUGGED DESIGN
Designed with harsh environments in mind, users benefit from increased productivity. Our fully rugged solutions deliver excellent total cost of ownership (TCO) and return on investment (ROI), with one of the lowest average failure rates in the industry.

ENHANCED CONNECTIVITY
Enhanced connectivity ensures access to your WMS and core systems in real-time. Data can be collected and transmitted to our devices through a range of communications technologies such as 5G/4G, Wi-Fi 6, RFID and Bluetooth.

FULLY INTEGRATED ECO-SYSTEM
With our world class network of partners, fuelled by the Getac Enabling Program, we deliver fully integrated solutions that include hardware, software, and a range of accessories, allowing us to create an ideal total materials handling solution.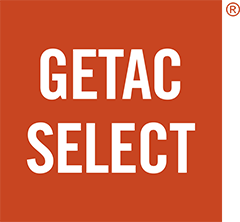 What is "Getac Select® Solutions?"
As a leader in providing rugged mobile solutions in the industry, we listen to customers and want to take our Customer Experiences to the next level. We understand the challenges in your daily business and the frustrations you may have while selecting suitable solutions to achieve your business objectives or solving these challenges. To further separate Getac from the competition, Getac now offers a comprehensive Industry solutions program, called "Getac Select® Solutions". With our years of industry knowledge and experience, and combined with our successful deployments to our customers globally, "Getac Select® Solutions" shortlists the most appropriate solution options for you to choose from.
Professional Service and Support

Support
Self-maintainer
Drivers & Manuals
Product Registration
FAQ & Help
Online Support
Getac Diagnostic Assistant
Getac System Recovery
Warranty Check

Service
Main Unit Warranty Extension
Battery Warranty Extension
Keep your SSD / HDD Warranty
Getac Office Dock Warranty
3rd Party Vehicle Dock Warranty
Need a quote? Let's talk!