Fire and Rescue: Fire Ground Management and Control
Incident commanders can turn any emergency vehicle into a mobile fire command center using specialised software with our durable and rugged tablets. Coordinate all communication, access risk information, standby to manage your crew, and track progress as the incident unfolds–conveniently and efficiently from the palm of your hand.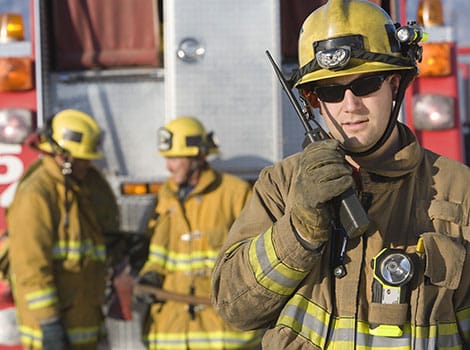 Fast and secure communication for incident command
Getac's devices have industry-leading security features, including multi-factor authentication, Windows 10 security features, OPAL 2.0 SSD, and Trusted Platform Module (TPM) 2.0. Optional log-in security features such as fingerprint, smart card, NFC/RFID, or dual-frequency (LF/HF) readers can also be added. On top of secure communication, our tablets help you connect with your crew using our fast and powerful WiFi and 4G LTE WWAN.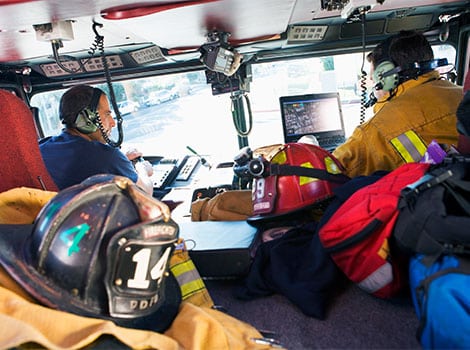 Functional and durable for your fire and rescue needs
Big, usable screens measuring up to 12.5" make frustrations, such as buttons that are hard to press in a bouncing vehicle, a thing of the past. Mounted to the front dash, Getac tablets take up little space and stay out of the way of your gear as you enter and exit the truck. Additionally, our rugged tablets are certified up to MIL-STD 810H and IP67 and can withstand the demands of working in extreme conditions including direct sunlight, vibrations from the tarmac, and temperatures all year round (-29C to 63C).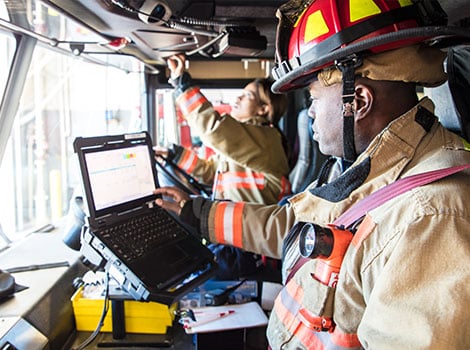 Fire incident management made easier
On scene, incident command requires assessing the situation, accessing information, and sending real-time communication to command and control. Getac tablets make these tasks more manageable with their high readability and wide range of input options, including digitiser pen, stylus, fingers, and gloves, which can also work in the rain. A digitiser mode also allows for writing to be captured, which can be helpful on maps or blueprints for emergency services.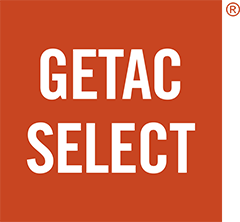 What is "Getac Select® Solutions?"
As a leader in providing rugged mobile solutions in the industry, we listen to customers and want to take our Customer Experiences to the next level. We understand the challenges in your daily business and the frustrations you may have while selecting suitable solutions to achieve your business objectives or solving these challenges. To further separate Getac from the competition, Getac now offers a comprehensive Industry solutions program, called "Getac Select® Solutions". With our years of industry knowledge and experience, and combined with our successful deployments to our customers globally, "Getac Select® Solutions" shortlists the most appropriate solution options for you to choose from.
Need a quote? Let's talk!