In a world dominated by digital transformation, it's no surprise to see digital solutions replacing pen-and-paper workflows. This can be applied throughout various industries from manufacturing to healthcare. Emergency medical services (EMS) is an area that can benefit enormously from the introduction of digital solutions. The use of rugged devices can speed up workflows and save precious, lifesaving minutes and seconds.
Paramedics have traditionally relied on handwritten notes and records, and voice-based communication via two-way radios. With digital transformation, users can streamline these processes, put more information at responders' fingertips sooner, and reduce the risk of errors. However, using consumer-grade devices in harsh environments creates risks for ambulance crews.
1. Built Rugged to Operate in Emergency Situations
Consumer-grade devices aren't built to withstand the often challenging conditions that ambulance workers find themselves in. Screen cracking, water damage, drop damage are just some of the potential incidents which can cause consumer-grade devices to fail.
Rugged devices undergo durability testing such as Military Standards (MIL-STD) and Ingress Protection (IP). These test devices for specific requirements on ruggedness, shocks, water, drops, dust and moisture protection, and the ability to withstand extreme temperatures. Consequently, this provides ambulance crews with a device they can rely on during emergencies.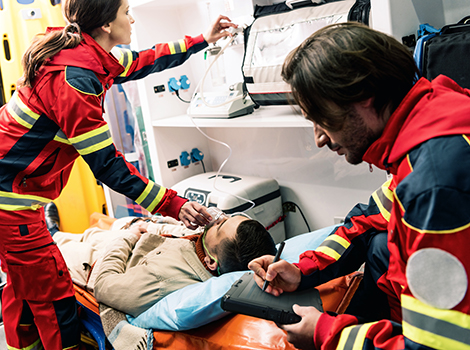 2. Longer Battery Life
The heavy use required in an ambulance means consumer-grade devices can run out of battery before their users have finished their shift. This, in turn, creates inconvenience and wasted time. Paramedics either wait for the device to recharge or get a replacement device for the rest of their shift.
Rugged devices increase battery life with a high-capacity battery. Dual battery configurations help to ensure they stay up and running even during long hospital handovers. Many of them include hot-swappable batteries which allow for a longer, uninterrupted period of operation.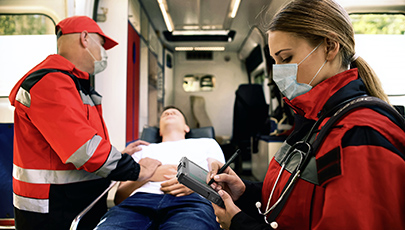 3. Improved Connectivity for Emergency Response
Consumer-grade devices rely on the public cellular network for connectivity. This means first responders could experience call drop-outs, lengthy wait times for large files to come through, and more. Rugged devices boast a mix of connectivity options, including fast Wi-Fi, 4G LTE, built-in GPS, and more. Emergency responders can send patient and incident information using the device in real-time. This ensures teams have all the information they need to deliver the right care.
4. Better, Brighter, Stronger Touchscreens
Glare can make it hard to read the information on screens. Consumer-grade touchscreens may not respond to damp fingers, gloves, or styluses. This can compromise patient care at the scene, making it harder for ambulance crews to deliver optimal outcomes.
Manufacturers develop rugged devices for use in challenging conditions. These can include sharp sunlight where glare would otherwise be an issue. Rugged devices incorporate advanced touchscreens. Users can operate these devices while wearing gloves, with a pen or stylus, or even with damp fingers.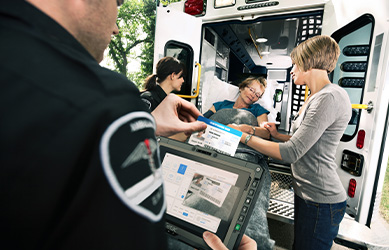 5. Secure Sensitive Data
Consumer devices offer rudimentary security that can be easily hacked. This can create security issues for ambulance crews that work with sensitive patient data.
Manufacturers outfit rugged devices with stronger security measures to account for the highly sensitive and personal information they receive and transmit. Decision-makers should choose devices that have the following:
security built-in with multi-factor authentication
OPAL 2.0 SSD self-encryption technology
Trusted Platform Module (TPM) 2.0
Rugged devices also let you add fingerprint scanning, smart card, magnetic stripe, or RFID readers. Consequently, this keeps the device secure even if it falls into the wrong hands.
6. Lower total cost of ownership (TCO)
Generally, the purchase price of rugged computers is higher than non-rugged alternatives. However, the failure rates for non-rugged systems are nearly three times higher. Over a five-year lifespan, the higher failure rate of non-rugged systems results in a 42% higher TCO. Similarly, there's also a staggering 74% higher TCO including the impact of user downtime. Rugged systems provide a long service life and platform stability. This means accessory infrastructures can often be leveraged for years to come. Rugged computing devices likewise provide a long service life and platform stability. Meaning, the rugged ecosystem, including supporting software and accessories, can be leveraged for years to come.
Getac Rugged Solutions for First Response Teams
Paramedics work in high-pressure situations, where every second counts. Likewise, Getac rugged computing solutions help first responders save lives, so they become more productive, and work more efficiently than ever before.