Rugged Solutions for the US Army
DELIVERING MISSION-CRITICAL SOLUTIONS
Leading Applications For The Army
The appearance of U.S. Department of Defense (DoD) visual information does not imply or constitute DoD endorsement.
Why Choose Getac?
Rugged mobile computing that delivers precision, accuracy, and reliability.

Trusted to Deliver
Getac has over 30 years of rugged innovation in the defense industry. with USD 872M sales revenue. Getac is committed to providing our Military customers with solutions that align with Size, Weight, and Power reduction objectives. The Most cost effective, Built for the Military, Rugged Computing Solutions in the Industry, focused on you and your mission.

Product Longevity
We practice strict product lifecycle management to fulfill product verifications, minimizing the number of system platform changes and control migration to new generations. The emphasis is on establishing a clear, long-term roadmap and gradually integrating, and migrating to, new technologies avoiding unnecessary technical redundancies.

Industry-leading Services
Customers seeking excellent in rugged computing technology are choosing Getac because of our commitment to customer satisfaction. Getac devices have one of the lowest failure rates in the industry. Getac offers an industry-leading 3 to 5-year bumper-to-bumper warranty on all its fully rugged products, including accidental damage. Our devices are serviced by FedEx Logistics, ensuring your products are back in your hands as soon as possible.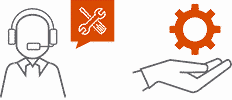 Customized Engineering
We offer complete system integration such as firmware and software setup to fulfill military security requirements. Customized solutions include Custom BIOS settings, military-camouflage color requirements, incorporation and installation of military connectors and legacy interfaces, asset tagging, logo badge and ID customizations.

Purpose Built Rugged Solutions
Our mission-critical computing solutions deliver high performance, durability, and reliability to aide in your operational effectiveness. These purpose built/customer driven solutions are proven in all aspects of daily Military Operations, from C4I, Warehousing & Logistics, to Technical orders on the flightline, where downtime is not an option.

Tested and Trusted
Getac products are manufactured, tested and certified to the strict industry standards for Rugged Products, with MIL-810G/H and MIL-461F/G certifications, but we go above and beyond. At Getac, we push the limits with our products, to ensure they perform in the harshest environments, as you push the limits in your mission.