R&D and Engineering
Getac rugged devices provide R&D, Engineering teams with a proven versatile tool to effectively operate across a spectrum of use cases.
RUGGED SOLUTIONS FOR THE DATA REVOLUTION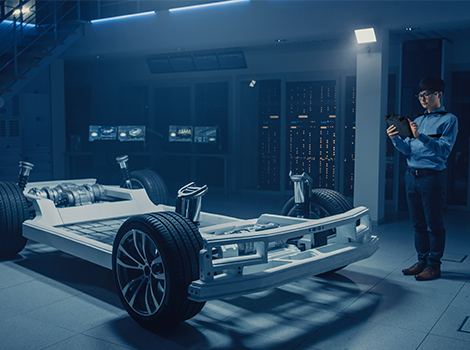 The R&D and Engineering eco-system is changing. What was traditionally a hardware-based industry is converging with software and data. In fact the automotive software market is projected to grow 13% to $62 billion by 2025.
Source: Rethinking European Automotive Competitiveness, McKinsey & Company, 2020
WHY YOU NEED IT?
While there will no doubt be a major investment in recruiting data scientists and software engineers, R&D and Engineering departments need to consider the tools they use to perform a changing set of tasks. Getac's rugged devices can interface with many critical functions, giving engineers a flexible, hard-wearing tool for the lab environment.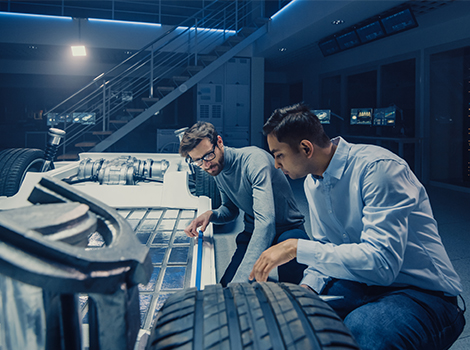 GETAC R&D AND ENGINEERING DEVICES GIVES YOU
EXTREME USABILITY
Getac's rugged devices stand up to extreme weather and environment testing. Whether freezing cold or brutal heat, ice-covered highway or desert track, our devices can be taken on the road or used in the lab to acquire data.
PERFECTLY CALIBRATED
Engine calibration is a complex task, with multiple parameters that must be assessed. Getac devices come with specialized ports and wireless connectivity to support a wide range of measurement, calibration, and industry specific tools.
UP TO THE TEST
Engineers are in and out of lab conditions and perform deep root cause analysis throughout R&D. Getac's rugged devices work in conjunction with OEM diagnostic software and VCI's to support uninterrupted diagnostics, scanning, datalogging and ECU programming.
GETAC AUTOMOTIVE SOLUTIONS
Getac devices are already in use by leading OE manufacturers in their R&D and Engineering labs. Our rugged construction and OEM software supports a range of critical tasks including:
- Advanced driver assistance systems
- Highly automated driving
- Infotainment/Connectivity/Security software
- Powertrain and chassis
- Body and energy
- OS+ middleware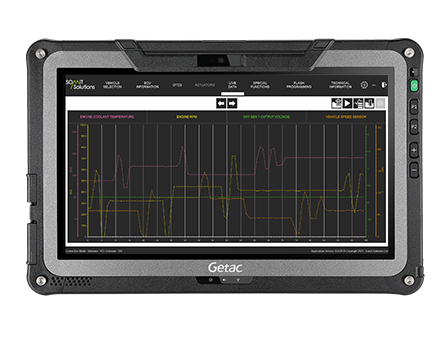 During extreme weather testing, Getac devices are certified to stand up to rain, dust, shock, vibration and can withstand temperatures from -29°C to +63°C (-20°F to 145°F).

Specialized ports support the wide range of measurement, calibration tools and industry specific connectors that work in tandem with manufacturer and third-party supplier equipment.

Our "Test lab versatile" rugged range of devices work in conjunction with the manufacturer's engineering software to support uninterrupted scanning, datalogging and ECU programming.



Getac devices perform fast and reliable data transfer from the cloud to the vehicle with inbuilt WiFi 6 (up to 10Gbps) and Bluetooth 5.2.

All devices feature high-level security such as biometrics identification, command synced with full access and complete control to safeguard sensitive engineering data around VHP and VOS.

Choose from a selection of screen sizes to accommodate wide-ranging applications within the R&D and engineering division, such as test data, vehicle schematics, thermal battery imaging and 3D prototyping.


GETAC AUTOMOTIVE SOLUTION BENEFITS

ENGINEER VERSATLE TOOL
Getac devices are the right tool for the R&D and engineering teams' mobile requirements.

CABLE-FREE FAST CONNECTIVITY
Getac devices can connect directly to the vehicle, VCI and R&D infrastructure with dual WLAN and Bluetooth.

GLOBAL CERTIFICATION & SUPPORT
Getac devices are certified for use globally, currently supporting major OEM in-house programs, and are strengthened by our world class service and support.

OPTIMAL SCREEN SIZE FOR ALL WORKFLOWS
Test data, thermal battery testing, and 3D prototyping require larger screens for enhanced viewing and input.

FLEXIBLE CONNECTIVITY
Configurable port options to work in conjunction with the leading testing and measurement providers to the industry.

RUGGEDIZED CONSTRUCTION
The lab is a challenging environment where bumps, knocks, drops, vibration, and high and low temperatures are a given. Getac devices are rugged inside out to stand up to anything R&D can throw at it.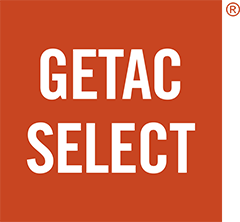 What is "Getac Select® Solutions?"
As a leader in providing rugged mobile solutions in the industry, we listen to customers and want to take our Customer Experiences to the next level. We understand the challenges in your daily business and the frustrations you may have while selecting suitable solutions to achieve your business objectives or solving these challenges. To further separate Getac from the competition, Getac now offers a comprehensive Industry solutions program, called "Getac Select® Solutions". With our years of industry knowledge and experience, and combined with our successful deployments to our customers globally, "Getac Select® Solutions" shortlists the most appropriate solution options for you to choose from.
Professional Service and Support

Service
Main Unit Warranty Extension
Battery Warranty Extension
Keep your SSD / HDD Warranty
Getac Office Dock Warranty
3rd Party Vehicle Dock Warranty

Support
Self-maintainer
Drivers & Manuals
Product Registration
FAQ & Help
Online Support
Getac Diagnostic Assistant
Getac System Recovery
Warranty Check
Ready to transform your aftersales operations? Get in touch today