Automotive Manufacturing
Take advantage of digital transformation and Industry 4.0 in your manufacturing process with Getac's rugged devices and drive productivity throughout the assembly and logistic process.
HELPING TO OPTIMIZE AND AUTOMATE AUTOMOTIVE MANUFACTURING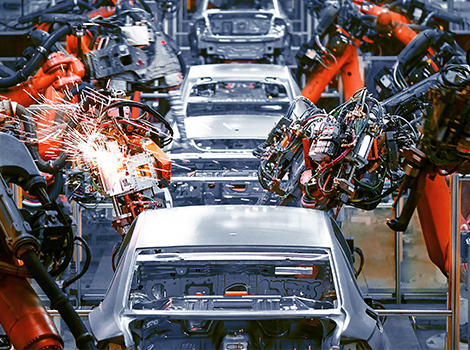 There are over 550 automotive manufacturing plants around the world, all of which are shifting towards digital transformation technologies to make manufacturing smarter. But this change is taking place in a decades old industry with well-established processes, creating potential extra complexity.
WHY YOU NEED IT?
The trend towards digital processes needs smart devices and connected software – enabling workers to increase the efficiency and productivity of operations and eliminate costly downtime.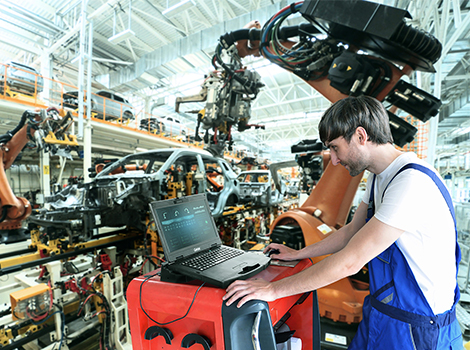 GETAC MANUFACTURING DEVICES GIVES YOU
SHOP FLOOR FLEXIBILITY
Getac's rugged mobile devices can perform a range of shop floor functions including routing parts, scheduling workforces, and optimizing processes.
OPTIMIZED ASSET MANAGEMENT
Connected devices gather real-time data to identify events that may cause downtime – enabling engineers to perform preventive maintenance to maximize utilization and minimize downtime.
TRANSFORMATION AT EVERY TOUCHPOINT
Getac devices can be configured to perform a range of essential functions in real-time, increasing efficiency from the warehouse to forklift to transportation.
GETAC AUTOMOTIVE SOLUTIONS
Getac have been working with leading OEM's to enhance efficiency and minimize downtime in automotive manufacturing by providing optimal hardware and seamless software that stand up to the environmental and technical challenge.
Our full package combines to ensure that your manufacturing plant is always focused on the tasks that keep schedules on time, workers safe and customers happy.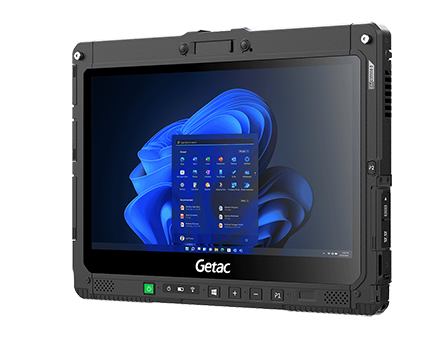 An optional barcode scanner or RFID helps to ensure the appointed assembly operative is working on the right vehicle chassis with the correct part.

Large 10" screens (11" for recommended for optimal experience) perform MES applications and fully display assembly line programming controls.

Different VESA mounting solutions are available for installation at various production stations, including on-wall, shop floor and mobile stations for Automated Guided Vehicles.



Get fast and reliable data transfer from the cloud to the vehicle with inbuilt WiFi 6 (up to 10Gbps) and Bluetooth 5.2.

For end of line diagnostics checks, connect to the vehicle and infrastructure with the use of WLAN and Bluetooth – no need for cables and VCI's.

We know every second counts so our devices have dual battery, hot-swap battery and bridge battery options to ensure continuous operation for the production service teams when attending to issues or if the line goes down.


GETAC AUTOMOTIVE SOLUTION BENEFITS

VERSATILITY FOR ENGINEERS
Getac devices can go mobile on the shop floor, ensuring production and logistics teams have the right tool at hand wherever they are.

EMBEDDED ID & SCANNING
Barcode scanners or RFID capability helps to ensure your operation can continuously track, trace and audit workflows during the assembly and logistics process.

GLOBAL CERTIFICATION & SUPPORT
Getac devices are certified for use globally, currently supporting major OEM in house programs, and strengthened by our world class service and support.

OPTIMAL SCREEN SIZE FOR ALL WORKFLOWS
10" and 11" screens for MES and Programming control applications that require enhanced viewing and input.

RUGGEDIZED CONSTRUCTION
Manufacturing is a challenging environment where bumps, knocks, drops, vibration and high and low temperatures are a given. Getac devices are rugged inside out to stand up to anything the shop floor can throw at it.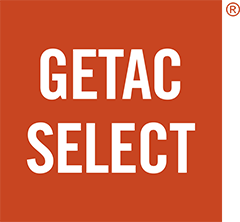 What is "Getac Select® Solutions?"
As a leader in providing rugged mobile solutions in the industry, we listen to customers and want to take our Customer Experiences to the next level. We understand the challenges in your daily business and the frustrations you may have while selecting suitable solutions to achieve your business objectives or solving these challenges. To further separate Getac from the competition, Getac now offers a comprehensive Industry solutions program, called "Getac Select® Solutions". With our years of industry knowledge and experience, and combined with our successful deployments to our customers globally, "Getac Select® Solutions" shortlists the most appropriate solution options for you to choose from.
Professional Service and Support

Service
Main Unit Warranty Extension
Battery Warranty Extension
Keep your SSD / HDD Warranty
Getac Office Dock Warranty
3rd Party Vehicle Dock Warranty

Support
Self-maintainer
Drivers & Manuals
Product Registration
FAQ & Help
Online Support
Getac Diagnostic Assistant
Getac System Recovery
Warranty Check
Ready to transform your aftersales operations? Get in touch today