GETAC ENTERPRISE DATA
MANAGEMENT
The ultimate system for storing, organizing and managing audio and
video files, documents, and other case related data.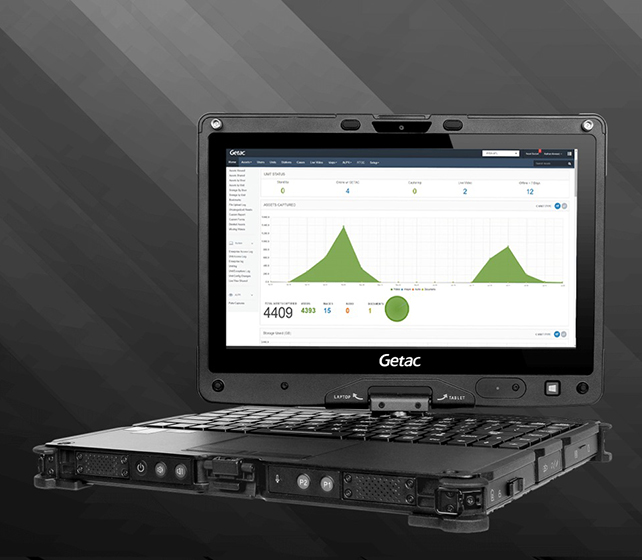 DATA MANAGEMENT MADE EASY
Getac Enterprise is a scalable system that provides first responders a place to easily upload, organize, and review video saving time across all departments. Getac Enterprise automatically associates related records from multiple video sources, reducing time spent recalling files and classifying incidents. The unlimited user interface with fully configurable profiles and remote access provides quick access from any device with an internet connection to review evidence, run analytics, view live video feed or collaborate on active cases.
We provide improved efficiency to Analysts and Command Staff with visibility of geolocation from officers and assets, access to audit logs, reporting and detailed chain of custody. Automatic redaction and case management are included at no additional cost and help reduce the man hours required to prepare evidence for trial.
ADVANCED STANDARD FEATURES
Getac Enterprise Data Management allows law enforcement to quickly identify operationally relevant information, alert responding personnel and receive real-time information (including on scene video) from the incident.

Video Playback

Redaction

Cases

AVL

Analytic map

Dashboard/Reports/
Audit logs

Media sharing

Evidence management

Live stream
POWERFUL AND SCALABLE SOFTWARE
Getac Enterprise Data Management is one of the most powerful backend video management tools in the industry. The highly scalable software provides dashboard overview, media management and remote management of all your Getac devices. And, Getac Enterprise was built to handle any type of digital document or video.
COMMAND & CONTROL EVIDENCE MANAGEMENT
◆ Supports complex retention policies
◆ SSL, encryption and hash-based verification
◆ Strongest role and permission-level security tools in the industry
◆ Full chain-of-custody tracking, including audit logs of all activity
◆ Robust categorization and search functionality that begins at the time the video was recorded and enables users to locate important video quickly
◆ Completely browser-based solution
◆ GPS mapping, analytics and visualization features
◆ ACTIVE DIRECTORY, RFID ,CAD AND RMS SUPPORT
◆ No per-seat software licensing
SIMPLIFYING EVIDENCE MANAGEMENT FOR OFFICERS AND DEPARTMENTS
The unit sits in the trunk of the car, and automatically brings all information together. It then transmits that information securely to the Getac Enterprise or HQ. This is the simple, effective way to classify evidence and preserve the chain of custody.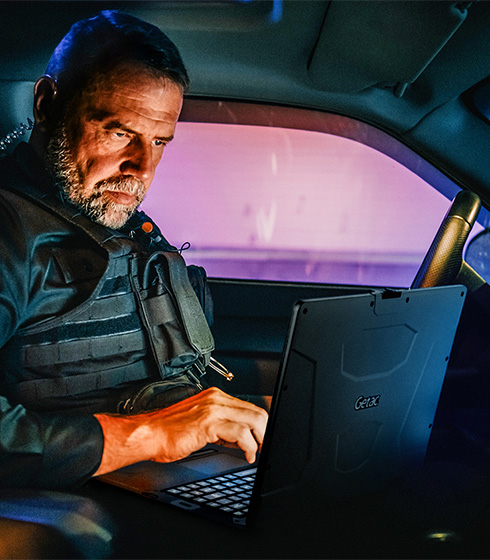 ALL OF YOUR EVIDENCE IN ONE


GETAC ENTERPRISE MAKES EVIDENCE
MANAGEMENT EASY FOR THE OFFICER.
Microsoft Azure Government Cloud platform is a comprehensive, cloud-based evidence management solution designed to handle all types of digital assets including in-car video systems, body-worn cameras, interview rooms, and other digital devices.
Authorized personnel can easily search evidence by date, keywords, incident types and location. A streamlined retrieval process and proper security credentials reduces the time spent preparing cases for court and sharing secured evidence. No proprietary media players or software is required allowing users to access the system where and when they need to.
Data is protected from deletion or alteration and cannot be overwritten. The Getac Video Solutions Cloud complies with Criminal Justice Information Services (CJIS), American Bar Association (ABA) and International Association of Chiefs of Police (IACP). All actions are captured in detailed audit logs reducing the possibility of civilian and police liability.
FULLY HOSTED, BROWSER-BASED EVIDENCE MANAGEMENT SYSTEM INTEGRATED WITH GETAC ENTERPRISE
Getac Enterprise handles complex data retention policies with an easy-to-manage user interface, making it an ideal secure evidence sharing and case management platform.