Suppose you're in the market for a rugged laptop, and your organization can live without the most extreme guaranteed tolerances expected of a fully-rugged or ultra-rugged model. In that case, the vetting process can be confusing.
You may encounter terms like semi-rugged laptop, business-rugged laptop, enterprise rugged laptop, and just plain rugged laptop. Some of these terms are meaningful, and some are marketing.
A Little About Rugged – Rugged laptop meaning
A rugged laptop is a type of laptop that is designed to withstand harsh environmental conditions such as extreme temperatures, dust, water, and shocks.
Getac manufactures rugged laptops and tablets, but not all are equally rugged, so Getac doesn't classify any individual model or line of models as "rugged." Instead, our laptop lines are classified as fully-rugged or semi-rugged.
However, other device vendors or third parties (such as journalists or analysts) may use the more generic term "rugged" as a laptop classification. If they do, Getac recommends assuming they mean "semi-rugged laptop" unless proven otherwise.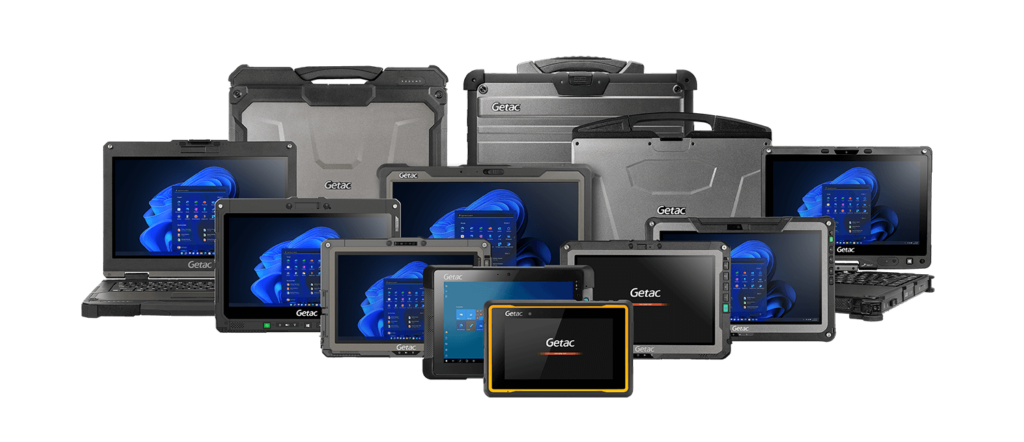 What Are Semi-Rugged Laptops?
Semi-rugged laptops are designed for professionals who need a portable computer designed with a full keyboard but who also spend portions of their day in hard-hat areas and other non-office environments where safety and climate control cannot be guaranteed, such as workshops, machine rooms, factory floors, vehicles, and the outdoors, but who don't need the most extreme tolerances you'd get with a fully-rugged laptop.
What Do Semi-Rugged Laptops Offer?
Semi-rugged laptops offer a brighter screen than what many regular laptops offer on average (roughly 250 nits), so workers can use these devices under sunlight.
Semi-rugged laptops are also rated to withstand a one-meter (three-foot) drop onto a cement floor and are IP53-certified waterproof and dustproof while sporting a MIL-STD-810G/H rating against various forms of stress that might be encountered on rough terrain or in a harsh environment, such as extreme vibration or extreme temperatures.
Who Uses Semi-Rugged Laptops?
Industries that use semi-rugged laptops include automotive, manufacturing, law enforcement, and certain utilities. But in truth, workers can benefit from semi-rugged devices in any industry or enterprise where:
physical risks to devices are not trivial
mobile connectivity and information security must always be maintained
users may need the device to run on battery power for a full shift or longer
What Are Business-Rugged Laptops?
A Business-rugged (aka enterprise-rugged) laptop is a regular notebook modified to better handle the rigors of business mobility and travel.
It may have certain shock-mounted internal components (such as the data storage drive). It may have a rubberized or hardened chassis, making it more tolerant of impact or drop than a normal laptop.
However, it is still a business device built for business travel, meant to be used in climate-controlled indoor areas. It is not suitable for frontline professionals who leave those areas.
Business-rugged laptops are not meant to be used outside under direct sunlight or in harsh temperatures, or in harsh environments.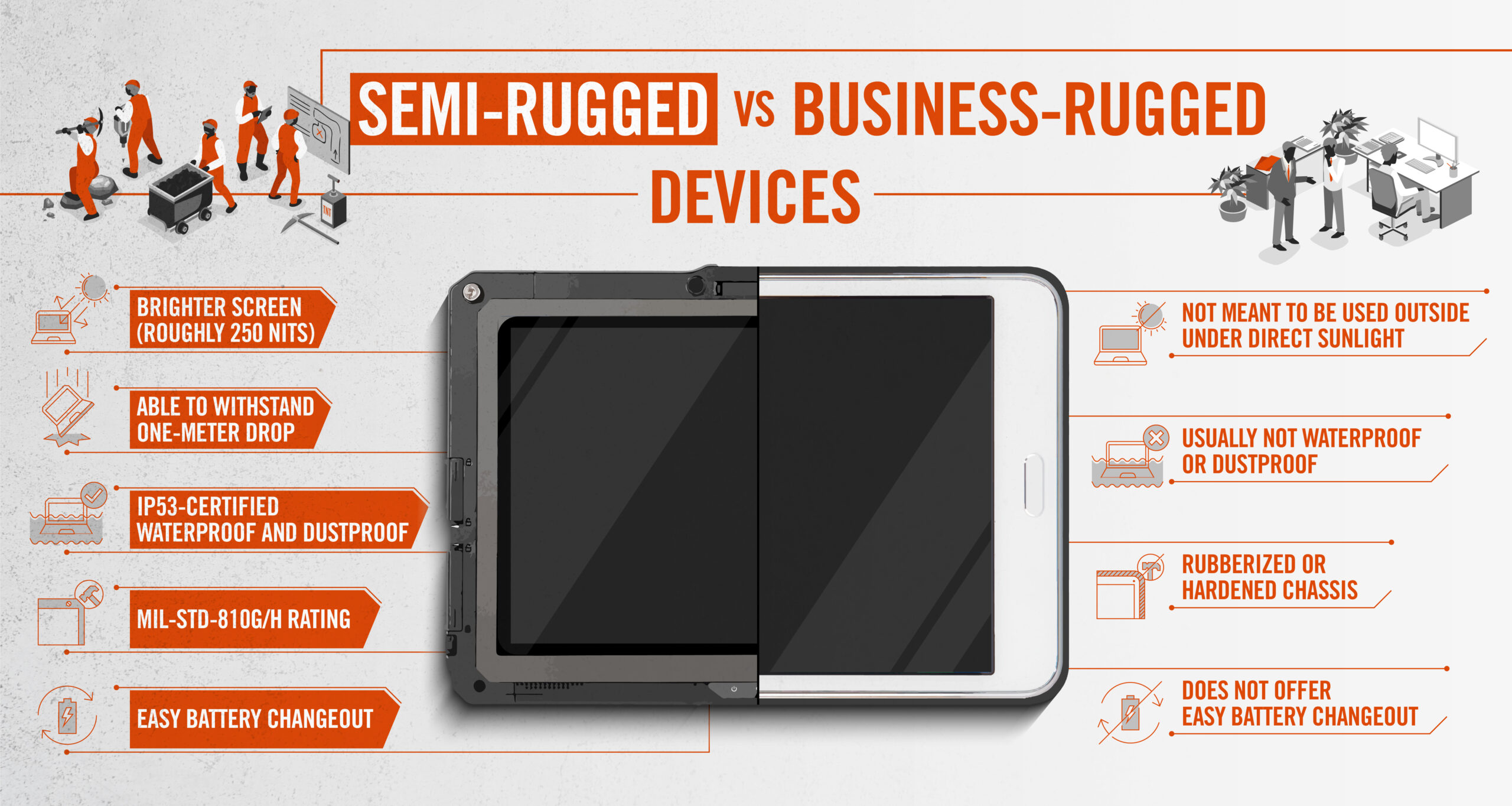 They are usually not waterproof or dustproof. They usually won't offer a long battery life or easy battery changeout (making full-shift operation away from a wall or vehicle problematic). And they also generally don't offer a user-removable disk for extra data security, nor will there be extra accessories from the vendor for safe usage during vehicle riding, such as a mount or docking station.
A business-rugged notebook might not have IP or MIL-STD certifications for hazardous duty or extreme environments.
Granted, just because a ruggedized PC doesn't have the certifications doesn't mean it can't tolerate the relevant stresses and elements.
It may simply mean that the device hasn't been tested to prove it. But without those certifications, you have no way of knowing. Getac does not recommend considering a laptop rugged without them.
For Your Next Semi-Rugged Laptop Accept No Substitutes
During the vetting process, decision-makers may encounter information on the Internet that classifies semi-rugged laptops as equivalent to business-rugged laptops (i.e., regular laptops that have received one or a few shock-mounted components or rubber-mounted hard drives).
Getac does not speak for or comment upon competitors or other third parties. However, Getac does not sell regular laptops, or any other ordinary portables, upgraded or not. The company is, and always has been, a dedicated specialist in rugged computers.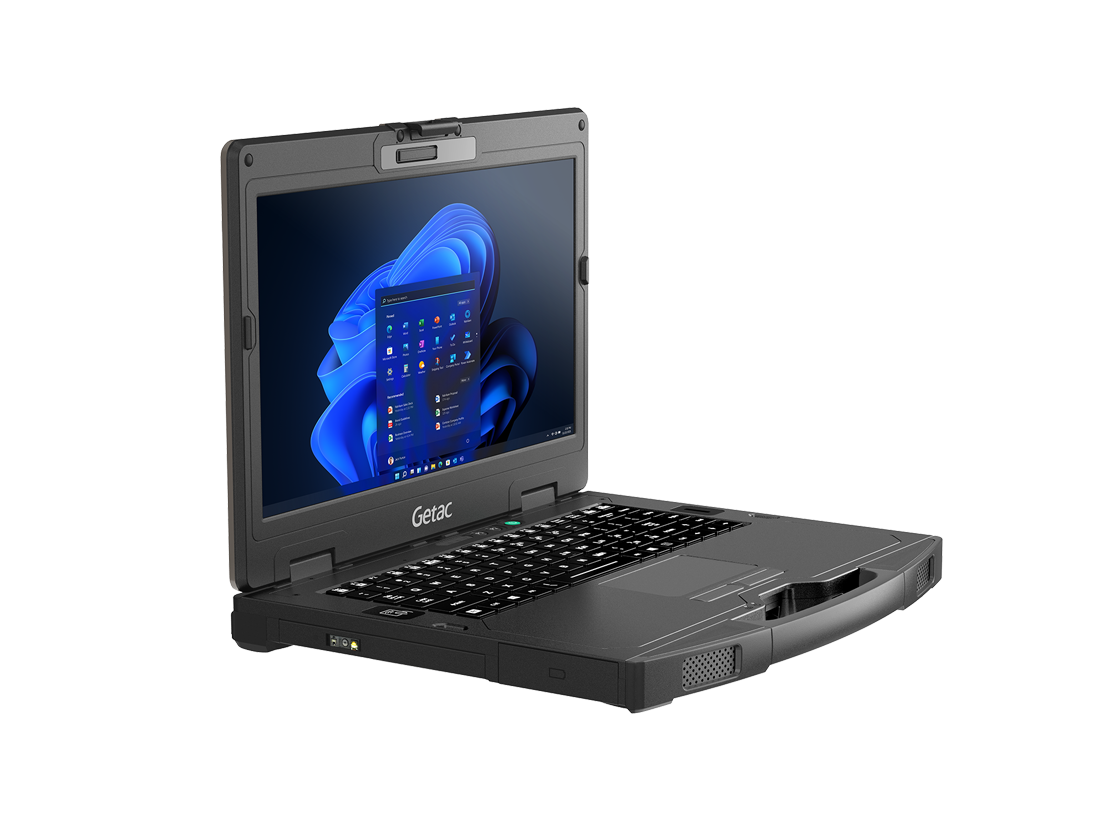 Every laptop or tablet Getac sells is a rugged portable computer explicitly built for hazardous duty in the harsh temperatures and stresses of the everyday world, not just the office.
Getac's ruggedized line offers features that cannot be bought elsewhere. These include Getac's proprietary LumiBond ultra-bright touchscreen technology, house-made magnesium alloys, and impact-resistant polymers.
To learn more about Getac's laptops, click here