As companies adapt to the Covid-19 pandemic, they realized the value of remote working and remote experts. Workers could interact with their colleagues and customers with a mix of old and new digital technologies. In many cases, rugged mobile devices enabled remote experts and remote workers to be more effective than when they were office-bound.
Many industries embraced remote experts from field service to supply chain to utilities. Digital skills are in demand more than ever before. However, many companies face hiring challenges in finding people with the skills required to succeed in a digital world.
Companies Face Skills And Knowledge Gaps
Mature members of the workforce typically have less digital expertise. However, they will continue working longer and often for the same company. The younger workforce has more profound comfort with technology. On the other hand, they may have less professional and soft skills to make remote work more productive.
Research from the Lumina Foundation revealed that older people with basic digital skills or who are digitally literate have, on average, higher numeracy and literacy skills than younger people. Older people with better computer and internet access have higher levels of digital skills than older people who do not. However, their digital skills are still lower than younger Americans in comparison.
Even though the workforce's overall number of people over 65 will grow through 2024, the field service industry has been hit hard. This is because more older professionals leave their roles in large numbers.
As digital skills become an expanded priority, companies face a skills gap for remote workers. A digital skill gap may serve as a barrier to older people. This keeps them from fully applying their existing skill sets. Training can be challenging, as self-guided and online learning doesn't always replicate the knowledge transfer of in-person sessions. Companies that invest in training for older workers could fill open positions otherwise reserved for those that already have the requisite skill set when hired.
Increased use of digital equipment leads to a greater risk of damage and lost productivity. Commercial-Off-The-Shelf-Device grade-mobile devices present an attractive price point. However, these are not designed and constructed for the realities of commercial use, especially in rugged environments. Rugged technology helps address the challenges of remote experts and workers, supporting training and operation at the highest levels.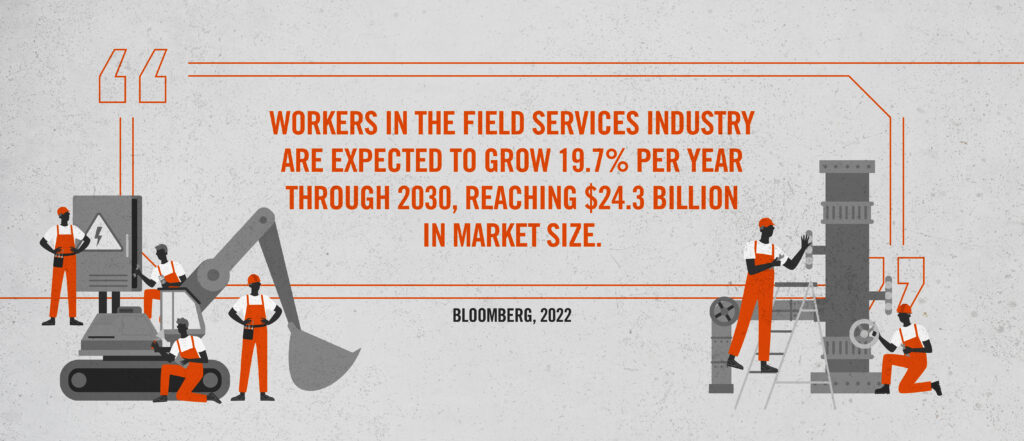 Demand For Remote Experts Is Growing
Companies transform field services, remote operations, and customer interactions from analog to digital expertise. Field service workers are expected to grow 19.7% per year through 2030, reaching $24.3 billion in market size.
Industries including utilities, transportation, public safety, natural resources, oil and gas, transportation & logistics, and industrial manufacturing adopt IoT sensors, devices, and digital tools.
Oil & gas workers use IoT tech to monitor and service equipment in remote areas, often without high-speed connectivity.
Truck drivers gather digital proof of delivery and other documents at warehouses and receivers' docks to improve supply chain efficiency. Initially adopted as a Covid precaution, digital POD became valued for its contribution to speeding up the supply chain.
Auto mechanics access technical documents for repair and maintenance as a paperless workshop. Doing so will reduce the time spent looking for procedures and supporting the digitization of the entire process.
In mining, operators conduct safety inspections and use real-time GIS mapping tools. This approach helps speed up the development and monitoring of extraction plans.
From ocean ports to railroad yards to the highway to the warehouse floor, transportation workers use sophisticated tools to track every move and maintain equipment.
In all these vertical industries, rugged mobile devices go where the work is. Using these devices helps disseminate or collect information and support the digitization of business processes. Workers don't have to submit paper documents hours or days after the job is done. Digital tools transform the process by eliminating manual handling and enabling digitization. By doing so, the company can benefit from data-driven analysis.
Employers must train their workers on the techniques and tools needed to succeed. Remote experts require this to make the most of these innovations.
Digital Transformation Bridges the Skills Gap
Digital tools can help span the gap between mature workers with institutional knowledge and new employees.
Knowledge transfer & training
Unfortunately, traditional modes of education and training may not fulfill the need for employees with digital skills. Collaborative technology, including high-quality video calls, on-demand video, and document/peripheral sharing, ensures remote workers have the necessary knowledge. Experienced remote workers can transfer their knowledge to new employees while remaining remote.
Businesses can support workers by adopting a lifelong learning approach supported by digital training opportunities. Stakeholder partnerships can help tackle the skills gap through reskilling and upskilling initiatives.
Mobility
With rugged mobile devices, remote experts always have the necessary tools and information on-site. Front line workers have the knowledge and systems they need at the right time to respond quickly and accurately to enhance customer satisfaction. With the spread of connectivity technologies like 5G, Li-Fi, and Internet of Things (IoT) deployments, workers can go where the work is.
Because remote work and training occur in the field, manufacturers must design and construct devices to withstand vibration, rough handling, moisture, and dust.
Collaboration
Field experts can respond more efficiently to customer needs through communication and information-sharing tools. Visualization technology like virtual and augmented reality can bring product manuals and institutional knowledge to the site like never before. A single worker can benefit from the whole team's experienced and insights on the spot.
Digitally enabled collaboration enables agile, on-the-job training to help workers adapt to new work environments.
Technology You Can Trust
Improvements in connectivity, security, and computing features make remote work more effective. Workers aren't chained to a cell phone or a bulky manual with unclear instructions.
Advances such as augmented reality will make remote work even better. Organizations can do this through maintenance manual overlays and data highlighting component performance to show what's likely to be replaced.
Why Choose Getac to Overcome The Remote Expert Skills Gap
Employers that integrate technology into everyday operations will be better prepared for the digital transformation of work. Digitally savvy companies can retain the knowledge of experienced professionals while attracting and retaining new talent who can apply valuable skills to essential field service operations.
Your organization can manage the digital skills gap by empowering remote experts with rugged, durable technology and professional services to solve business challenges.