The automotive sector is embarking on one of the biggest developments in its history as the internal combustion engine is phased out in favour of alternative drive trains.
But the rollout of EVs is just the start of a period of change that will also see autonomous vehicles becoming more commonplace.
The complexity of these advancements means all workshops and dealers need to prepare themselves for multiple challenges all at once.
With millions of cars already on the road with some element of automation, such as lane assist, dealers and aftersales teams must start factoring autonomous vehicles into their future plans, especially with experts predicting driverless taxis by 2025.
Workshops are already evolving to serve the needs of EVs and PHEVs, but as dealers tool up to serve EV customers, how can they factor in autonomous customers?
As we move towards connected cars, customers will take a step back from the maintenance of their vehicles. Brands are already using connected systems to great effect. Integrated systems, especially for commercial vehicles, such as FordLiive, are allowing fleet operators to keep track of vehicle health from a central location and manage maintenance schedules globally.
In the future Automotive Artificial Intelligence (AAI) systems will enable a vehicle to book its own service when it hits a designated mileage. The question is, how will this work for the aftersales and how do they boost customer retention when there isn't a customer involved in the process?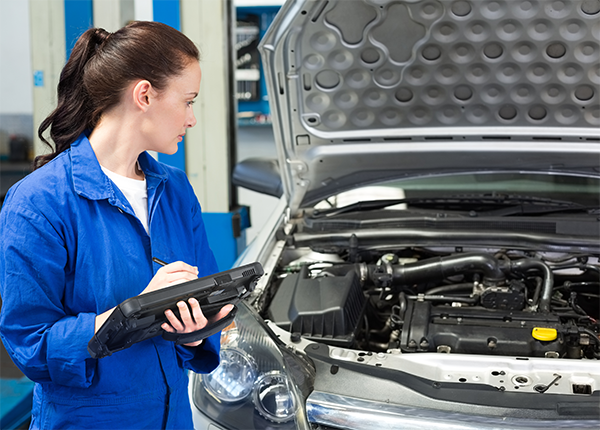 Automated bookings will present challenges. Can the consumer choose the timing of the service, can they afford it, and will they have a choice of dealership? Fleet operators will also face hurdles, sizeable fleets will cause bottlenecks during maintenance unless systems are intelligent enough.
European anti-competition laws should remove at least one of these challenges and opting out of service bookings will be standard as is the case with Tesla's self-scheduled service option.
Practically, for a vehicle to be able to book its own service, there needs to be a system at both ends; a Tesla can't pick up a phone to book itself in. This means that all dealers, regardless of size, will need a fully digital system to manage bookings.
Digitisation may not be enough, however. If the industry wants to move towards complete automation of the booking process, it will need to find a way to fill the human-sized gap. This is where dealer-based AI systems come in. Unlike conventional digital systems, AI systems will allow the dealership to streamline the booking process and manage the customer more efficiently.
The importance of customer retention
But why is customer retention still important when the vehicle handles its own maintenance?
Customer retention will boil down to two major factors: value for money and efficiency. Customers will still want their vehicle back quickly and without paying through the nose, and with on-demand vehicle subscription being seeing as a realistic future for car ownership, keeping downtime and costs to a minimum will be essential.
Addressing these challenges in one quick systems overhaul is going to be a major challenge for dealerships of all sizes. However, as they prepare for EV's it makes sense to foolproof their future by using AI-based systems that in the future can be readily updated to cope with autonomous vehicles, like the ones we're building at Getac.
These changes need to be collaborative, however. OEMs must work closely with dealerships and their aftersales departments to ensure the systems utilised can communicate with each other and make this connected metropolis being predicted, plausible.
First appeared in Motor Trader 27th October 2021