If you're looking for a body-worn camera (BWC) to fit your department's needs, look no further than Getac Video Solutions' second-generation BWC, the BC-02. Backed by 45 years of combined industry knowledge, experience and expertise from our founders, Getac Technology's rugged hardware and IRSA software, we've created one of the smallest, lightest and most reliable body-worn cameras on the market today.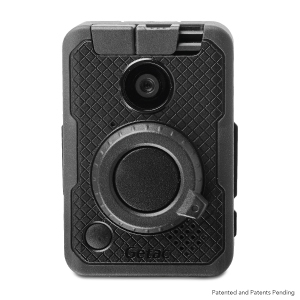 BC-02: Built to Go Where You Go
This IP 67-rated device is built to endure even the toughest days on the job. It is dust and water resistant, able to withstand 30 minutes in up to one meter of water and built to endure drops onto concrete or wood. In other words—this is one rugged piece of equipment!
Comparable in size to a deck of cards and weighing in at less than 5 ounces, our BWC has a 120 degree field of view and can record in 1080p, 720p and 480p. Depending on the video settings, the lithium-ion battery can last up to 12 hours.
BC-02 also offers a pre-record function up to 30 seconds and has a convenient in-field tagging system that allows officers to categorize video in the field with the category wheel on the front of the device.
With multiple mount options for every field situation, BC-02 has several clip configurations ideal for all kinds of uniform styles and fabrics, including warm weather uniforms and thick winter gear—and everything in between. In addition to the chest clip, known widely as the gator clip, we also have epaulet mounts, an s-clip chest mount and several magnetic mounts.
Additionally, because Getac Video manufactures all components of our products, end-to-end, we are better able to work with our agency customers to come up with a new or better solution for mounting our products on your officers.

BC-02: Superior to the Industry Standard
While there are a variety of body-worn cameras on the market, the Getac Video Body-Worn Camera BC-02 outpaces the competition with several standard features that undoubtedly help to shape our product as the superior option for law enforcement officials:
– 64GB of Storage= 45 hours of recording: While much of the industry offers 32GB body-worn cameras, the BC-02 doubles that with 64GB of data for up to 45 hours of recording. More memory is especially beneficial for those agencies whose LEOs don't often return to home base, such as State Troopers, County Sheriffs or Wildlife Officials, to name a few.
– Wi-Fi, Bluetooth and GPS: The BC-02 offers Wi-Fi, Bluetooth and GPS all in one compact device, a rarity for second-generation body-worn cameras on the market today. According to Kaleb McDaniel, Lead Solutions Architect at Getac Video, the GPS has proved very helpful in many field situations—including search and rescues. The BC-02 aided in tracking officer movement and increased operation efficiencies.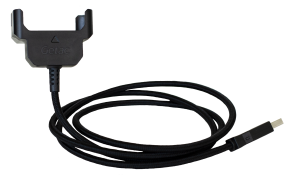 – Charge On-The-Go: Instead of having to remove your BWC if you need a mid-shift charge, Getac Video offers a magnetic breakaway cable that attaches to the camera while it's being worn, allowing LEOs to charge the unit in the car while on patrol. If you need to leave your car suddenly, the charger will automatically break away without damaging the camera, or slowing you down.
– Recording awareness: To prevent officers from forgetting they have their camera on, the Getac Video BC-02 has several features to help "improve an officer's awareness that they are recording," said McDaniel. The BWC has three built-in features that alert and remind the officer their camera is on and recording: audible cues, haptic feedback and LED lights. When the camera is turned on, a programmable voice will say, "Camera On" and vibrate. Small lights on the top of the camera will also turn on to signal that the device is recording. Additionally, the verbal cues and vibration can be configured in any number of ways, such as setting a reminder every sixty seconds.
– Covert Mode: While recording awareness is useful in some scenarios, having voice cues or lights might be dangerous in others. That is why the BC-02 also offers a covert mode that is enabled by sliding a switch over the LED lights on the top of the camera. This mode automatically mutes the audible cues and vibrations and hides the LED lights, so you can remain hidden and safe when in intense situations.

– "Store and Forward": When officers have finished a shift and are plugging their BWC into the to charge and offload video, there is a lot of data funneled into the Digital Evidence Management System. Transferring data can sometimes cause servers to slow down and has caused issues with departments' Wi-Fi. However, Getac Video has come up with the perfect solution to that shift change issue, called "store and forward." The eight-bay master dock system is set up to offload the video from the cameras and store the information until it can forward it over the ethernet connection, preventing the Wi-Fi system or server from becoming overloaded.
– Core Manufacturer: Getac Video Solutions manufactures its products from end-to-end. "We develop the software and we control the hardware," said McDaniel. That allows Getac Video to react to the market and quickly create solutions to the ever-changing demands of the market.
BC-02: Configured to Your Department's Needs
Getac Video Solutions recognizes that each department has unique and specific needs when it comes to their BWC, which is why the BC-02 is entirely configurable. From selecting buffering time, to choosing your triggers for automatically turning on the camera, the Getac Video BWC offers hundreds of ways to adapt to any department's needs and workflow.
The BC-02 is just one piece of the fully integrated, customizable solution available. Integrating the BC-02 with other products, including our in-car cameras, VR-X20 DVR, and Enterprise Data Management system, allows for an automated, seamless collection of evidence and data storage. Connect with one of our Command Specialists to learn more about how we can configure a solution to maximize efficiency, automate your processes and keep your officers connected and protected. Visit us at Getac Video Solutions.