DIGITIZING FUEL-LOADING TECHNOLOGY FOR AIR TERMINALS
YOUR INDUSTRY CHALLENGE, OUR SOLUTION
WHERE TRUST MEETS TECH:


GETAC'S REAL-WORLD SOLUTIONS SPAN MULTIPLE INDUSTRIES

Every company has its unique challenges. Getac is known to provide industry-tailored, rugged computing solutions that cater to your specific operational needs. Whether boosting efficiency, prioritizing safety, or lowering total cost, we make it our mission to develop a core understanding of your business goals. We consider your pain points, the context of your day-to-day work, and your desired outcome, which all lead to our perfect-fit solution— one with only the capabilities you need and want. We've collaborated with businesses in various fields and have generated hard results for each and every one of them. Let us do the same for you.
TECH DESIGNED TO STREAMLINE THE SUPPLY OF FUEL IN THE AVIATION INDUSTRY
Getac Hardware Integrated with ATIO's FuelGATE Software in Latin America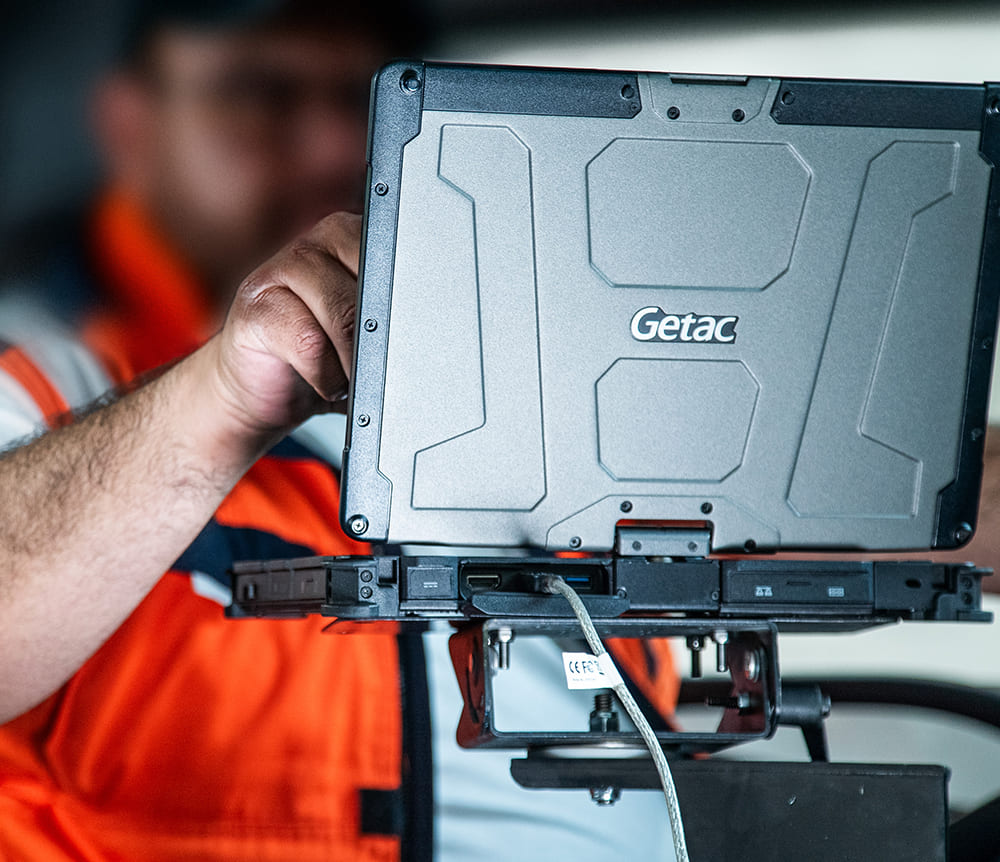 THE INDUSTRY & COMPANY
A cost-saving, time-efficient fuel management system for air terminals
ATIO® Group is one of the leading Latin American companies focusing on software for fuel supply and, thus, management processes in air terminals. They were developing a fuel management system to increase the efficiency of their operations and needed a technological ally to provide robust hardware. First, they wanted an efficient and precise method for calculating the price and cost associated with the oil transfer. Second, they needed to maintain meticulous records of employee check-in and check-out times.
THE CHALLENGE & PAIN POINTS
The need for a comprehensive system combined with robust hardware
Their goal was to automate a number of manual fuel supply operations. Even in small air terminals, inaccuracy, registration errors, or slow fuel supply billing have a significant impact. It was also crucial for ATIO® to consider the real-time traceability of inventory, as well as the aviation fueling equipment and supply being carried out in open-air runways under any weather condition. With so many factors to consider for this industry solution, their primary hope was to acquire a stable and dependable device that would not introduce additional issues or costs into their operations.
THE TAILORED SOLUTION
Digitizing operations for greater operational control and quicker billing
Considering the size of control operations and critical environment, the ATIO® developed an intelligent management software— FuelGATE. This sophisticated system was then installed into the Getac F110 tablet and V110 convertible notebook, which became the vehicle for this digitization. The devices were also connected to a portable electronic refueling meter, which was equipped with a printer and an oil measurement component. This customizable integration enabled them to accurately calculate the cost associated with oil transfers and generate receipts, streamlining their processes. 
Aside from the integration with the software, the F110 was ideal for placement in fuel delivery vehicles, given its slim profile, fully robust chassis, and ability to withstand temperatures from -29°C to 63°C (-20.2°F to 145.4°F). Having robust Wi-Fi, 4G LTE WWAN, Bluetooth 5.2, GPS connectivity, and a 3D antenna was also essential, as any real-time interruptions could result in significant financial losses. 
THE RESULTS & BENEFITS
Successful implementation across the Latin American aviation market
Eventually, this fuel management system was implemented across 60+ air terminals in Central America, the Caribbean, and South America, accommodating various airplane models and diverse software infrastructure. 
By choosing the F110 and V110, with their reliable performance and the added assurance of prompt and effective technical support, ATIO® aimed to safeguard their operations and maintain a competitive edge in their industry. With the software's functionality and the hardware's power, they could optimize the assignment of services and inform operators of delays in flight scheduling and aircraft in position. This strategic decision would ultimately help them achieve increased customer satisfaction, reduced operational disruptions, and enhanced profitability.
"We detected the need to have robust computing equipment for our solution because this device is mounted on trucks, and we have had countless unforeseen events and weather conditions, which not only justified the use of a tough team but also made it essential. This is how we arrived with Getac." 
- Pablo Gualdi, CEO of ATIO® Group
REAL-WORLD GETAC APPLICATIONS
GETAC TOTAL SOLUTION OFFERINGS

NATIVELY RUGGED
Certified according to MIL-STD-810H, MIL-STD-461G and IP66 IP ratings standards

3-YEAR WARRANTY
Covered by a 3-year Bumper-to-Bumper warranty, including accidental damage
*Fully rugged products

EXCELLENT TCO & ROI
One of the lowest average failure rates in the industry

FULLY INTEGRATED
We offer complete solutions - hardware, software, service and accessories

ON-THE-GO USE
Mobile, full-shift technology for cross-use throughout the workforce
SEE WHAT SOLUTIONS ARE AVAILABLE TO SOLVE YOUR SPECIFIC INDUSTRY PROBLEM
Get in touch with one of our in-house professionals to discuss your business needs.