LOCKNCHARGE
LocknCharge is a company dedicated to the design, manufacture, and functionality of the highest quality security, charging, and transport solutions for mobile device deployments. LocknCharge makes products that make life easier for people managing deployments of mobile technology and the people using the mobile technology. Whether your organization is deploying 5 or 100,000 mobile devices, LocknCharge offers products and support to integrate mobile technology seamlessly into your workflow.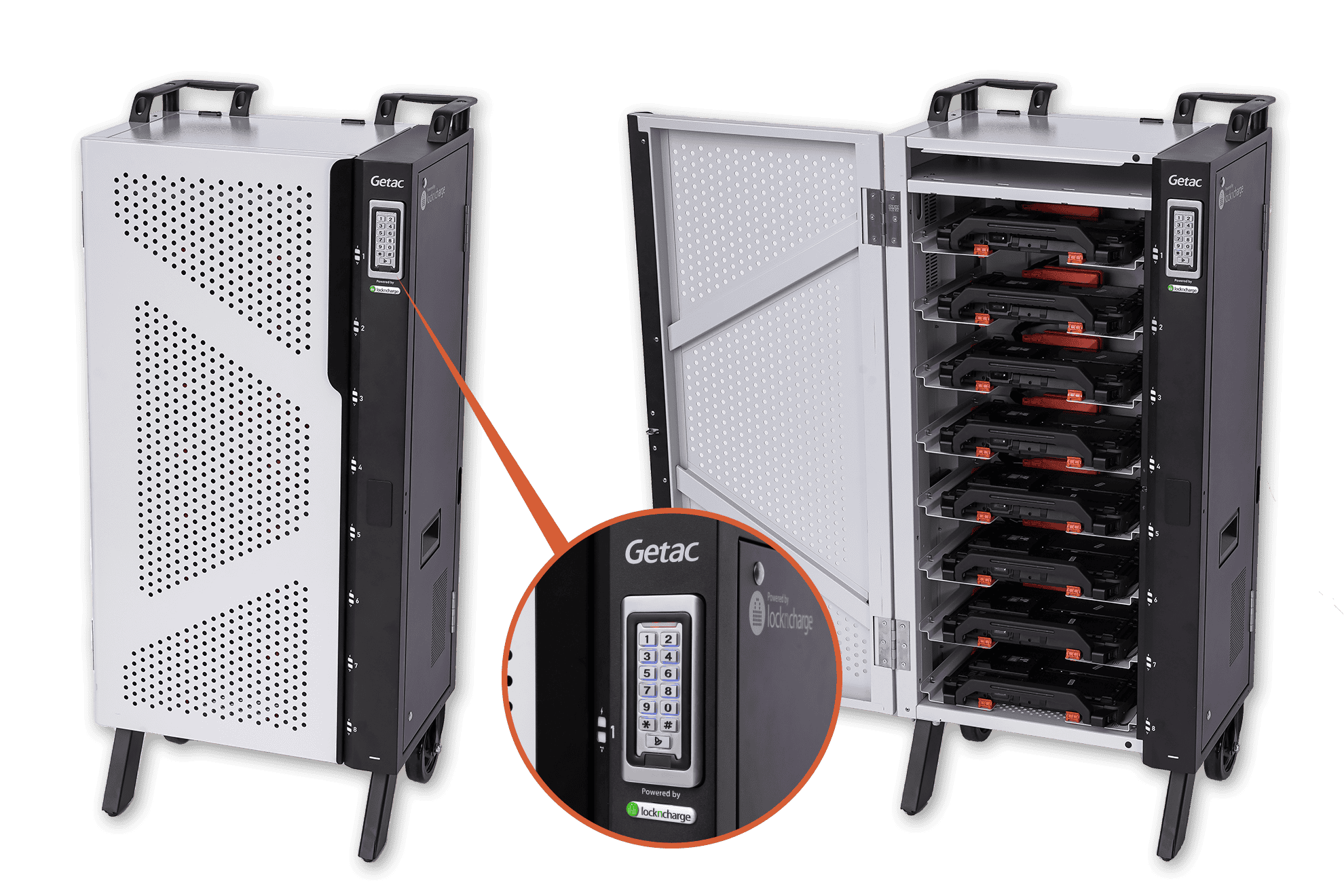 Locked Charging Cabinet for Getac Tablets
In partnership with Getac, LocknCharge has engineered an 9-bay keypad-secured docking cabinet to specifically store and charge Getac T800, UX10, and F110 rugged tablets. The TAA-compliant cabinet features eight removable docking shelves, plus one extra bay for a server or additional undocked computer. The top shelf can be used to charge a device or used for a local server to deploy images to devices in the other eight bays.
2 LED indicators on each bay show the charged or charging status or if your device is connected to the network
Devices can be docked with various accessories, such as a hard handle or snapback battery
Optional pre-installed Cisco switch model (no. WS-C3560CX-8TC-S) or option to bring your own switch.

---
Cable-Free Charging
The cabinet comes pre-wired with a pogo pin connector on each shelf. Cables stay organized and secure in the back panel, while devices can slide onto each shelf and click into the pogo pin connector, allowing for cable-free charging.

---
Safe Power Management
Industrial switched-mode with DC power supply ensures short circuit protection, over-voltage protection, and over-temperature protection. Adjustable temperature-controlled cooling fans ensure your devices don't overheat.

---
Ultra Secure
Protect your device investment without worry. Devices are locked away in the storage area with a digital keypad. The included wheel kit allows you to move the cabinet as needed, or you can secure it with the included wall bracket.
To learn more about Getac Total Solutions, contact a Getac sales representative using the form below…
Do you have a Getac Total Solutions Enquiry? Let's talk!