LocknCharge
LocknCharge is an innovative company that is revolutionizing the way organizations manage mobile devices. Their efficient charging solutions ensure devices are always centrally stored, accessible, protected and ready to go when needed.
With 20+ years of experience, LocknCharge understands many of the challenges highly-successful companies face during a digital transformation. Unique charging cabinet features increase employee productivity and reduce frustration. And protecting devices from theft, loss and breakage by storing them in a secure cabinet saves businesses significant time and money every year.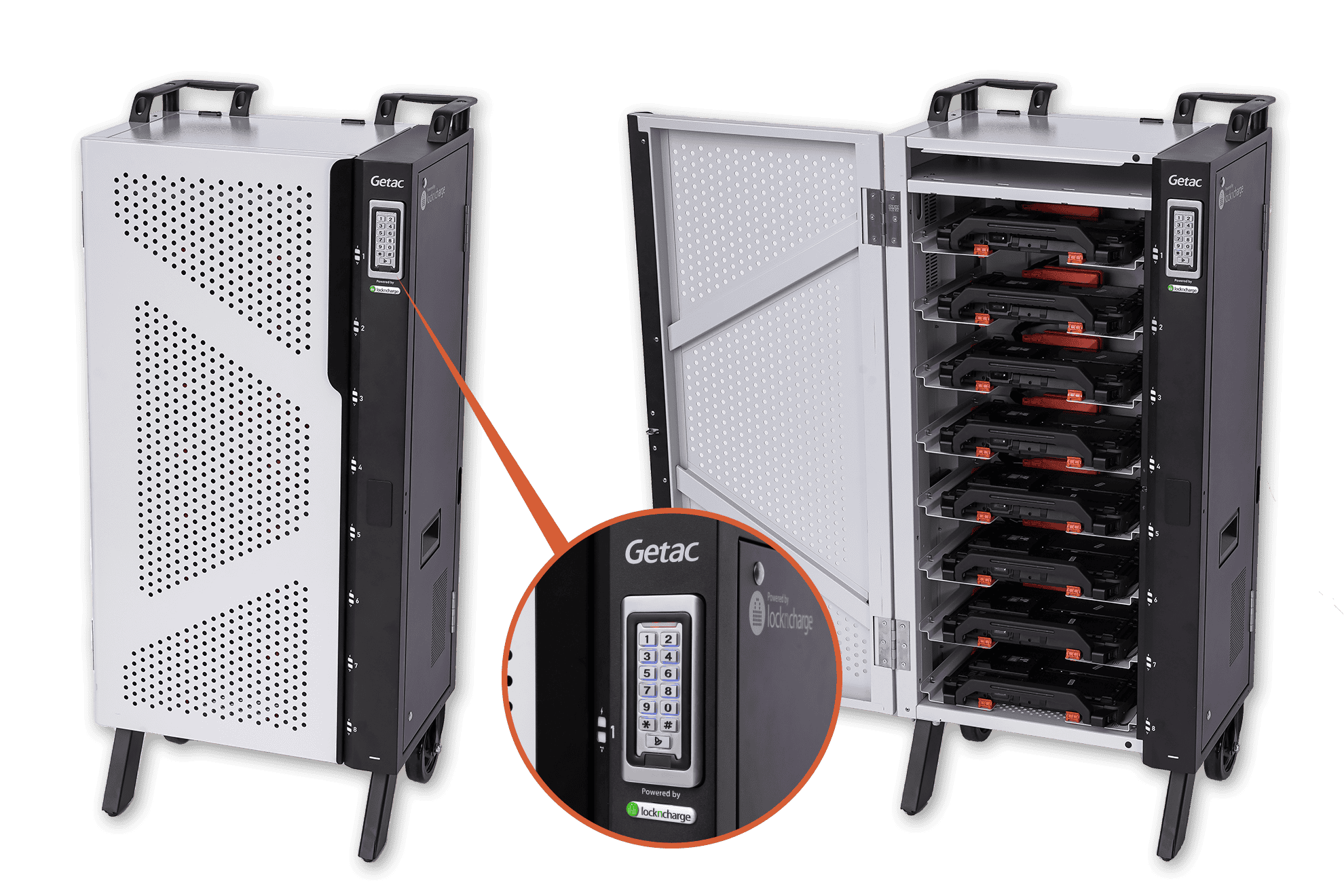 Secure Charging Cabinet for Getac Tablets
In partnership with Getac, LocknCharge has engineered an 8-bay keypad-secured charging cabinet designed to store and charge Getac T800, UX10, and F110 rugged tablets. The TAA-compliant cabinet features eight removable docking shelves, plus one extra bay for a server or additional undocked computer. The top shelf can be used to charge a device or for a local server.
2 LED indicators on each bay show the charging status or if your device is connected to the network
Ethernet connectivity wired to each shelf allows for fast device updates
Devices can be docked with various accessories, such as a hard handle or snapback battery
DISA-approved optional pre-installed Cisco Switch model (no. WS-C3560CX-8TC-S).

---
Cable-Free Charging
The cabinet comes pre-wired with a pogo pin connector on each shelf. Cables stay organized and secure in the back panel, while devices can slide onto each shelf and click into the pogo pin connector, reliably and easily connecting devices to power without messy cables.

---
Safe and Effecient Power Management
Industrial switched mode with DC power supply ensures fast charging so devices are ready to go when needed, short circuit protection, over-voltage protection, and over-temperature protection.

---
Ultra Secure
Protect your device investment without worry. Devices are locked away in the storage area with a digital keypad. The included wheel kit allows you to move the cabinet as needed, or you can secure it with the included wall bracket.
Benefits of a Charging Cabinet
Save you time by efficiently charging and centrally storing devices so they're always ready for employee use.
Reduce employee frustration by keeping devices and cables organized and protected.
Save you money by securing devices and cables to reduce breakage, loss, and theft.
Reduce the risk of data theft by keeping devices in a locked place when not in use.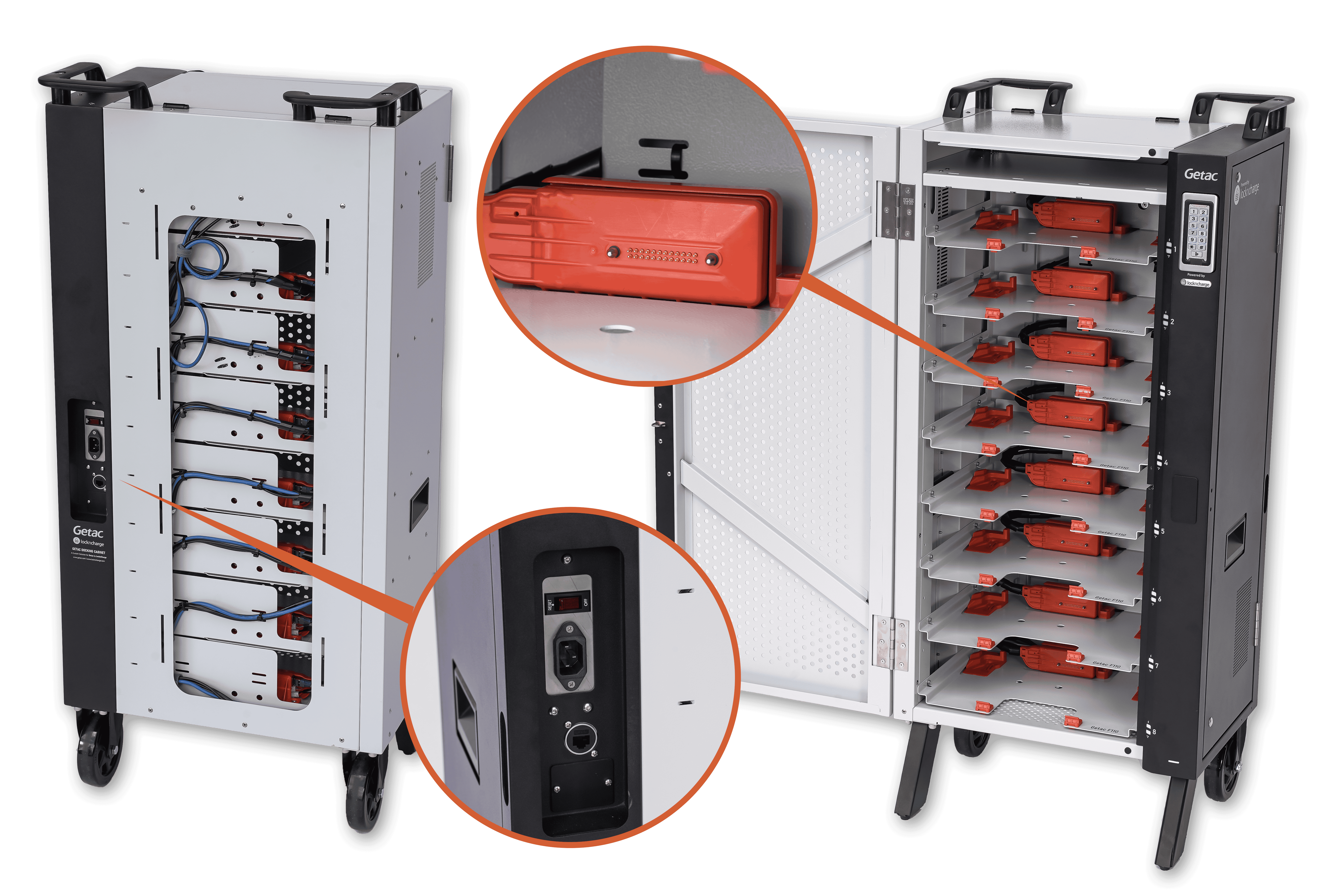 Stores, secures and docks 8 Getac devices (T800, UX10, and F110 Tablet devices)
Removable docking shelves
Can be docked with various accessory combinations attached, such as a hand strap and snapback battery
Ethernet connectivity is wired from the network switch to each shelf
DC Power is available at each docking shelf (only when device is docked)
Industrial switched mode DC power supply

Short circuit protection
Overload protection
Over-voltage protection
Over temperature protection
Charging status LED adjacent to each shelf
Network connectivity LED adjacent to each shelf
Large side-mounted handles
Digital keypad for cabinet security and access control
Adjustable temperature-controlled cooling fans
Removable AC power cord (US)
Complies with UL 62368-1:2019 Ed.3
Wheel kit included as Standard (stabilization legs, wheels and handles)
Optional wall bracket kit included
Optional Levelling feet included
Optional Pre-Installed Cisco switch model no. WS-C3560CX-8TC-S
To learn more about Getac Total Solutions, contact a Getac sales representative using the form below…
Do you have a Getac Total Solutions Enquiry? Let's talk!
Join the
GETAC SELECT ENABLING PROGRAM
Growing together to shape our business for tomorrow
Become a Total Solutions Partner