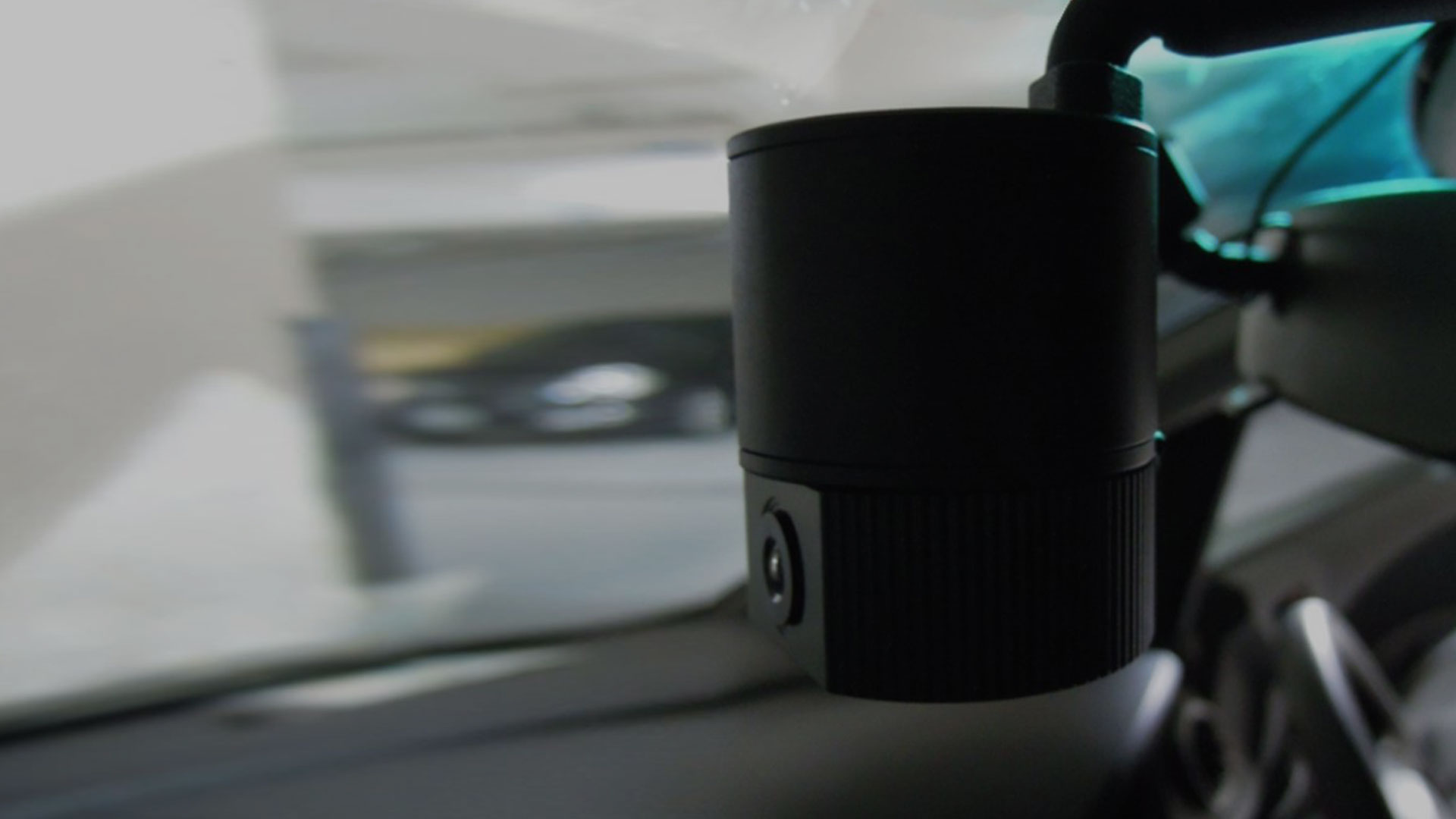 Getac's ZeroDark™ FHD Dual Lens Camera provides superior recording in all conditions with a minimal in-car footprint. The compact camera uses line-by-line technology and combines an ultra-wide, 180° lens with a 70° lens, giving officers unprecedented visibility over single-camera models.
ZeroDark™ FHD Dual Lens Camera Features
Top Camera 180° FOV (Diagonal)
The ultra-wide top lens provides a 180° field of view, giving officers the full picture of events in the front of the vehicle.
Bottom Camera 70° FOV (Diagonal)
The bottom 70° lens focuses on smaller areas to provide a more detailed view.
Total Rotation Range
By combining the wide-angle of the top camera with the flexible rotation of the bottom camera, officers get a viewing angle of 360° around the vehicle, with 250° of potential coverage. When paired with a body-worn camera, officers have maximum coverage.
True HD
Capable of 1080p Full HD and High Dynamic Range (HDR), the ZeroDark™ FHD Dual Lens Camera delivers a panoramic view with stunning detail and balance.
Low Light Viewing
Both cameras feature exceptional low-light performance and are capable of capturing clear detail with dim, ambient or indirect illumination. The ultra-wide top camera captures detail at .03 Lux.
Compact Design
At only 2.5″ height by 2.3″ width, the smaller profile combined with our new mount keeps the camera close to the windshield for less in-car clutter.
Industries Using ZeroDark™ FHD Dual Lens Camera
ZeroDark™ FHD Dual Lens Camera Technical Specifications
| | |
| --- | --- |
| Top Camera : | |
| Aperture | F2.3 |
| Focal Length | 2.33m |
| Low-light Capability | 0.05lux @ Color |
| Exposure | WDR technology |
| Dimensions (W x D x H) | 55 x 55 x 64mm (2.3" x 2.3" x 2.5") |
| Weight | 203.1g (0.45lbs) |
| FOV (Field of view) | 145° Horizontal / 178° Diagonal |
| Position | Fixed |
| View Type | Panoramic |
| LUX | 0.05lux @ Color |
| Network | Power over Ethernet (POE) |
| Video Output Format | H.264, H.265 |
| Video Output Resolution | 1920×1080 (FHD), 1280×720 (HD) |
| Video Output Frame Rate | 30 fps |
| Connectivity Interface | POE, Ethernet |
| Operating Temp | -30° to 60 °C (-22° to 140° F) |
| Rugged | MIL-STD-810H |
| Mount Options | Mounting Arm |
| Bottom Camera : | |
| Aperture | F2 |
| Focal Length | 6mm |
| Low-light Capability | 0.05lux @ Color |
| Exposure | WDR technology |
| Dimensions (W x D x H) | 55 x 55 x 64mm (2.3" x 2.3" x 2.5") |
| Weight | 203.1g (0.45lbs) |
| FOV (Field of view) | 50° Horizontal / 70° Diagonal |
| Position | Rotatable (Left 90° / Right 225°) |
| View Type | Panoramic |
| LUX | 0.05lux @ Color |
| Network | Power over Ethernet (POE) |
| Video Output Format | H.264, H.265 |
| Video Output Resolution | 1920×1080 (FHD), 1280×720 (HD) |
| Video Output Frame Rate | 30 fps |
| Connectivity Interface | POE, Ethernet |
| Operating Temp | -30° to 60 °C (-22° to 140° F) |
| Rugged | MIL-STD-810H |
| Mount Options | Mounting Arm |