Smart Meter Reading and Installation, On-site Safety, Utility Asset Management, Workforce Management for Utilities, Mobile GIS, Surveying and Mapping
Why do utilities professionals choose Getac?

Excellent Low TCO
Getac computers deliver excellent total cost of ownership (TCO). Our rugged and durable products work as hard as you do, with extensive product lifecycles that increase productivity across the workforce and ensure minimal disruption through unforeseen IT failure.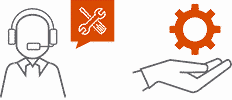 Comprehensive Customer Support
Getac customers benefit from comprehensive engineering services and customer support. Our services range from joint development of docking solutions, kitting to save customers time, imaging of individual customers' software and after-sales support.

Fully Integrated Eco-Solution
We work closely with our partners to deliver a fully integrated eco-solution that minimises installation times. This includes excellent hardware, mounting kits, mobile power supplies, security and connectivity software, for complete peace of mind.

Industry Leading Services
Getac offers a industry-leading warranty (bumper-to-bumper) on our products for a minimum of 3-years*, which includes accidental damage. Our devices are serviced in our own services centres supported by key partners such as DHL, ensuring your products are back in your hands as soon as possible. For minor repairs, Getac's Self-Maintainer Programme lets customers opt to have replacement parts shipped directly to them.
* Semi-rugged products require service upgrade

Product Longevity
Customers choose Getac because of our unrivaled commitment to customer satisfaction. We are so confident in our rugged computing technology that we offer an industry leading three-year return to base warranty, including bumper-to-bumper accidental damage cover as standard.

Years of Rugged Innovation
Getac has 30 years of rugged innovation, with USD 987M sales revenue in 2020. A key subsidiary of MiTac-Synnex group, Getac provides a full range of cost-effective commercial off-the-shelf (COTS) solutions for utility companies.
Success Stories
A few of our favourite success stories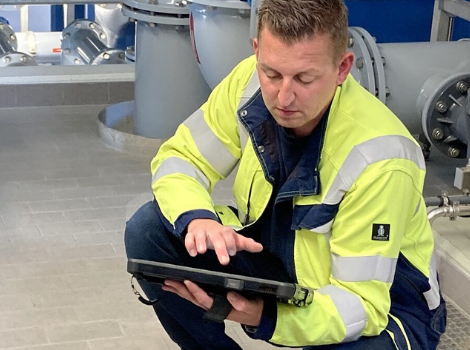 The Arnsberg Public Utility Company
The Arnsberg Public Utility Company ensure maintenance of the drinking water supply, even in emergencies, thanks to the robust F110 Getac tablets.
For a mobile, fast and always available display of the Arnsberg drinking water supply network, a robust, high-performance device with a long battery life that can be used at any time was essential. After all, when on-call and/or in emergency service situations, it is crucial that information about the pipeline network can be provided at short notice and on site, in any weather conditions, dust or humidity, day or night.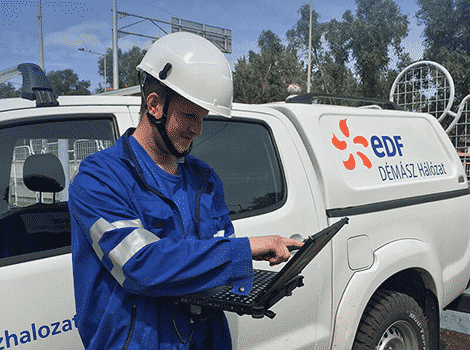 EDF
EDF Hungary maintenance teams use the Getac V110 to carry out field tasks in all types of extreme weather and rough handling conditions.
The rugged construction, backlighting keyboard, thin weight and SIM/GSM slot enable tasks to be performed efficiently and precisely whilst on-the-go. Using the V110, workers are able to check on data, complete daily tasks, communicate with head office and upload reports for real-time tracking, enhancing work capacity and competitive performance across the field team.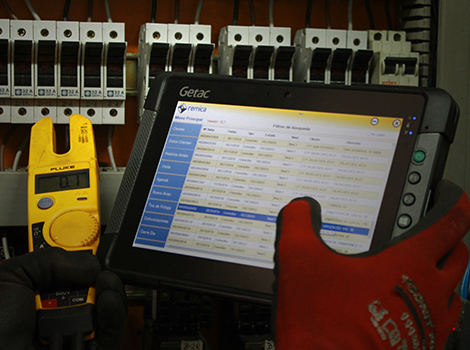 Remica
Temperatures can reach extremely high levels in boiler rooms and dust in construction sites makes it difficult to operate a tablet. Getac answers this challenge with its rugged T800 tablet. Its combination of multiple connectivity options, powerful processor and state-of-the-art touchscreen and sturdy build provide field technicians with valuable ally.
"Since using the Getac tablet, hardware incidents have decreased by 98% and we believe that these savings will continue to improve as we continue to purchase Getac's tablets" Juan Francisco de la Torre Laguna, IT Director REMICA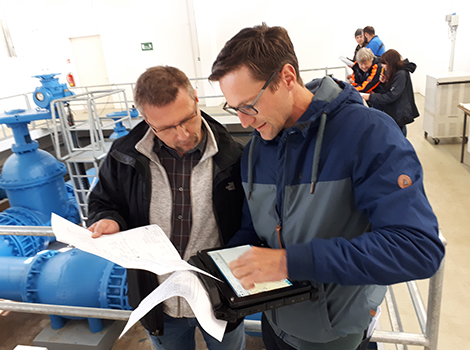 Leipziger Wasserwerke
For the operation and maintenance of the water infrastructure in Leipzig and the surrounding communities, field staff depends on reliable mobile devices for use in harsh environments. The extremely rugged V110 notebook is ideal for use in the field, as it combines the functionality of a laptop with the mobility of a tablet. For efficient handling of daily tasks, the Leipzig-based Waterworks benefit from reliable, robust hardware solutions with a high performance battery, flexible operating concepts and displays that are easy to read at any time of the day or night.
Need a quote? Let's talk!