Getac System Recovery
Getac System Recovery allows you to download and make a copy of your factory default. An external bootable device for re-upload to your computer.
Benefits of Getac System Recovery
Help end-users to reset their devices back to the Windows factory default setting
Save your time to avoid returning your device to the service center
Takes only four easy steps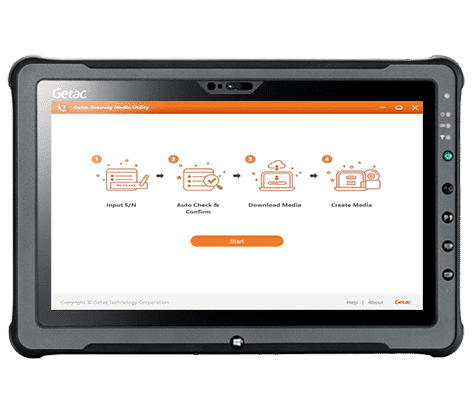 DOWNLOAD IN 3 EASY STEPS
1. After clicking "Access Here", you'll be directed to a download page. Type in your serial number or select your device model.

2. Click the "App and Utility" tab.

3. Find the application you need and click download. Done!

Note:
* This utility supports Windows 10 , it does not support Android or other operating systems.
* This utility is for standard models and does not cover project-based or customized models. For more information, please contact your Getac Support.
* This utility supports Getac models launched after January 2017.
* For supported devices, please check the "Drivers and Software" section of the Getac support website.