EVHC
Digitalise the multi-point inspection process and provide the customer with an Electronic Vehicle Health Check (EVHC) report as a duty of care, ensuring any identified work is captured using Getac's rugged mobile solution.
See the solution in action
DIGITALISING THE VEHICLE HEALTH CHECK PROCESS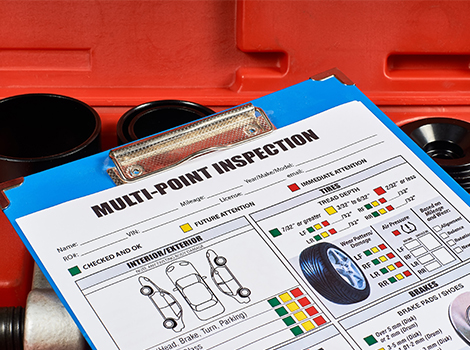 Ensure 100% of identified work is followed up as a duty of care to the customer.
Increase parts revenue and chargeable labor, generating on average an extra $35 on every repair order.
Integration of the EVHC system into the existing dealer management system will save on average 70 hours per month of productive time.
"Post COVID digitalisation of Parts & Service retail will be a major focus for the Automotive Industry".
Source: Frost & Sullivan
WHY YOU NEED IT?
Automotive dealerships around the world should carry out a health check on 100% of vehicles that pass through the workshop, however in reality, this is much less.
A major contributary factor is that the service teams are still using paper-based check sheets or platforms that are not integrated and creating double work for the users, which in turn impacts the uptake and utilisation.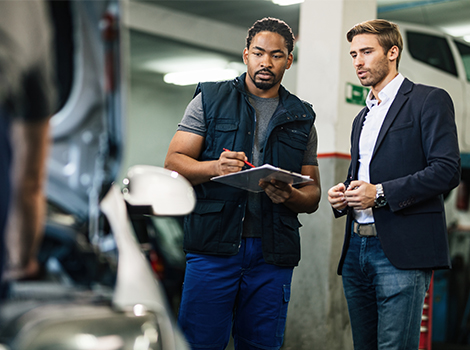 100% VEHICLE INSPECTIONS
The Getac EVHC platform mandates all checks are carried out in accordance with the OEM's standards, delivering peace of mind for the customer and providing additional work for the dealer.
QUICK & INTUITIVE USER INTERFACE
Time is everything when it comes to performing a health check. Getac's EVHC platform streamlines the process, allowing estimates and accurate handover times to be provided for a quick decision.
PAPERLESS APPROACH
Digitalise paper-based check sheets and allow the Technician to capture photo's, video's and comments that can be shared with the customer.
GETAC AUTOMOTIVE SOLUTIONS
Getac believes in eradicating wasted time and reducing costs for workshop operations by providing optimal hardware and software solutions that address the main workshop processes - allowing technicians to spend more time in the service bay attending to vehicles or out in the field at a roadside repair.
The Smart Approach to Combining Workflows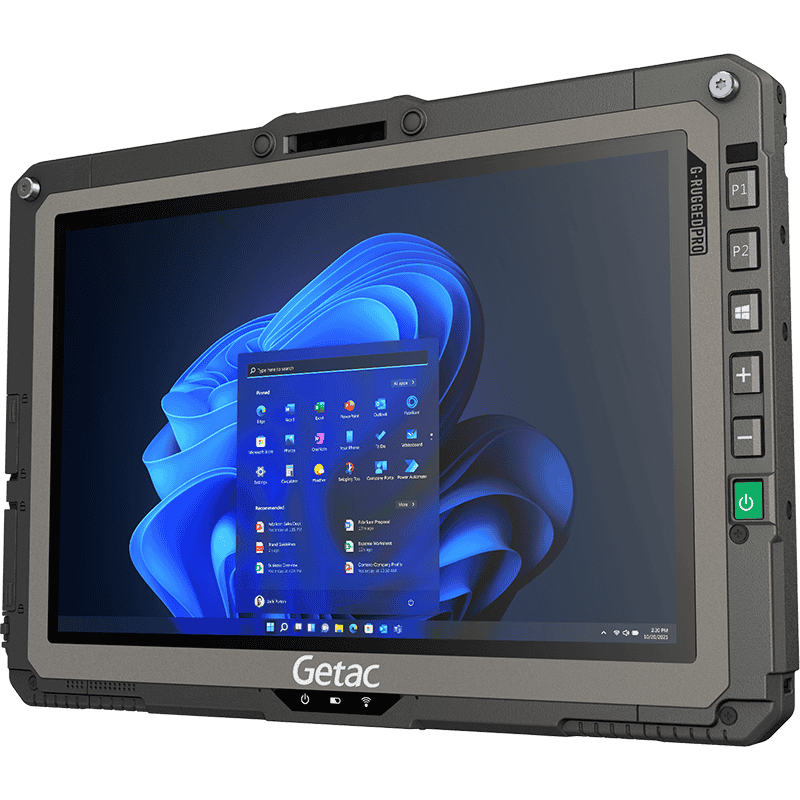 Template design tool to create OEM check sheets for preventative maintenance and quick service, related inspections.

Online/Offline capabilities to ensure no disruption or lost work during the checking process.

Direct access to parts pricing and stock levels through menu pricing or the dealer management system

Take images and video on the Getac tablet that can be shared with the customer and stored for future audits.

Traffic light system to identify vehicle health and provide automated follow up that never misses an opportunity.

Provide the customer with an accurate repair time for identified work, helping to ensure that the workshop deliver against this promise.

Voice command & guidance that allows the service advisor and technician to keep their hands on the job.

Integrated customer video calling option for livestream interaction.
BOOST CONVERSIONS & BUILD LONG TERM CUSTOMER LOYALTY
Simplify the task of explaining complex service-related repairs using powerful & realistic 3D animations and professional & informative voice-overs.
The combination of Getac's powerful rugged mobile computing with Vehicle Visuals formidable animation tool answers the specific needs of service centre professionals to empower their customers whilst increasing conversions on suggested repairs. Providing a total solution that meets the demands of the automotive industry in challenging working conditions.
A picture says a thousands words.

STREAMLINED PAYMENT SOLUTIONS
Bumper's integration into our EVHC platform enables customers to easily and securely access digital payment solutions when getting their vehicle serviced or repaired, enabling them to complete a PayLater (Buy Now Pay Later), PayNow (Pay by card in-full, remotely), or PayByBank (Open Banking) transactions. Bumper is a leading Fintech payments provider in the automotive space, specialising in innovative payment solutions. With the average age of vehicles on the road steadily rising, customers are faced with mounting repair bills. This allows customers to split car repair costs into interest-free monthly repayments. The integration also enables quick, secure, and seamless transactions, saving dealerships from expensive card fees and higher sales conversions.
Welcome to the Getac Automotive ROI Calculator – Which determines the positive impact from using the latest in software/hardware technologies to bring an unrivalled and 'Smarter Approach' in workshop operations. By achieving more efficiency with aftersales workflows, your operations teams have total visibility and control, never missing an opportunity and ensuring that your valued customers always get the best overall experience.
Intelligent Planning
Enter your information into the Intelligent Planning ROI Calculator to gain real insight from your actual operational statistics and KPI's.
EVHC
Enter your information into the EVHC ROI Calculator to gain real insight from your actual operational statistics and KPI's.
Both Intelligent Planning & EVHC combined
Enter your information into the Combined ROI Calculator to gain real insight from your actual operational statistics and KPI's.
Ultimately our goal is to increase your aftersales revenues & profitability and lower your operating costs as we continue to do with so many dealerships across the world.
Getac tablets can manage all your workshop process needs (Technical, Diagnostic, Job Card & EVHC) allowing for device consolidation, which in turn reduces IT costs by removing the need for a separate device for each application.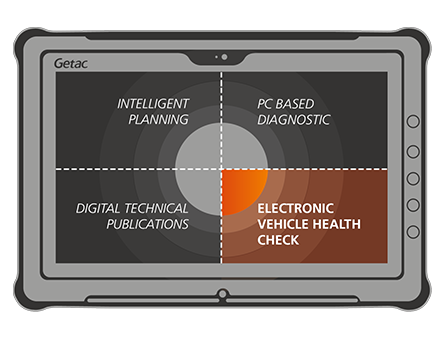 GETAC AUTOMOTIVE SOLUTION BENEFITS

TECHNICIAN TOOL VERSATILITY
Getac devices are the right tool for dealership workshops and mobile technicians alike.



CABLE FREE CONNECTIVITY
Getac devices can connect directly to the vehicle, VCI and workshop infrastructure with dual WLAN and Bluetooth.

SOLUTION AS A SERVICE
Subscription models are available to spread the investment and take advantage of a strong ROI.

GLOBAL CERTIFICATION & SUPPORT
Getac devices are certified for use globally, currently supporting major OEM programs, and strengthened by our world class service and support.



OPTIMAL SCREEN SIZE FOR ALL WORKFLOWS
Datalogging, technical publications, wiring diagrams, and job card information require larger screens for enhanced viewing and input.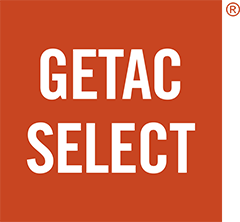 What is "Getac Select® Solutions?"
As a leader in providing rugged mobile solutions in the industry, we listen to customers and want to take our Customer Experiences to the next level. We understand the challenges in your daily business and the frustrations you may have while selecting suitable solutions to achieve your business objectives or solving these challenges. To further separate Getac from the competition, Getac now offers a comprehensive Industry solutions program, called "Getac Select® Solutions". With our years of industry knowledge and experience, and combined with our successful deployments to our customers globally, "Getac Select® Solutions" shortlists the most appropriate solution options for you to choose from.
Professional Service and Support

Service
Main Unit Warranty Extension
Battery Warranty Extension
Keep your SSD / HDD Warranty
Getac Office Dock Warranty
3rd Party Vehicle Dock Warranty

Support
Self-maintainer
Drivers & Manuals
Product Registration
FAQ & Help
Online Support
Getac Diagnostic Assistant
Getac System Recovery
Warranty Check
Ready to transform your aftersales operations? Get in touch today