TAILORED SOFTWARE SOLUTIONS FOR REAL-WORLD CHALLENGES
Maximise workforce productivity and streamline processes with custom-built software applications from Getac.
Listening to our customers, we have built software applications that are easy-to-use, automating processes and assisting in device uptime to increase productivity and efficiency. For organisations who rely on the performance of their mobile workforce, our software solutions help to protect the worker, accelerate rugged device deployment, and enable over-the-air updates in the field.
EMPOWER YOUR ORGANISATION
With Getac's Enterprise Software Suite
The Getac Enterprise Software Suite is designed to help organisations improve operational efficiency and reduce costs. Supporting a range of enterprise mobility management (EMM) platforms, these Android Apps enable safe and rapid device enrolment (Getac enrollXpress) and unlock the full potential of Getac Android device management (Getac OEMConfig).
Smaller-scale enterprise organisations typically have fewer mobile devices and may not have the IT resources to manage an EMM daily. In addition, they may not require a complex device build or be unable to justify an EMM platform's price. For these businesses, the Getac Enterprise Suite provides a simple-to-use, secure, cloud-based deployment solution for rapid device configuration, system update management, and easy provisioning methods (Getac deployXpress®). This solution bridges the gap as the business grows and the number of devices and applications increases until an EMM platform is implemented to provide more efficient management, security, and compliance.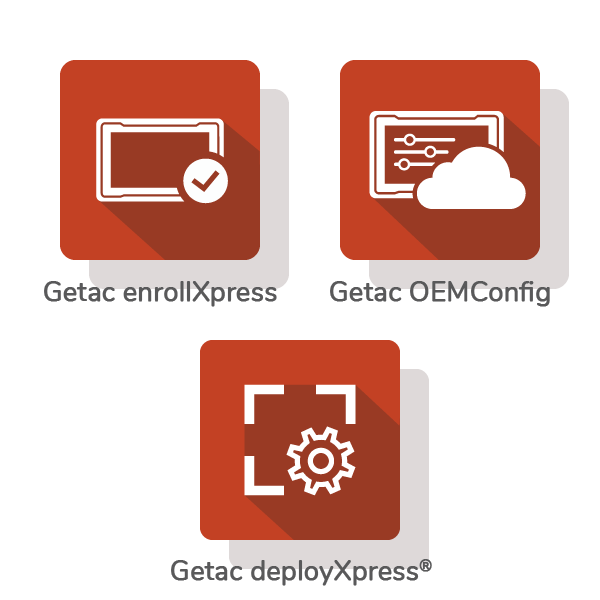 RUGGED SOLUTIONS, BUT SMARTER!
With Getac's Utility Software Suite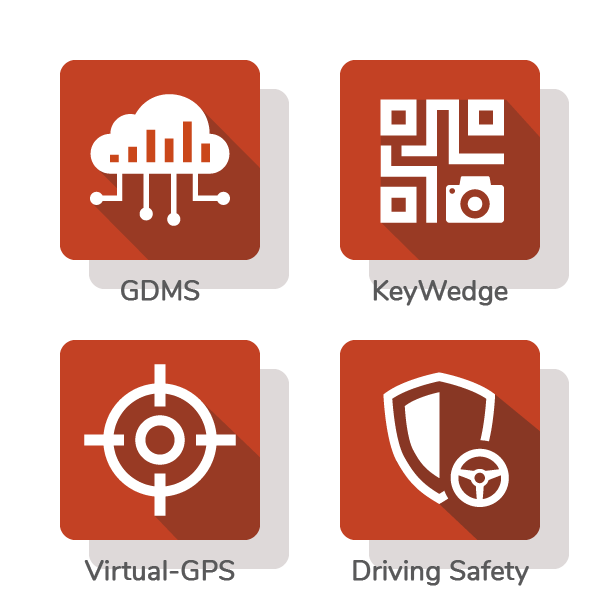 Rugged mobile tablets and laptops rely on software to maintain peak performance and prevent device downtime. Getac software utilities are designed to make both the administrator's and the end user's life easier. They each provide a function, from improving system performance (Getac Device Monitoring System – GDMS) to enhancing existing in-built hardware unlocking special features (KeyWedge Barcode Reader Utility).
Understanding that your workforce is a priority, Getac software utilities also ensure critical operational GPS applications run simultaneously (Virtual-GPS Utility) and help forklift and commercial vehicle drivers stay focused while in motion (Getac Driving Safety Utility).
STRENGTH IN NUMBERS!
Inspired by the complicated IT challenges faced in every industry we support, Getac works with various independent software vendors to provide a select range of fully integrated solutions. Pre-validated to ensure seamless compatibility between rugged computing devices and third-party software solutions, we save our customers' time and give them access to a wider variety of expert advice, support, and technical assistance.
Getac Select Solutions combine rugged computing devices, software, accessories, and professional services in a purposeful range of specifically tailored solutions.
Additional Resources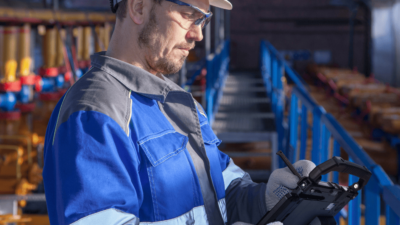 In the dynamic landscape of rugged technology, emerging from the fusion of IoT and AI, leaders emphasise real-time insights for enhanced efficiency. Sustainability in adaptable computing solutions becomes pivotal for industry frontrunners, minimising downtime, accelerating results, and conserving energy.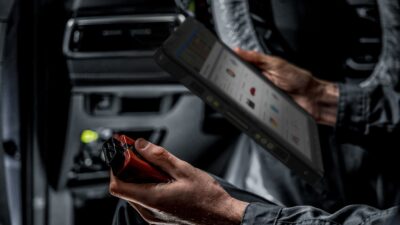 Getac is excited to announce the Bumper x Getac software integration, a significant step in the company's continuous effort to digitise the automotive sector. This integration enables customers to easily access digital payment solutions when getting their vehicle serviced or repaired, enabling them to complete a PayLater, PayNow, or PayByBank transaction.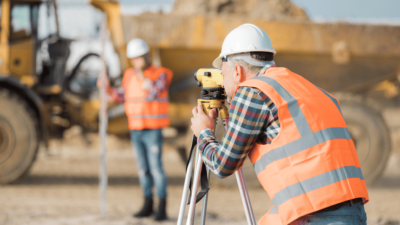 In the modern era, digitalisation has revolutionised land surveying, ushering in an era of enhanced precision and efficiency. The days of relying on rudimentary tools like sticks and strings are long gone, replaced by advanced digital technology. Rugged technology solutions are at the forefront of this transformation, offering excellent reliability and connectivity. They not only support but also elevate the practice of land surveying into the digital age. With these innovations, surveyors can achieve more accurate results, streamline their processes, and adapt to the ever-evolving demands of a tech-driven world.
Have an enquiry? Let's talk!