RAM Mounts
RAM Mounts manufactures rugged and versatile mounting systems for mobile devices across numerous sectors including transportation & logistics, public safety and defence. RAM allows you to secure devices where you need them most. The unique design of the RAM Mounts system provides quick installation, adjustability, strength, vibration damping and durability – all at a low cost. Backed by a lifetime warranty, RAM uses powder-coated, marine-graded aluminium with lightweight and high-strength composites, stainless steel hardware and rubber balls. With a portfolio of more than 5,000 SKUs paired with innovative engineers and in-house product experts, they create solutions previously not possible.
*Any collaboration between Getac Technology Corp and RAM Mounts is currently available in EMEA only.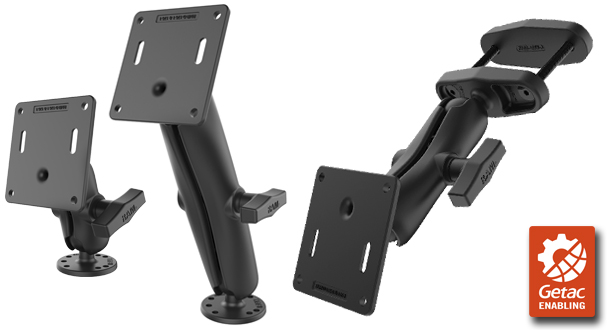 RAM® Mounts innovative mounting solutions are built on the interchangeable ball and socket system…
Premium Design - The rubber ball and socket design of their mounting systems offers a secure hold, with near-infinite adjustability and vibration damping for the most demanding environments. With thousands of components trusted by users around the world, RAM® Mounts design and develop mounting solutions that consumers and companies previously only dreamed were possible.

Customisable - Take your tablet mount from your forklift to your van or mix and match components to create your ideal mount. Because of the modularity of the RAM® system, you can customise your solution to fit your specific needs in a diverse range of applications.

Quality Materials - A premium design deserves the highest quality materials available, from rubber and stainless steel to high-strength composites and marine-grade aluminium. RAM® Mounts capabilities include powder coating, die casting, rubber injection moulding, and shock and vibration testing, helping them to deliver inventive mounting solutions.

Lifetime Warranty - It's simple. With a reputation as the leader of premier mounting systems means if they build it, then they guarantee it. RAM® Mounts are confident in the quality of their products, and with a lifetime warranty, you can be too.
No matter where life takes you, depend on RAM®…
The combination of Getac's powerful ruggedised mobile computing with RAM® Mounts rugged and versatile solutions, answers the specific needs of our customers to provide Getac Total Solutions.

This collaboration helps Getac and RAM Mounts UK to further expand into established markets that include Transportation & Logistics, Utilities, and Public Safety across EMEA.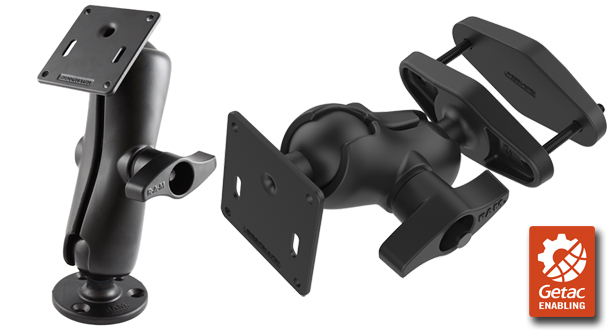 Transportation & Logistics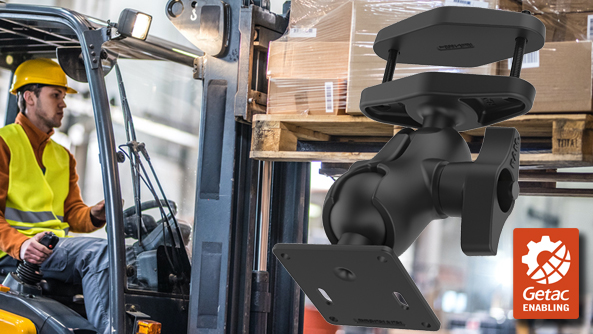 Trust RAM® Mounts to provide device mounts that keep important electronics of all sizes secure in cabover trucks. Whether it's a rugged tablet, or laptop device, there's a RAM® system designed to get the job done. Choose from drill-down, adhesive, suction cup, and RAM® No-Drill™ mounting bases, then pair it with a compatible device holder.
For more information about Getac Total Solutions for Airport Management, Port Management, Railroad Management, Long-haul Delivery Fleet Management, or Warehouse Materials Handling, visit our Transportation & Logistics industry page.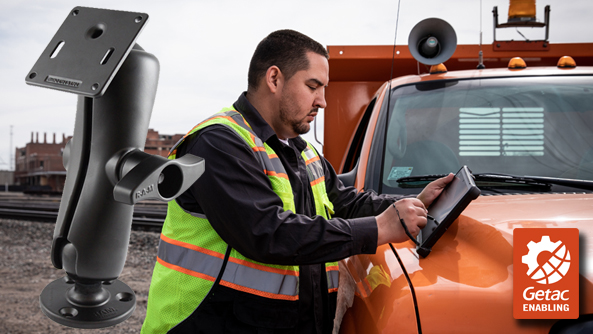 Whether on the road or on-site, dependable access to a range of devices is critical in the utilities industry. With RAM® Mounts, securing a rugged laptop or tablet isn't just easy – the ball and socket system also provides near-infinite adjustability, so devices are always right where you need them. Depend on RAM® for rugged and durable mounting solutions for utilities vehicles and settings ranging from heavy equipment to the mobile office.
For more information about Getac Total Solutions for On-site Safety, Smart Meter Reading and Installation, Utility Asset Management, Mobile GIS, Surveying and Mapping, or Workforce Management, visit our Utilities industry page.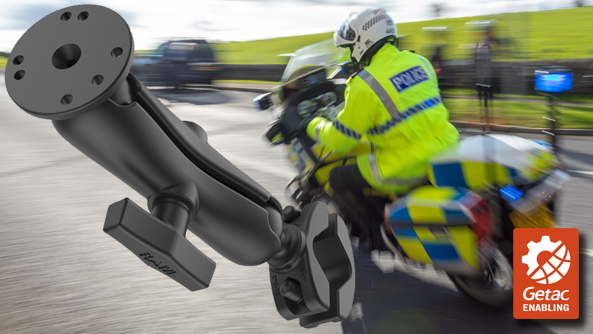 When it comes to public safety, it's crucial to have quick access to functioning equipment. With inventive mounting systems from RAM® Mounts, rugged tablets and laptops are kept secure and accessible thanks to the trusted ball and socket system. These mounts feature shock and vibration dampening to help extend the life of these ruggedised devices in the most demanding environments.
For more information about Getac Total Solutions for Vehicle Integration, Critical Awareness, Electronic Patient Care Reporting (ePCR), Ambulance Mobilisation Software, Incident Planning, Pre-Emptive Critical Awareness, Fire Ground Management & Control, Patrol & Critical Awareness, or Digital Forensics & Evidence, visit our Public Safety industry page.
To learn more about Getac Total Solutions, contact a Getac sales representative using the form below…
Do you have a Getac Total Solutions Enquiry? Let's talk!
Join the
GETAC SELECT ENABLING PROGRAM
Growing together to shape our business for tomorrow
Become a Total Solutions Partner