Mission-critical COTS computing that delivers high powered processing and reliability in operational environments.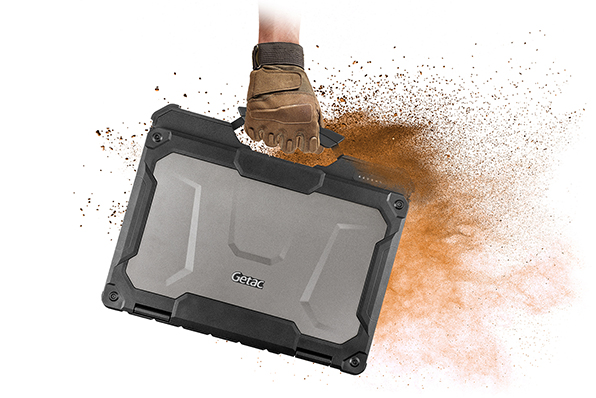 SIZE, WEIGHT & POWER
Size, Weight, and Power (SWaP) are crucial when it comes to a rugged device's suitability for modern military operations. Getac prioritises these factors to deliver a range of solutions that are reliable, lightweight, and powerful, enhancing the capabilities of service personnel in the field while minimising their physical burden and the logistical challenges they face.
The Digital Defence Ecosystem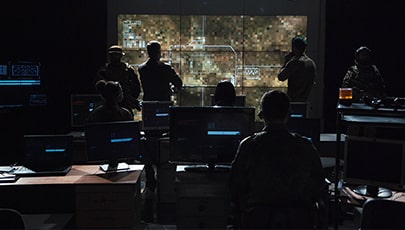 Command and Control
Today's commanders need accurate intelligence to make the most informed real-time, mission-critical field decisions. Getac computers are fully configurable with military data interfaces and encrypted communication, enabling tactical strategists to thwart threats from enemy forces and direct operation plans.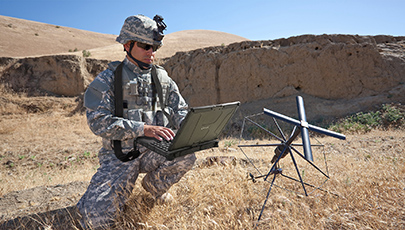 Situational Awareness
Situational awareness is an absolute necessity. Enabled by an integrated web of networks, servers, storage devices, and analysis and management software, commanders can gather data, analyze it and share it instantly, anytime and anywhere, up and down the chain of command.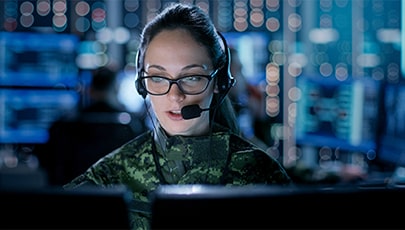 Mission Planning
Military mission planners have to consider weapons, food, fuel, maneuvers, tactics, and countless other factors in complex operations. Mission planning is automated through the development of common components and software that can be shared across all platforms, including aircraft, smart munitions, and some ground vehicles.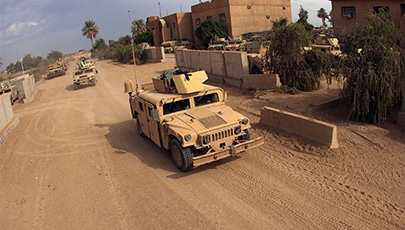 Transportation and Tactical Logistics
Logistics are the basis for the planning and execution of ground and aviation logistic support for marine, air and ground task force (MAGTF) operations at the tactical level. In a crisis, these assets need to be ready for immediate deployment.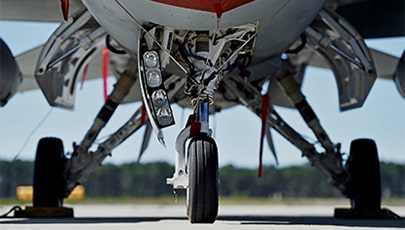 Platform Maintenance
MIL-STD-810H certified Getac mobile computers provide forces with asset management, military vehicle maintenance, and tactical logistics support that ensure troops and their support structures are in a constant state of readiness.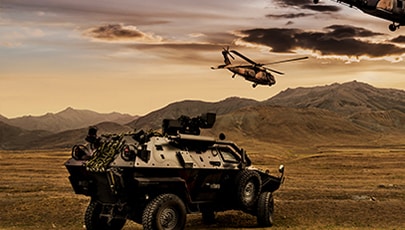 Training
Getac's training solutions help military customers build and maintain a world-class force. From soldiers and transport technicians to commanders at every level, we train specialists for high-consequence, high-risk tasks, delivering proven, responsive training while ensuring the highest levels of readiness with vastly reduced costs.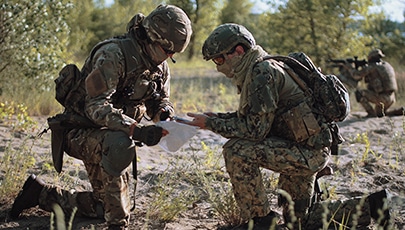 Tactical Communication
Tactical communications are critical to keeping defence and relief forces securely connected. Getac devices link field forces back to the command post. Combined with a satellite tracking system, Getac MIL-461F certified devices enable ground forces to track and communicate with individual vehicles on the frontline.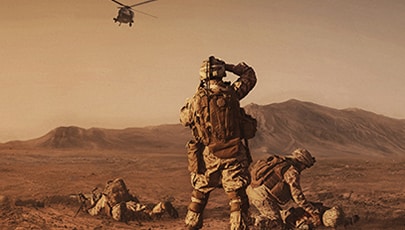 Tactical
Deployable medical forces use mobile solutions to gain quick, accurate access to patient histories and forward casualty resuscitation information. Additional key requirements and capabilities are automated tools facilitating patient and item tracking, blood management, medical reporting and medical logistics support.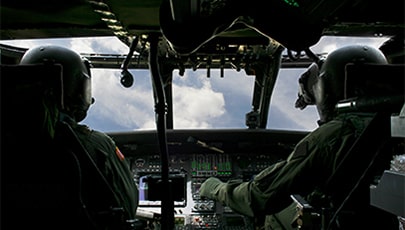 Platform Analytics
Getac computers are used as a given platform's diagnostic processor, gathering and storing critical data from multiple air, land and sea sources. Downloading, storing and analyzing this important data quickly and securely and converting it into actionable information gives Command and Control the edge in conflict situations.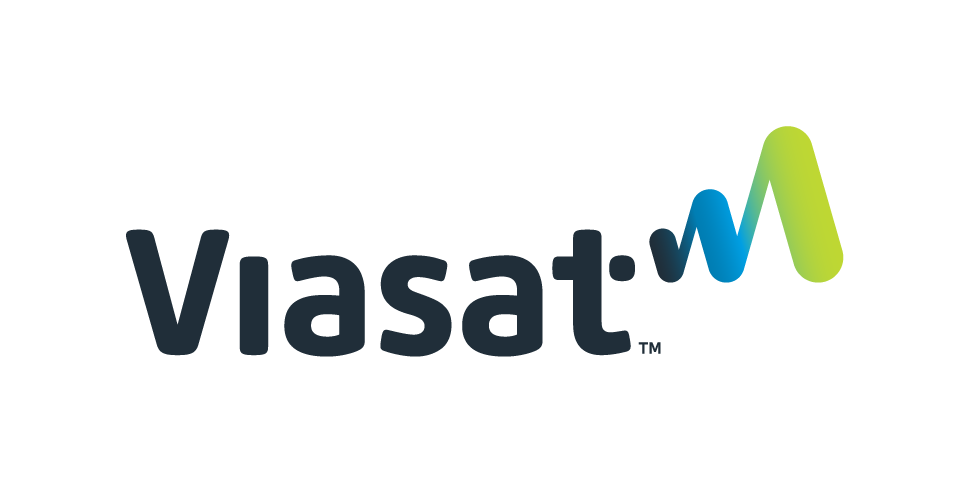 SECURE DATA-AT-REST PROTECTION
Recognising the importance of data security in the defence sector, Getac is collaborating with global communications company Viasat to ensure its proven rugged mobile computing solutions are compatible with both legacy and next-generation SSD encryption solutions from Viasat.
Modern-day rugged devices are designed to take the next generation NVMe (Non Volatile Memory Express) M.2 drives, but Getac can customise these devices for compatibility with legacy SATA 2.5" drives to better serve a wider range of mission-critical operating scenarios.
VIASAT'S ECLYPT™ CORE 600 SSD
2.5" SATA AES-256 Hardware Encrypted Solid State Drive
Viasat's Eclypt™Core 600 data-at-rest hardware encryption solution is certified for use in the UK to secure up to Top Secret information, as well as certified for use by NATO (SECAN) and other European countries, helping keep sensitive information protected.
NOTE: Getac and Viasat environmental product specifications are tested independently.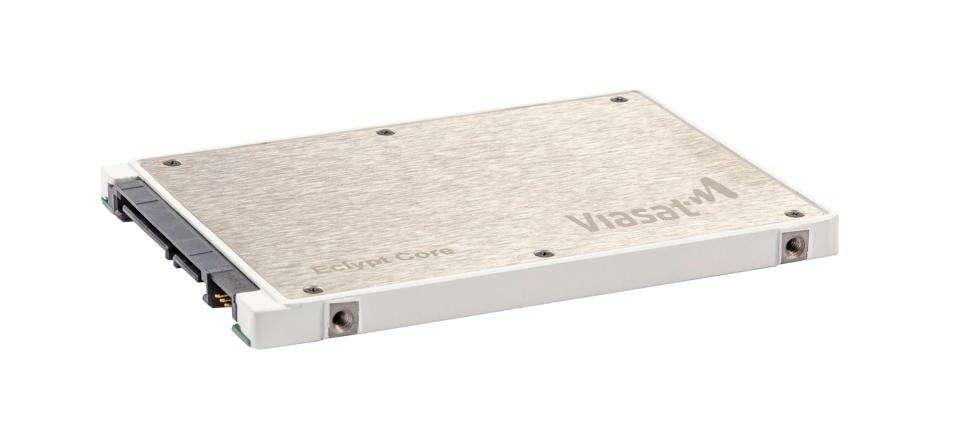 DARC-SSD 600
M.2 NVMe™ AES-256 Hardware Encrypted Solid State Drive
The Viasat DARC-ssd 600 is a highly secure data-at-rest (DAR) storage solution for protecting SENSITIVE and CLASSIFIED information. Viasat's DARC technology integrates sophisticated authentication, entire drive hardware encryption, and data storage within a tamper-evident internal NVMe™ M.2 2280 SSD that safeguards your data.
NOTE: Getac and Viasat environmental product specifications are tested independently.
Why Choose Getac?
Rugged mobile computing that delivers precision, accuracy, and reliability.

Trusted to Deliver
Getac has over 30 years of rugged innovation in the defence industry, with USD 987M sales revenue. A key subsidiary of MiTac-Synnex group, Getac focuses on reducing, Size, Weight and Power (SWaP) on all of its devices, providing end users with cost-effective Commercial Off-The-Shelf (COTS) solutions.

Product Longevity
We practice strict product lifecycle management to fulfill product verifications, minimizing the number of system platform changes and control migration to new generations. The emphasis is on establishing a clear, long-term roadmap and gradually integrating, and migrating to, new technologies avoiding unnecessary technical redundancies.

Industry Leading Services
Getac offers a industry-leading warranty (bumper-to-bumper) on our products for a minimum of 3-years*, which includes accidental damage. Our devices are serviced in our own services centres supported by key partners such as DHL, ensuring your products are back in your hands as soon as possible. For minor repairs, Getac's Self-Maintainer Programme lets customers opt to have replacement parts shipped directly to them.
* Semi-rugged products require service upgrade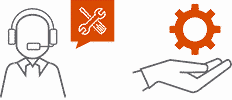 Bespoke Engineering
We offer complete system integration such as firmware and software setup to fulfill military security requirements. Bespoke solutions include Custom BIOS settings, military-camouflage color requirements, incorporation and installation of military connectors and legacy interfaces, asset tagging, logo badge and ID customizations.

COTS Fully Rugged Devices
Our mission-critical Commercial Off-The-Shelf (COTS) computing solutions deliver high powered processing and reliability in operational environments. This fit for purpose (FFP) Windows and Android hardware enables the stable running of Command, Control, Communication, Computer and Intelligence (C4I) and Technical Publication Documentation (Tech Pubs) applications in operational environments, where downtime can have an unacceptable impact on operational effectiveness.

Tested and Trusted
Getac products are manufactured and certified to the strictest sector standards – MIL-STD 810H and MIL-STD 461G. All provide full integration with our mechanical hardware, software, optical and RF engineers and are comprised entirely of independently verified and tested components.
Trusted Globally
A few of our favourite success stories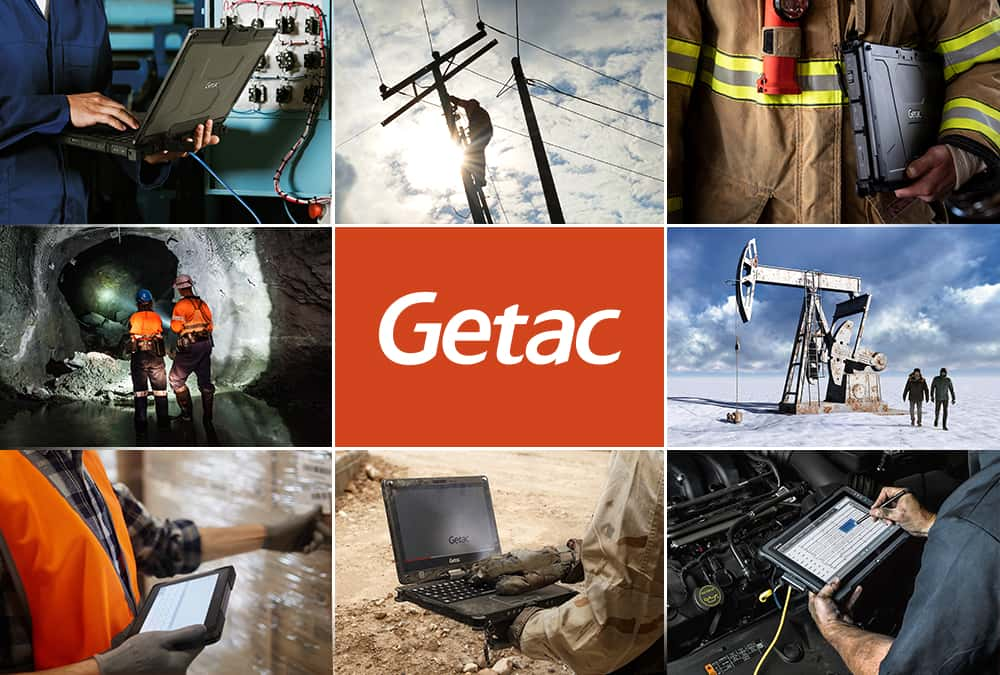 Kongsberg Target Systems
As one of the leading providers of electronic shooting targets, Kongsberg Target Systems (KTS) needs its wireless solutions to work flawlessly in demanding weather conditions and landscapes. Doing so requires digital technology that is built to thrive in the type of environments where many consumer-grade devices would quickly fail.
Getac's UX10 fully rugged tablet offers the perfect blend of versatility, rugged reliability, and functionality. Key features, such as MIL-STD-810H and IP65 certifications, as well as hot swappable batteries, makes it the perfect shot monitoring device, feeding live information back to the shooter as soon as the bullet hits the target.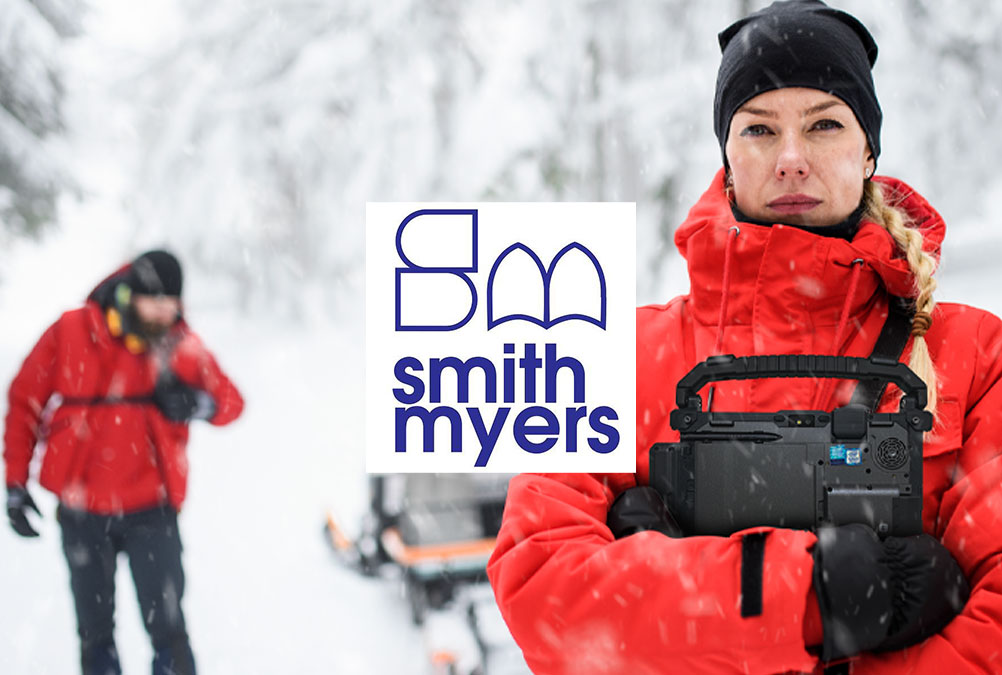 Smith Myers Communication Ltd
Smith Myers is a UK-based communications company specialising in search and rescue IT solutions. The nature of search and rescue operations means all devices and equipment it uses in its award winning ARTEMIS system must be able to operate effectively in a wide range of challenging, hostile environments and difficult weather conditions.
With the UX10, Smith Myers knows all its customers have a device that they can rely on, regardless of the terrain faced. This means that instead of worrying about equipment, search and rescue teams can stay laser focused on the task at hand, which is finding people in distress and saving lives.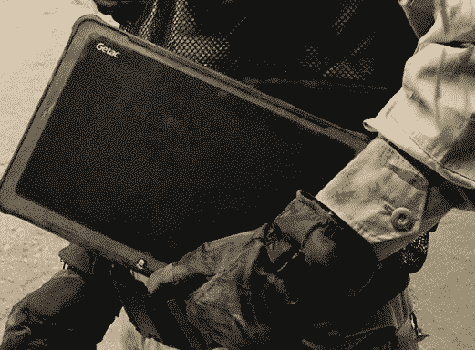 US Air Force
The United States Air Force requires careful handling, storing and transporting of munitions. However, stringent electromagnetic radiation rules inhibit the use of wireless technology near electrically initiated devices and explosives. USAF worked with Getac to customize the F110 to the military's specs, finally updating a decade of legacy technology. The United States Air Force requires careful handling, storing and transporting of munitions. However, stringent electromagnetic radiation rules inhibit the use of wireless technology near electrically initiated devices and explosives. USAF worked with Getac to customize the F110 to the military's specs, finally updating a decade of legacy technology.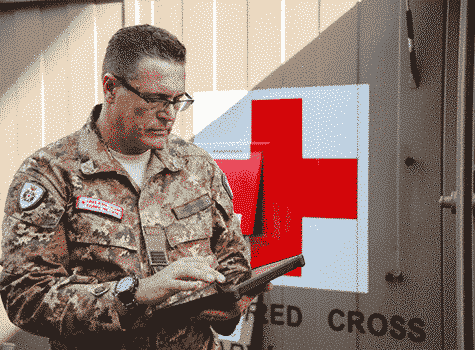 Red Cross Military Corps
Red Cross 186 is a National Society with over 139,000 active members and 11 deployment centers in Italy. They need reliable rugged computing for first aid, handling command and control functions and screens that display images of what is going on outside wherever they are deployed. With Getac F110 fully rugged tablets and semi-rugged notebooks, Red Cross is able to connect to the internet via satellite links, use Wi-Fi on PCs in the command and control room and also share internet connection to the surrounding areas. Getac rugged solutions provide the team with real-time communication by connecting to the command center for making the best decisions in emergency situation. It enables higher mobility and efficiency in critical operations.
Need a quote? Let's talk!