Getac Diagnostic Assistant
When your Getac device is not working as intended, the Getac Diagnostic Assistant will run a diagnostic evaluation on your device to determine the recommended course of action to get your device back to maximum performance.
Benefits of Getac Diagnostic Assistant
Save your time by determining if the issue can be corrected without sending the unit in for repair
Takes only a few minutes to run
Quickly and accurately identify any outdated BIOS or drivers which may impact your device performance and help to update it.
Note: Getac Diagnostic Assistant currently operates on Microsoft Windows 10 or above.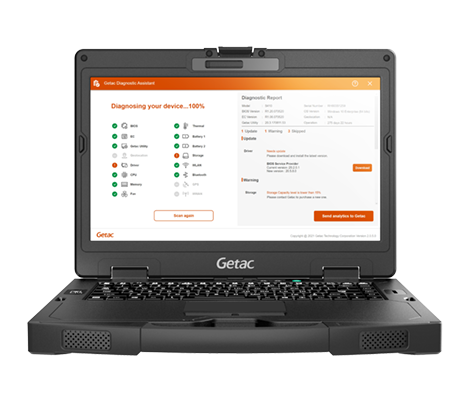 DOWNLOAD IN 3 EASY STEPS
1. After clicking "Access Here", you'll be directed to a download page. Type in your serial number or select your device model.

2. Click the "App and Utility" tab.

3. Find the application you need and click download. Done!