Find the Right Industrial Tablet for Your Needs
Explore Getac's industrial tablets, built for rugged resilience with top-tier performance. Engineered to withstand extremes, they redefine robust computing.
THE NEW STANDARD FOR RUGGED:
GETAC INDUSTRIAL TABLETS
Industrial tablets are indispensable for mobile workers across various sectors, from manufacturing and utilities to public safety. These specialized devices offer the processing power of enterprise-grade systems while withstanding the extreme conditions of hazardous environments.
Getac's rugged tablets set the standard with their top-tier performance and unmatched durability. Designed to adapt to extreme weather conditions ranging from -29°C to 63°C (-20°F to 145°F), they come certified with MIL-STD and IP66 ratings and optional ATEX/IECEx.
Enhanced GPS functionalities make them ideal for vehicle-based mobile workforces, while their  LumiBond® 2.0 display technology delivers unparalleled readability and responsiveness to touch.
With Getac's rugged Android and Windows tablets, not only do you get a tablet built to last, but you also get a powerful computing tool engineered for the challenges of modern industry.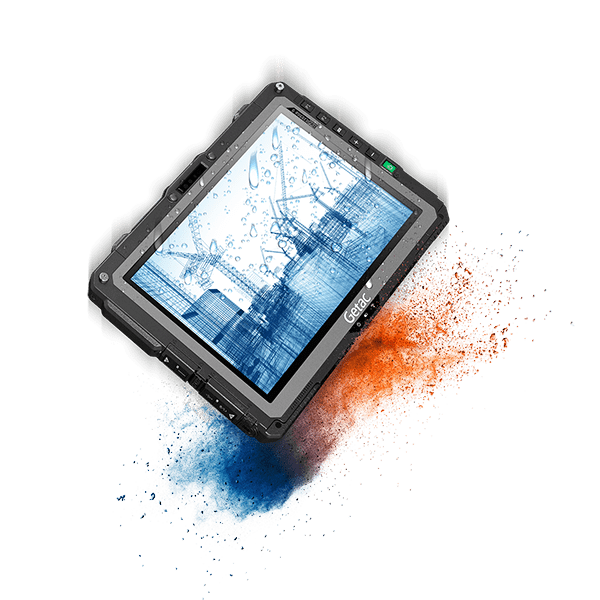 GETAC RUGGED TABLET CERTIFICATIONS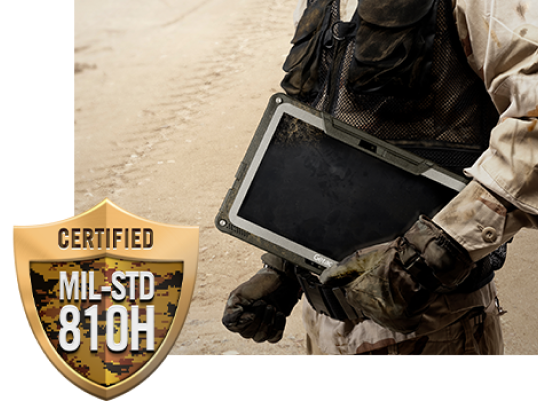 Military Standard (MIL-STD) Certified Solutions
Military standards, abbreviated as MIL-STD, are a benchmark for products that meet specific requirements of ruggedness and readiness for extreme conditions. Developed by the U.S. Department of Defense, some of the most common MIL-STD are MIL-STD-810H, and MIL-STD-461G. We offer rugged tablets and laptops that can withstand extreme temperatures and are shock, water, and drop resistant. We also deliver devices tested for electromagnetic emissions and susceptibility.
IP-Certified Dust and Moisture-Resistant Tablets
GETAC'S tablets are also IP-certified for resistance to dust and moisture. The Getac IP65, IP 66, and IP67-certified fully rugged tablets meet international standards for sealing effectiveness, adding another layer of protection for those working in demanding settings and harsh environments.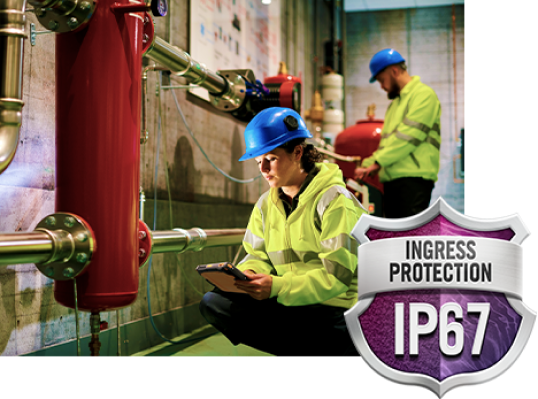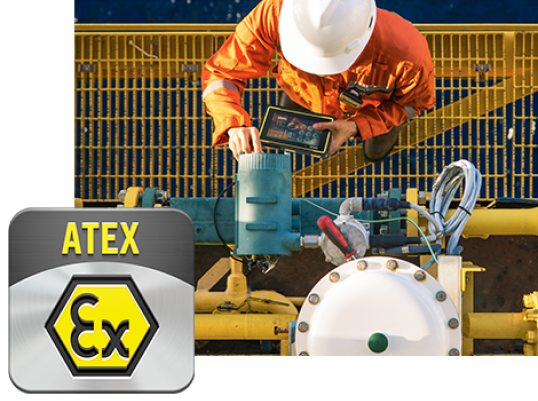 ATEX Certifications
Working in potentially explosive and hazardous areas requires equipment rugged enough to withstand extreme situations while simultaneously minimizing risks to the safety of your team. Getac is proud to offer a range of tablets that meet the stringent regulations to work in explosive environments and are ATEX or IECEx (for details, please check the specific product's spec sheet) certified.
GETAC'S RUGGED INDUSTRIAL TABLETS:

BUILT FOR CHALLENGING ENVIRONMENTS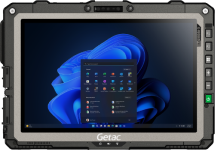 GETAC UX10
Fast, tough, and adaptable, the UX10 G-RuggedPro™ tablet offers an exceptionally rugged computing experience. Featuring a 12th Generation Intel® i7/i5 processor and Thunderbolt™ 4, the IP66-certified UX10 delivers great performance with uncompromising security and durability, while an optional hard handle lets you conveniently carry it wherever needed.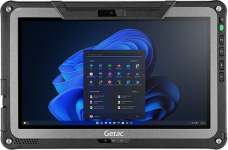 GETAC F110
The new F110 fully-rugged tablet offers an easy-to-carry profile, a comfortable touchscreen, and more power to run your general office and industry-specific applications with ease.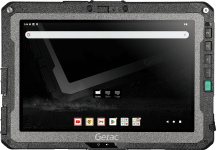 GETAC ZX10
The Getac ZX10 is a 10-inch fully-rugged Android 12 tablet designed for those who need a reliable device that can withstand extreme conditions. Powered by a Qualcomm Snapdragon 660 CPU, the ZX10 offers an efficient yet powerful performance for tasks like video conferencing, remote guidance, and data capture.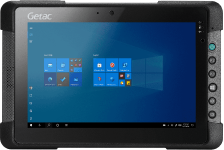 GETAC T800
The Getac T800 fully rugged tablet is always there when you need it. Its 8.1" screen is just the right size to get things done, and its thin, ergonomic design allows you to hold it comfortably in one hand.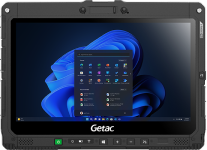 GETAC K120
Its range of accessories, including a multi-functional hard handle and attachable backlit keyboard, along with diverse I/O port configurations, make it highly adaptable to various fieldwork situations. The device offers robust connectivity options like 4G/LTE, Wi-Fi 6, and Bluetooth 5.2, ensuring seamless communication and data collection across rugged environments.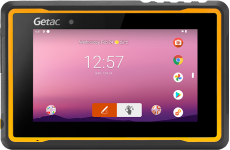 GETAC ZX70
The Getac ZX70 is designed to provide a blend of mobility, durability, and performance. It's powered by an octa-core processor and runs on Android 10.0, allowing for smooth multitasking and efficient data processing. Compact and lightweight, the ZX70 fits comfortably in one hand.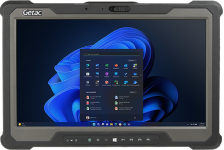 GETAC A140
The Getac fully rugged tablet A140 delivers exceptional performance, industry-leading security and a spacious 14" display, with wide viewing angles that provide more room to get things done, with less scrolling. A host of convenient carrying and mounting options makes it ideal for maximum mobile productivity.
ATEX Certified Industrial Tablets -
For Hazardous Environments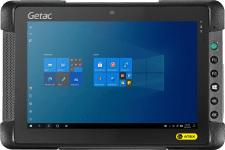 GETAC T800-EX
Inside the T800-EX, we packed an incredible amount of power and technology. Built with the latest Quad-core Intel® Atom™ x7-Z8750 1.6 GHz processor. The T800-EX provides all of the performance you need to get things done with no compromise to battery life.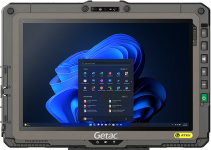 GETAC UX10-EX
Designed for high connectivity, the UX10-EX supports digital transformation initiatives with multiple wireless connectivity options for Bluetooth, Wi-Fi, and 4G LTE. It even accommodates legacy systems with an optional RS232 port and enhances data management with an optional RFID reader.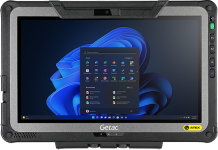 GETAC F110-EX
The Getac F110-EX ATEX-certified fully rugged tablet brings powerful computing capabilities to Zone 2/22 hazardous environments.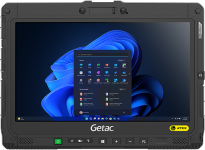 GETAC K120-EX
The K120-EX tablet delivers more power, more connectivity, and is more convenient than ever before in a fully rugged form factor that meets the latest military-grade specifications. With ATEX and IECEx Zone 2/22 certification, it offers powerful computing for use in potentially explosive atmospheres.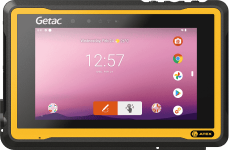 GETAC ZX70-EX
The Getac ZX70-EX is a compact, 7-inch fully rugged Android tablet designed for increased productivity and durability, especially in hazardous locations. It comes ATEX and IECEx Zone 2/22 certified, making it safe for use in potentially explosive environments. Equipped with Android OS, the device offers a familiar user interface and access to a vast array of apps via Google Play.
CUSTOMIZE YOUR GETAC INDUSTRIAL TABLET EXPERIENCE
Build your Getac industrial solution through our tailored range of accessories. From vehicle docks and cradles to mobility solutions and extensive charging options, our accessories complement your rugged industrial tablets, meeting the specific needs of your industry.
Note that accessory availability is product-specific, guaranteeing a customized solution that suits your professional needs.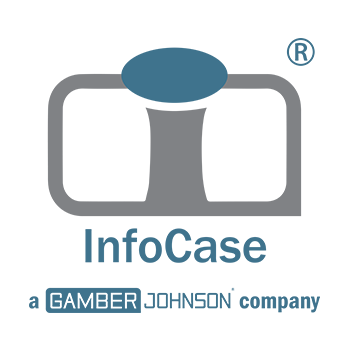 Since 1992, InfoCase has been an industry leader in the design and manufacturing of cases, harnesses, and other mobile accessories for mobile devices. When working in the field and harsh operating environments, InfoCase understand that Getac end users need their hands to utilise other tools and equipment.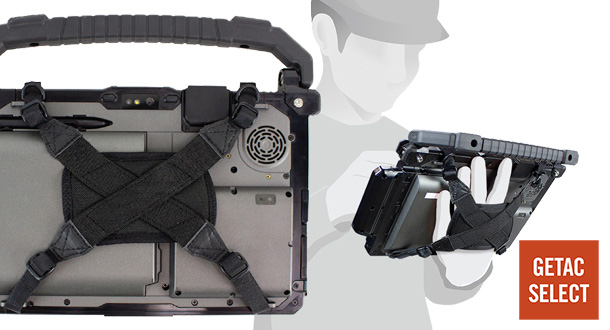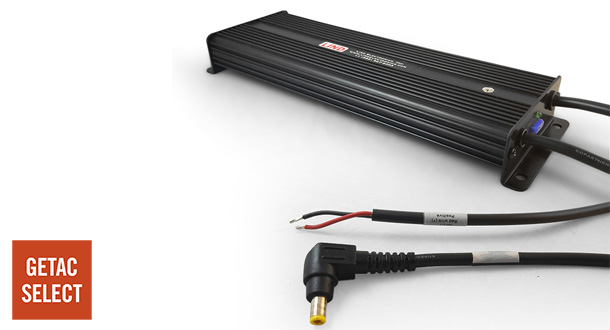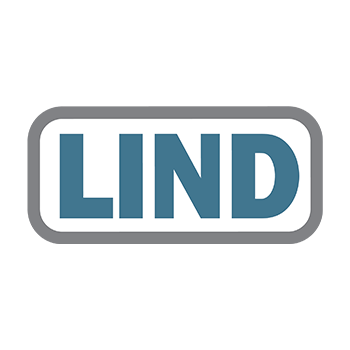 As a leading provider of mobile power solutions for more than 25 years, Lind Electronics is the first name in rugged mobile power. With power adapters and battery chargers designed specifically for your devices, they ensure that you can continue working in even the harshest of environments.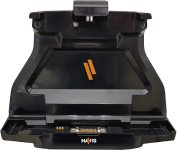 HAVIS
Havis docking stations for Getac's rugged notebooks and tablets improve mobile worker productivity by providing a secure location for charging and connection to essential peripherals, such as printers, keyboards, and barcode scanners.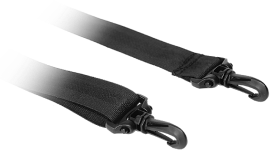 SHOULDER STRAP 2-POINT
This shoulder strap attaches to two D-rings on the "F110 Bracket with Rotating Hand Strap & Kickstand" (sold separately) and is adjustable to fit most body sizes for both cross-body and shoulder carry.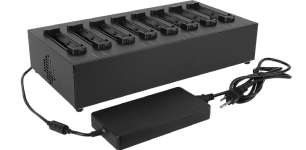 MULTI-BAY EXPANDED BATTERY CHARGER 8 BAY
The 8-bay multi-battery charger is designed to charge multiple battery packs simultaneously and provide users an efficient charging solution.
GETAC SELECT - PROFESISONAL RUGGED SOLUTIONS
Getac Select was created with our customers and their challenges in mind. It's a combination of rugged computing devices, software, accessories, and professional services that are specifically tailored to meet their needs.
We help clients make the most of their IT investments and improve their business performance.
Our comprehensive device management and rapid repairs can help you reduce your total cost of ownership (TCO)
Getac Select® solutions comprehensively perform in challenging working environments
Getac Select® solutions withstand tough conditions and provide reliable performance in extreme environments.
CUSTOMIZED SOFTWARE SOLUTIONS FOR REAL-WORLD PROBLEMS
Based on our customers' feedback, we have developed easy-to-use software applications for organizations that rely on the performance of their workforce
Our Software
Automates processes,
Improves device uptime
Increases productivity and efficiency.
Help protect workers,
Speeds up the deployment of rugged devices,
Enables over-the-air updates in the field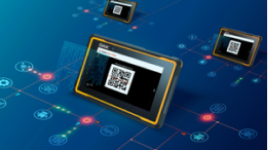 Software | Android
GETAC deployXpress ®
This cloud-based solution streamlines the deployment, configuration, provisioning, and over-the-air updating of Getac Android devices.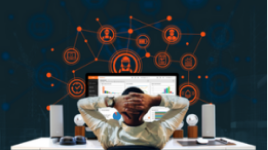 Software | Windows
GETAC DEVICE MONITORING SYSTEM (GDMS)
GDMS tracks and monitors deployed devices, spotting potential device issues, before they impact on your field-based workforce.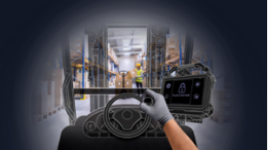 Software | Windows & Android
GETAC DRIVING SAFETY UTILITY
Getac Driving Safety Utility reduces visual and manual distractions with its screen blanking function, to help drivers stay focused, keeping them safe.
We identify innovative technologies and align core competencies to create total solutions
Together with our partners, we have successfully deployed purpose-built solutions in various industries, including defense, public safety, utilities, professional services, transportation, manufacturing, and warehousing.
GETAC TOTAL WARRANTY COVER
(BUMPER-TO-BUMPER)
The average repair cost is $450 - $650, not including downtime and lost revenue to your business. Bumper-to-bumper solves the problem.
No Unexpected Costs
Minimal Downtime
Reduced Operating Expenses
*For more details on warranty protection, visit the following link
Learn More: https://www.getac.com/intl/help-support/warranty/
WHY CHOOSE GETAC INDUSTRIAL TABLETS

Getac is Recognized as a Leader in IDC MarketScape Assessments of Worldwide Rugged Mobile Devices, Tablets, and PCs.
We engineer rugged laptops and tablets down to the chassis to withstand challenging work environments.
Built to endure harsh conditions, Getac tablets are IP65/IP66/IP67 certified, making them dustproof and allowing for temporary immersion in water up to 1 meter.
Getac tablet computers meet MIL-STD 810H standards, making them capable of withstand drops of up to six feet.
Whether faced with shocks, rain, dust, or extreme temperatures ranging from -29°C to 63°C (-20°F to 145°F), our devices deliver unwavering performance, making them a great choice for professionals in various high-demand sectors.

Engineered for top-tier performance, Getac's rugged industrial tablets redefine what it means to work efficiently in demanding conditions.
Powered by Intel® Core™ and Qualcomm Processors, these tablets are built to execute complex tasks without hesitation. Getac rugged tablets minimize lag, wait time, and downtime, ensuring you're continually operating at performance.

When it comes to sustaining productivity through extended periods, Getac rugged tablets excel with extended battery life.
Designed for full-shift reliability, these tablets have high-capacity batteries that empower you to venture away from power outlets.
Additionally, unique features like dual hot-swappable batteries and SnapBack battery add-ons allow for extended periods of operational time, ensuring that you can focus on your critical tasks without interruption or the need to shut down your apps.

DESIGNED TO KEEP YOU CONNECTED
With state-of-the-art Thunderbol 4 interfaces and Wi-Fi 6, these tablets ensure rapid and reliable data sharing.
Additionally, their Wireless WAN comes with integrated GPS/GLONASS receivers for dependable wireless connectivity wherever you are.
Coupled with Bluetooth 5.2 for seamless peripheral integration and diverse I/O port configurations for legacy equipment compatibility, Getac ensures you're always connected, facilitating high-speed communication, real-time access coordination, and seamless data collection.
THE MULTI-INDUSTRY USE OF GETAC'S INDUSTRIAL TABLETS
| | | | | | | | | | | | | |
| --- | --- | --- | --- | --- | --- | --- | --- | --- | --- | --- | --- | --- |
| Industry | A140 | F110 | F110-EX | K120 | K120-EX | T800 | T800-EX | UX10 | UX10-EX | ZX10 | ZX70 | ZX70-EX |
| Automotive | ✔ | ✔ |   |   |   | ✔ |   |   |   | ✔ |   |   |
| Transportation and Logistics |   | ✔ | ✔ | ✔ | ✔ | ✔ | ✔ | ✔ | ✔ | ✔ | ✔ | ✔ |
| Public Safety | ✔ | ✔ |   | ✔ |   | ✔ |   | ✔ |   | ✔ | ✔ |   |
| Defense |   | ✔ |   | ✔ |   | ✔ |   | ✔ |   | ✔ | ✔ |   |
| Industrial Manufacturing | ✔ | ✔ | ✔ | ✔ | ✔ | ✔ | ✔ | ✔ | ✔ | ✔ | ✔ | ✔ |
| Utilities |   | ✔ | ✔ | ✔ | ✔ | ✔ | ✔ | ✔ | ✔ | ✔ | ✔ | ✔ |
| Natural Resources |   | ✔ | ✔ | ✔ |   | ✔ | ✔ | ✔ | ✔ | ✔ | ✔ | ✔ |
| Oil & Gas |   | ✔ | ✔ |   | ✔ | ✔ | ✔ | ✔ | ✔ | ✔ | ✔ | ✔ |
BUILT FOR DIFFERENT INDUSTRIAL APPLICATIONS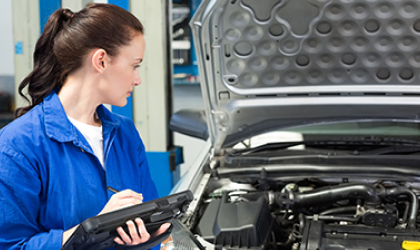 Automotive
Rugged devices are an indispensable tool in various applications, including Electronic Vehicles Health Checks, Intelligent Planning, and PC-based diagnostics. These devices also support Digital Technical Publications and Research & Development and streamline operations in Automotive Manufacturing.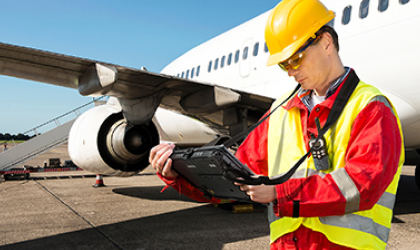 Transportation and Logistics
In the transportation and logistics sector, a rugged tablet is invaluable for various applications, including Railroad Management, Airport Management, and Port Management.
They also enhance productivity and efficiency in Long-haul Delivery Fleet Management and Warehouse Materials Handling.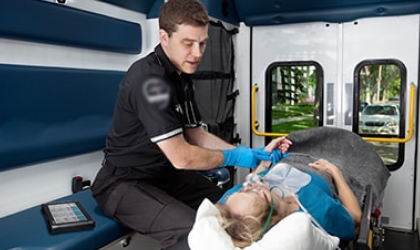 Public Safety
In public safety, rugged tablets play a critical role in enhancing operations across ambulance services, fire and rescue missions, and various policing applications.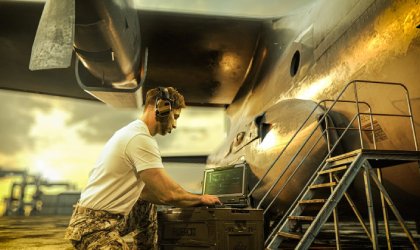 Defense
Rugged tablets provide mission-critical Commercial Off-The-Shelf (COTS) computing power, delivering high-powered processing and reliability in operational environments.
These high-performance tablets are instrumental in command and control functions, enhancing situational awareness, aiding in mission planning, and optimizing transportation and tactical logistics.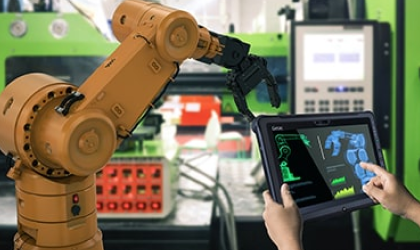 Industrial Tablets for Manufacturing
The use of rugged tablets is transformative across various applications. These tablets are pivotal for Industrial programming and robotic control, facility management, and compliance and inspections.
They also help increase productivity in workforce Management, inventory management, as well as factory automation, and plant monitoring, in addition to supporting EAM and CMMS solutions.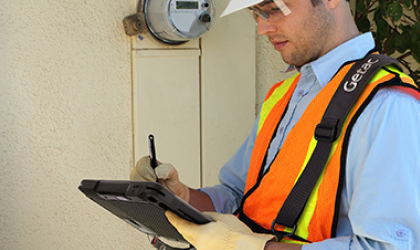 Utilities
Rugged tablets serve multiple essential functions for field workers in the utility industry. These versatile, cost-effective devices are used for smart meter reading and installation, enhancing On-site safety, and managing utility assets.
They also facilitate Workforce Management and mobile GIS and are invaluable tools for surveying and mapping.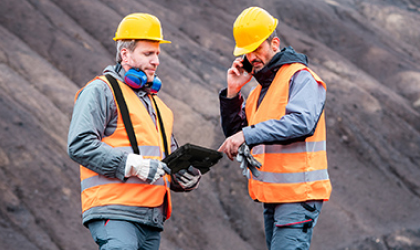 Natural Resources
In the natural resources sector, rugged tablets are integral to safety and efficiency. These devices are commonly employed for mining safety inspections, GIS mapping and surveying, and fleet Management and maintenance.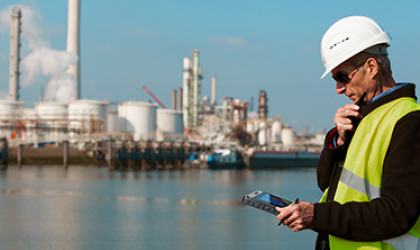 Oil & Gas
Rugged tablets are becoming an important part of optimizing operations, collecting data, and improving safety, especially in the oil and gas industry. These devices are utilized for remote support, asset management, field data analysis, and enhancing workplace safety.