GETAC GETS THE
BRITISH TOURING CAR
CHAMPIONSHIP INTO GEAR
Thank you for your interest in Getac and the BTCC.
As an automotive fan you can appreciate the harsh environments that motor racing circuits have on IT equipment, which is why we are proud to expand our successful and existing technology partnership with the BTCC.
Since 1989, Getac have been providing rugged computing solutions for demanding professionals in extreme environments, and our existing technology partnership with the BTCC has seen Getac's Electronic Vehicle Inspection solution, powered by the fully-rugged laptop and tablet, used throughout race control, the paddock and pit lane.
Getac's rugged computing solutions can be used for a range of applications such as R&D, production, warehouse logistics and workshop diagnostics. In fact, Getac rugged laptops are used across the world in a variety of extreme conditions and environments, within different industries. Getac products are the industry standard when it comes to quality and durability.
Whether you have a specific enquiry for your business, or would simply like to hear more about how our rugged computing solutions have been supporting automotive, please fill in your details and someone will be in touch.
For now, enjoy the BTCC racing season and we look forward to hearing from you soon.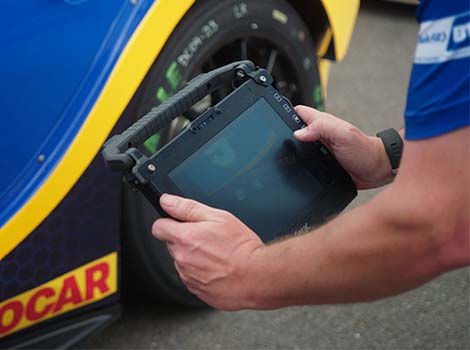 BTCC IS STAYING AHEAD OF THE PACK WITH GETAC
Getac has worked closely with the BTCC to digitise key race day operations, including safety and compliance checks, team communications, and vehicle diagnostics. For the 2022 season, Getac has supplied the BTCC with its Electronic Vehicle Inspection Solution, which includes the UX10 fully rugged tablets and Getac Vehicle Inspection Software, to digitise the key scrutineering processes that take place each race. Doing so has significantly improved transparency between teams and officials, whilst crucially shortening operational and decision making times.
SEE HOW GETAC'S DIGITAL & RUGGED SOLUTIONS BRING SPEED TO THE RACETRACKS
Enjoy the 2023 BTCC racing season and we look forward to hearing from you soon!