Productivity is a common goal no matter what your industry is. When working with a highly productive and efficient team, members experience high levels of satisfaction. Being able to encourage your workforce and employees to be productive is crucial to maintaining high productivity and positive results. Making some small changes can have a huge effect on your workforce's productivity levels.
Here are some of the unique ways you can boost productivity in your workforce:
1. Be Efficient
In order to be efficient, you must be able to prioritize tasks and learn from doing the work. This will allow you to perform better the more you complete the task.
It is important to not become set on one way of performing, but rather find what makes sense and adapt to situations. Encourage your team to work together to maximize efficiency and allow members to learn from one another.
Statistic Graphic:
Improved communication and collaboration through social technologies can raise the productivity of workers by 20 to 25%.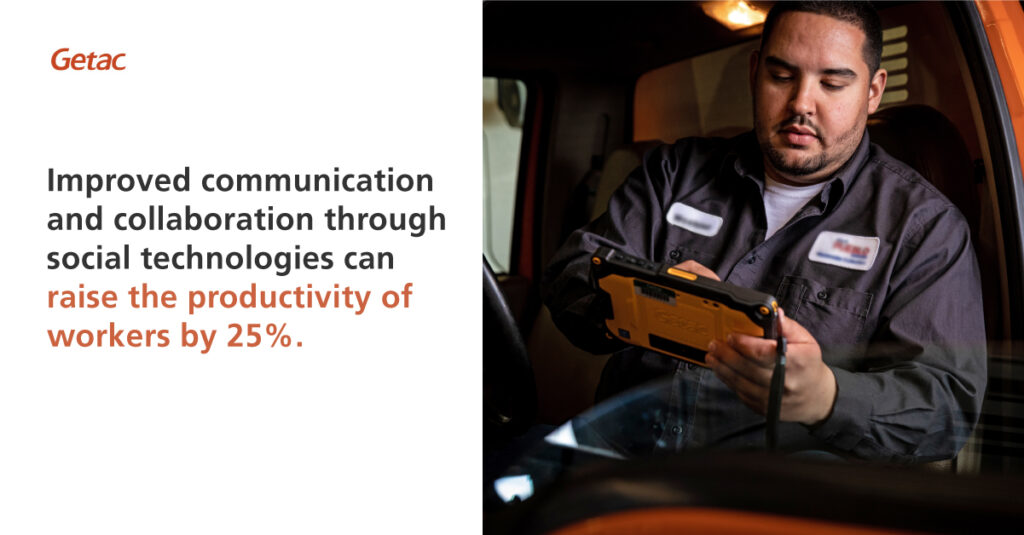 2. Provide the Right Tools and Equipment
We rely upon working, durable, and reliable equipment in order to perform our jobs. If the equipment is damaged or unreliable productivity drastically decreases. One study found that improved communication and collaboration through social technologies such as email, search gathering information, internal communication, and role-specific tasks can raise the productivity of workers by 25%. Make sure your equipment is reliable and synchronized within the company for maximum productivity. 
3. Improve Workplace Conditions
Making sure your workplace is a place people want to spend time in will automatically improve productivity, as people will want to be there more. Being comfortable and having needs provided as far as a workplace can have major impacts on results. A little goes a long way when it comes to providing comfort and sustainability.
4. Train, Train, and Retrain
Training is an investment, once completed your organization can excel. Untrained employees feel lost, and unable to get their work done. Some employees need more training than others, but remember it is an investment! Even if an employee has been trained, it is important to retrain in order to maintain high levels of continuous performance.
5. Treat Employees as People
If employees are treated as people, they feel respected and safer in their work environment, which improves productivity. Employees have their own lives that need to be respected. The work should be the priority, but it is important for productivity to recognize someone may not always be at their maximum performance and to work around that.
6. Answer Questions
In any field, people feel as though everyone is well aware of company policies or roles, but this is not always the case. Asking questions and clarifying tasks will ensure they are done correctly the first time, and save time in the long run. Creating an environment open to questions allows people to not be afraid to make mistakes, but instead to learn from them.
7. Celebrate Victories of All Sizes
Celebrating victories demonstrates that all contributions are important to the team. When employees feel recognized, they are more likely to work hard, which will improve overall productivity.
8. Be a Role Model
It is true that we learn by example. Create the work environment and standards you desire by being a representation of those ideas. Employees will follow your lead which will create company norms. Norms create standards that people want to support which creates positive results and productivity.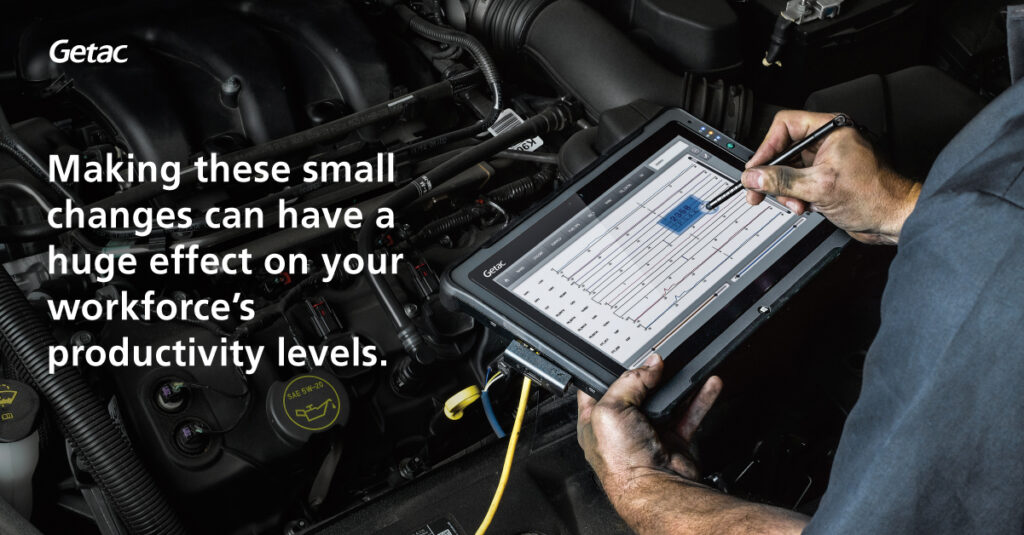 Getac wants to help you attain the highest level of productivity in your company.
Our rugged equipment provides the necessary insurance to know that your technology is always ready for use for maximum productivity. Contact us to see how we can get started on a solution for you today.