MAKE UNDERGROUND SUPPLY NETWORKS VISIBLE: LEICA GEOSYSTEMS RELIES ON FULLY ROBUST F110 TABLET FROM GETAC
Challenge
Up to now, the location of underground supply networks could only be carried out by experienced experts. With the DSX positioning system, Leica Geosystems has developed a solution that enables also less experienced users to locate underground supply lines. Since this work has to be carried out on all kinds of terrain and under all kinds of climatic conditions, a robust tablet was needed for the use of the DSX application.
Solution
With the Getac F110, Leica Geosystems chose an unparalleled rugged and powerful tablet that greatly simplifies the process of visualizing, interpreting and transmitting traditional ground radar data. Leica thus provides its customers with an intelligent total solution that provides reliable information on the ground in any terrain and in all weather conditions.
Advantages
Due to its durability, the fully robust F110 Tablet is particularly suitable for use on uneven terrain and under adverse climatic conditions. It is drop-resistant and insensitive to shocks, dirt and moisture. Even temperatures from -21 to +60 °C do not affect the F110's functions in any way. This allows Leica to ensure that DSX users can locate the positions of supply lines of all types and under all circumstances, and so that, for example, safety risks can be avoided during excavation work.
"We sell our solutions worldwide, so we needed tablets that can cope with any type of climate and subsurface. In addition, they must be absolutely resistant and withstand rough handling, including impacts and falls." Agata Fischer Getac F110 Business Director Detection and Service at Leica Geosystems.
Challenge
The location and mapping of underground, usually undocumented supply networks is a tedious task, which until now has only been carried out by experienced experts with the appropriate technical know-how. Using Leica Geosystems' innovative new DSX line location solution, even unexperienced users can easily locate, visualize and map supply services when evaluating ground radar data. A development that enables companies involved in the repair and maintenance of supply lines, civil engineering and surveying, for example, to guarantee reliable avoidance zones. In addition to the safety gained during excavation work, the DSX, consisting of portable hardware and intuitive software, saves a considerable amount of on-site time by automating data analysis and creating a 3D map of supply lines in the field.
However, to get absolutely reliable underground information in any terrain and in any weather, the tablet integrated into the DSX system had to be as robust and durable as the tracking cart itself. This is because the detection and mapping of underground supply lines takes place in all conceivable types of terrain: on asphalt or bulkheads, rocky subsoil, grass or sand. It is crucial that the trays remain absolutely stable as part of the solution and work reliably even in direct sunlight and rain and in very hot to extremely cold temperatures. After all, the DSX is sold worldwide and has to withstand the harshest working conditions. In addition, a high-resolution display is required for the clear presentation of map analyses.
Solution
Because of its exceptional performance and durability, Leica Geosystems decided to integrate Getac's fully rugged F110 Tablet into its advanced DSX performance instrument. To provide an intelligent total solution for utilities, maintenance and repair service providers, experts and civil engineers, the company combines the F110 as the medium for DSX software with the DSX locator cart.
Using the F110 as an integral part of the geosystem, Leica provides an unparalleled, user-friendly way to get reliable information to the ground anytime, anywhere. Eric Yeh, Director Sales & Operations DACH at Getac Technology GmbH, explains: We are very pleased that Leica has chosen us again – and especially for this sophisticated solution. Because their application is not only about maximizing efficiency and avoiding costly damage to installations, but above all about protecting colleagues who carry out difficult, often extremely dangerous work out in the field. Our highly reliable and powerful F110 tablets are definitely the best choice for these requirements."
Advantages
The F110's robustness standard has been independently tested and certified to MIL-STD 810G, IP65 and MIL-STD-461F standards. This means that it can withstand falls of up to 1.2 m and is insensitive to shocks, dirt, dust, vibrations and moisture. Even at temperatures from -21 to +60 °C it works perfectly and even temperatures between -51 and +71 °C do not affect the subsequent use.
The excellent readability of the geodata shown on the display is also important for use with the Leica DSX line meter. Getac's F110 Tablet features a LumiBond® 2.0 display that is easy to read even in direct sunlight, while the various touch modes for rain, glove or pen operation ensure a high level of operating comfort. The 11.6-inch screen also offers plenty of space for displaying complex data and a wide variety of applications. The RJ45/LAN port allows a secure data connection to the DSX positioning system. Leica Geosystems also benefits from Getac's industry-leading bumper-to- bumper warranty, which includes accidental damage, so Leica customers can be confident that their investment will be fully protected when purchasing the new DSX.
Leica Geosystems
Leica Geosystems AG is a subsidiary of the Swedish Hexagon Group, one of the world's leading providers of information technologies. The Swiss company based in Heerbrugg can look back on 200 years of history and is revolutionizing the world of measurement – with complete solutions for specialists all over the world.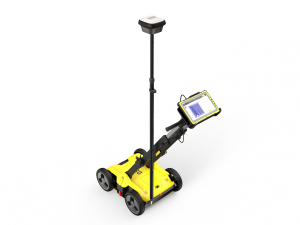 With its 11.6″ display and high performance, the rugged Getac F110 Tablet is ideal for the high demands of utility and industrial applications. The excellent readability of the display under all environmental conditions, the high connectivity and reliability make it the perfect partner for the DSX solution from Leica Geosystems.