THEY INSPIRE US TO BE #STRONGLIKEHER
2020 has proven to be a challenging year for everyone, especially for women driving the world's front line industries. With 9 out of 10 essential workers in the healthcare industry made up of women, even when the going gets tough, women often find themselves battling to break through stereotypes of not performing as well as men; all whilst balancing their day-to-day challenges and commitments.
At Getac, we feel that there is a deeper story behind a strong woman, it's about women being in challenging environments and situations and still being able to thrive. Similar to the way in which Getac's products and solutions are inherently rugged, we want to celebrate all the ways in which women can be rugged - from bridging the gaps in the boardroom whilst juggling parenting, to keeping our streets safe whilst being exposed to social stereotypes.
Getac believes that everyday should be a day to celebrate the achievements of women. To capture the spirit of women doing amazing things in 2021, we are looking to tell the stories of women who have been inspiring - be it in their daily life or in their career.
SHOW YOUR SUPPORT
A simple way to show your support to our women is through your Facebook profile picture.
Follow the steps below on how to apply our #StrongLikeHer photo frame to your Facebook profile: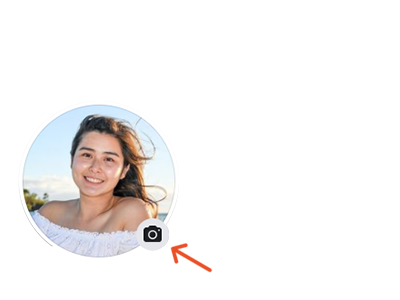 1.
Go to your Facebook profile and click on the camera icon located next to your profile picture.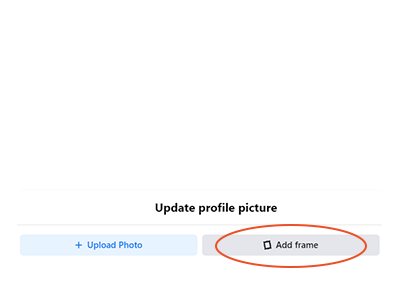 2.
Select the option 'Add Frame' that appears.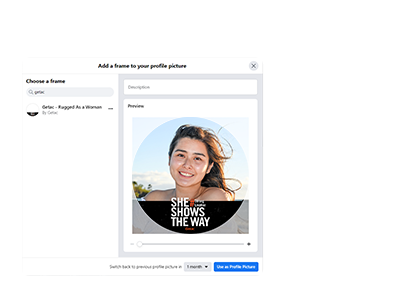 3.
Type 'Getac' into the search bar. Click on our She Shows The Way frame and adjust your picture size so it fits acordingly. Hit 'Use as Profile Picture' once you are happy with how it looks!


Rupy
Passionate about helping others, Rupy long-dreamed of joining the police service ever since she was young. Eventually completing her degree in Policing and Criminal Law, and undergoing a strenuous one-year long application process, she successfully joined the force in 2016.

With a duty to protect and preserve lives, Rupy now plays a noble role in society - whether that be searching for missing persons, attending to domestic incidents, or conducting emergency first aid on a road traffic accident victim; as she puts it, the list is indeed endless. Although no doubt physically and emotionally taxing, making a positive impact on lives is what keeps her going.

Never one to shy away from challenges, Rupy has seized every opportunity offered to her, undergoing various courses, becoming a response driver, and putting herself forward for taser training. Clearly a woman of strength, Rupy credits her loved ones for her accomplishments. With supportive parents, an understanding husband, and encouraging friends, Rupy's reliable support system also allows her to be strong at work.

A self-assured individual who believes in herself, she hopes that more female officers will step forward too and embrace challenging roles that will help them to grow and rise to higher ranks within the Police Service.

Police Officer


Charlene Honour
Despite facing personal struggles, professional setbacks, financial pressures, and a global pandemic to boot, Charlene has stayed strong through it all - bravely conquering the world with her solution-driven mindset.

Never one to cower in the face of difficulty, she's always remained driven to uncovering opportunities amidst the challenges. With her passion for building and establishing relationships within business coupled with her skillset in digital marketing, she has flourished in her 14 year career with Bosch, where she's witnessed the company's evolution from a male-dominant hierarchy to one that empowers women.

As a single part-time working mom raising her young son, Charlene's strength and spirit is respectable as she adeptly juggles her many work commitments and the relationships that matter to her. While she has many words of valuable advice for younger female leaders that involve setting achievable goals and networking with colleagues to build support groups, being kind to yourself may be the most pertinent reminder to us all this this day and age as women everywhere go about their different roles.

After all, let's not forget that there is also strength in kindness.

Strategy, Business Development, Solutions and
Cross Selling Europe, Bosch


Katie Leong
Successfully making her mark in the fast-paced environment of enterprise tech device distribution, Katie has undoubtedly excelled in her field - notably bringing on many new customers for the company in her first year as one out of the two female Business Development Managers at CI Distribution.

A people-person by nature, her job lets her do what she loves best - sharing her knowledge, speaking, and meeting new people. But beyond building relationships, this go-getter woman is self-driven and highly motivated to push herself to achieve new heights.

With her fierce independence and passion as her key sources of strength, Katie works hard to be the best example for her daughter, embodying what it means to be a strong woman. While she recognizes that the IT world she lives in is still very much made up by men, she's heartened by high-flying female leaders in the industry and wishes to see more women in power in the future.

Believing that confidence and conviction are the key ingredients to success, Katie feels that with a strong will and courage to stand out, a woman can do just about anything she sets her mind to.
Account Manager, CI Distribution


Angelica Donvill
Since joining Jarltech as a fresh graduate six years ago, Angelica has thrived in an industry once completely foreign to her. After amassing key expertise and experience in the field of POS systems and specialized data acquisition hardware, she is now a Key Account Manager responsible for the business in Finland and Sweden.

While she acknowledges that the IT workforce continues to be dominated by men, Angelica is optimistic and confident of the value women bring to the tech space. With fresh ideas, good listening skills, and most importantly, a commitment of 200% to any task, she's well-aware of the strengths and advantages women have to offer.

A firm believer in taking a chance, and stepping out of her comfort zone, her main motto in life is that the key to success is starting when you're not ready. That is, if something makes you nervous and your stomach turn, it's probably the right thing to do to grow. An independent and exceptional woman who always strives to find the positive in every situation, Angelica's one hope for both women and men alike is to start thinking of what could go right, instead of always about what could go wrong.
Account Manager, Jarltech


Cristina Barbarino
As a medical contact person who serves as an anesthetist and resuscitator for a helicopter rescue service, Cristina's job entails working in hostile high-pressure environments, characterised by unpredictability, which she enjoys.

Since discovering a keen interest in emergency management after completing medical school, Cristina embarked on a post-graduate specialization course in anesthesia and resuscitation. Combining her passion for the mountains and expertise in health emergencies, she now works in a province that is almost entirely mountainous.

Driven by the potential she has to make a difference outside the hospital, Cristina is unfazed by the need to have to prove herself a little more than her male colleagues. Soaring in a career that requires unparalleled strength and grit, she hopes that more women will join her and embrace this unique role.

Although the next generation of female leaders will face their own set of challenges too, Cristina knows that with full commitment, competency, and preparation for whatever profession they pursue, they can also overcome preconceived prejudice and not be intimidated.

Supervising Physician (Anesthesiologist)


Rachel Braden
In the incredibly competitive and male-dominated gov't sales field, Rachel has found her place at Getac supporting the Department of Defense. Viewing her role as a valuable opportunity for her to express her gratitude to Airmen for their service and sacrifice, Rachel takes pride in helping them find better tools for their missions. Often the only woman at customer meetings, her journey with Getac has been nothing short of fulfilling. Rachel has been well recognized by customers for her efforts, receiving challenge coins from one- and two-star generals.

While well-accomplished professionally, Rachel also finds being a mom very empowering. Striving to be a strong and confident role model for her daughters, Rachel truly believes in herself and her ability to help her customers.

Rachel knows that women are often criticized for being emotional, but she thinks that being in touch with your feelings is a key strength that can help women perform even better. Instead of shying away from a field mischaracterized by aggressiveness, Rachel hopes that more women will learn and explore it, as the job very much depends on listening and understanding.

Air Force Team Lead, Getac


Linda Flaherty
As a business owner, Linda wears many hats, with daily responsibilities spanning nearly every function, from sales, to operations, to customer service, to HR, and more. After 16 years in rugged devices, the fun Linda has interacting with customers and vendors inspires her love for the job, despite the challenges. Running her own business is a big part of her life, along with raising her kids, one that has brought her much pride. But it hasn't come easy. Needing to balance aggressiveness with grace and finesse, her learning never ends.

An accomplished leader, she credits her faith and support system for her strength and achievements. Blessed with mentors and female role models, trustworthy colleagues, and a husband her equal in child-raising, Linda has taken advantage of all opportunities life has given her. And while women are often pigeonholed into support roles, Linda hopes more of her colleagues will step up to embrace higher-level positions like field sales reps and directors.

Despite the accolades, her quest to reach new heights is still ongoing, with the goal now for her company to not be seen as successfully woman-owned, but simply successful.

General Manager, Mobile Rugged Computers


Lorraine Trevino
Entering the industry by accident in the year 2000, Lorraine is now President and CEO of DuraTech USA, Inv. Since starting with a part-time job at a startup that sold rugged computers, Lorraine has made great strides, winning multimillion-dollar contracts with the Air Force, and receiving blanket purchase orders from large public safety agencies.

With a passion for building relationships and learning new technology, Lorraine takes great pride in being a full-service solutions provider. Not one to limit herself, her 'can-do' attitude has helped her thrive in a field few women dream of joining. Strong and fearless, Lorraine's advice is for women not to fear mistakes. Instead of hesitating or backing away, she encourages the next generation of female leaders to own their mistakes, learn from them, and keep moving.

President/CEO, DuraTech USA, Inv.


Mika Turner
With an interest in people, Mika's first job out of college was as a social worker for a non-profit. Even after a career shift, her duties since joining Getac continue to revolve around people.

At Getac, employees are also customers and Mika's department has the all-important task of ensuring teams have the tools to succeed. Responsible for the entire employment experience, she loves making a difference in people's lives by fostering personal and professional growth.

Being a mom is her biggest accomplishment, but Mika also derives empowerment from her jiu jitsu training, a testament to her conviction that women are not as delicate as some think. Though in a female-dominated part of the organization, the rugged solutions industry is still very much a realm of men. Mika knows that imposter syndrome is a real struggle for many women, but she hopes that her female counterparts will stay strong and continue to lead. After all, org development and HR are crucial components that are essential to any business's success.

Organizational Development Manager, Getac


Tammy Teague
After more than 30 years in the industry, Tammy has amassed and cultivated many valuable relationships with customers and colleagues. Since her first sales role at age 18, Tammy has seen her industry grow and develop from a mere handful of women to many in IT sales. A doer by nature, Tammy always finds a way to overcome obstacles. Believing in hard work, she brings a laser-focus to solving customer problems and helping them to meet their goals.

Knowing that being emotional is often viewed as a weakness, while strength and tenacity are perceived as bossy and pushy, Tammy would like to see more women being celebrated and embraced in IT. As women are adept at listening and multi-tasking, she also hopes that more will learn to apply management skills in personal life to the business world.

Tammy works with many exceptional female leaders and knows how important it is to support and encourage one another. She firmly believes that if one is honest, trustworthy, and hardworking, success can be achieved regardless of gender.

Account Executive, Army Team - SOCOM & Army SE, Getac


Beth Nagy
With a first love for pharma sales, Beth stepped into the rugged devices industry after a layoff. Initially dismissing a friend's offer to work with computers as boring, she soon discovered a love for technology and has never looked back. While she's witnessed the commendable growth of women in her field, Beth fully understands the importance of mentoring and forming the right allies, and is a firm believer that women have a responsibility to help one another succeed.

Beth has managed many people during her career, but one woman left a lasting impression; she once gave a second chance to a young woman as she was sure that she would succeed. And today, that same woman is a VP at a small tech company.

To Beth, strength means many things, such as adapting and always getting better, while also encompassing kindness, treating people the way they want to be treated, patience, asking for help when needed, and trusting your instincts. Knowing that women can do very well, and balance career and family, it is Beth's wish to see more women in the C-suite.

Enterprise Regional Sales Manager for Central
Southeast Region, Getac



Roxana Trejo González
Not all superheroes wear capes, some don white coats and masks, just like Roxana, who leads her team of medical professionals at one of Mexico's top private hospital's Epidemiological Surveillance Unit.

Experienced in strategically managing complex cases across diseases like tuberculosis and Ebola, Roxana has spent the last year overseeing the hospital's fight against COVID-19. Previously serving at a public institution, she is now in charge of a team made up mostly female nurses, health workers, and doctors.

An unshakeable woman of true tenacity, Roxana has faced unimaginable challenges in the last year alone. Shortly before the global pandemic crisis, she lost her husband to cancer. But despite her grief and sadness, Roxana found strength and knew she had to step up - both professionally at work, and personally as the only head of her family with three children.

Remembering her husband's encouragement and support for her career, Roxana remained more committed than ever to contributing to public health. In her journey fraught with setbacks and obstacles, she has learned that strength does not mean never breaking, but the ability to bounce back and keep moving in times of crisis. The very epitome of what doesn't kill you makes you stronger, Roxana's life experiences have shaped her into the woman she is today - confident, determined, and someone who knows it's alright to rely on others when needed.

To the next generation of women in her field, Roxana advises that they never let their guard down or stop pursuing their dreams. While she has clearly achieved much recognition for her achievements thus far, Roxana is not one to rest on her laurels. Although she acknowledges that women have made great strides professionally in the medical arena, there has not yet been a female president on the board of the Medical Association.

Aiming to create a legacy for herself, this is a position she has her eyes set on. With her strength and exemplary capabilities, it is no doubt that her goal is well within reach.

M.D. Corporate Manager of Epidemiology, Prevention,
and Infection Control at ABC Medical Centre, LATAM - Mexico


Lindsey Cooksey
From a chance meeting with a Brite sales manager while waitressing, to attending school part-time, to raising her daughter, Lindsey has made impressive progress from sales rep to National Director at the Brite company. She is proof that if you work hard enough, you can accomplish almost anything, from being a good parent, to an outstanding student, to career success. It's no wonder she credits her work ethic for her professional growth.

Since joining Brite, she's met amazing individuals across the country, from partner companies to first responders. And she's greatly heartened by the growing roles of women, in both tech and first responder work.

She's worked with intelligent, tenacious, and compassionate women, and even though women are often said to be held back by men, she doesn't always see it that way. She counts herself lucky to have been encouraged and mentored by many amazing men who have been nothing but invested in her success. These include her father and husband, but also teachers, co-workers, and the owners of Brite. She knows women can change the game, and urges more to make their voices be heard, share ideas, and ask how they can make things better.

The tech industry is exciting and fast-paced, and with many career opportunities available, Lindsey looks forward to more women joining her.

Director, Public Safety Sales, Brite


Lisa Zavitsanos
Lisa's tenacity to everything she dedicates her life to was unwavering during her years of playing NCAA water polo and coaching an all-star team. A mother of one of her water polo players and President/CEO of a successful IT reseller company took notice of her, and the rest is history. Since day-1, Lisa's sales career has always been in support of the US Navy and Marine Corps' C4ISR technology evolution, where she's gone above and beyond to serve their challenging and stringent commands. She derives an immense sense of pride from working with sailors and marines who place their lives on the line for others - everyday.

While it's no secret that the Rugged IT sales industry is heavily male, Lisa is far from deterred. If anything, she's fully committed to developing a strong rapport with every person in the room, fueled by the merits of Getac's products, the company's values, and her team's dedication. She believes that her role is like anyone else's, regardless of gender, and strives to offer her customers the best, helping them accomplish their missions. If there's one thing Lisa would like to share with all young women, it would be not to let stereotypes dictate your career choices. As she aptly puts it: "Men are nurses and women are fighter pilots. Whatever you decide to become, strive to be the best at it.
Federal Sales, Getac


Laura Bell
At the forefront of the dot-com movement, Laura's career in technology began after joining a small software start-up in 1996. This role gave Laura access to other women with strong and diverse backgrounds - some of whom became her first female mentors and were instrumental in helping her strengthen her business skill sets and forge her path.

As a vital part of the HP team, Laura manages a vast portfolio of third-party technology products that allow HP Inc. to address its commercial customers' needs across various segments and verticals. She credits her success in business to her ability to wear more hats than most. That versatility is a valuable asset that Laura believes lies within every woman, and one that she so expertly exercises as she juggles being a full-time mom and working professional, all while confidently using her voice to empower the next generation of talented women within technology.

Today, Laura has become an industry leader in her own right and urges other women entering the industry to work hard and don't expect anyone to hand you anything. Speak up for your efforts and negotiate your pay. She shares, "I once had a woman executive tell me that 100% of the men that she offered a job to negotiate their pay, whereas only 20% of the women did." Feeling grateful to have a job is essential, but it's equally important to speak up for your worth. Not only does she believe that women deserve a seat at the table, Laura believes that every woman is capable of earning one.
Third-Party Business Manager, HP. Inc.
"While women continue to push forward in the STEM fields and slowly becoming a more significant part of the sciences, they still only constitute approximately 30 percent in the field. The biggest hurdle has been stereotyping and educational differences that lead to gender disparity in STEM. It is timely for World Woman Foundation and GETAC partnership to give the women the tools to learn, grow, and lead a resilient future that works for all. We are excited to join forces to invest in women and girls to unleash their full potential and increase representation."
Rupa Dash, CEO, World Woman Foundation
As part of our commitment towards empowering women, Getac is also honored to be a partner of the World Woman Foundation. Getac will be providing rugged devices that support graduates from the WWF Global Mentorship Program. Designed for use in extreme conditions, we are delighted with this opportunity to contribute and improve the lives of these women.