Getac, a leading manufacturer of rugged mobile technology is introducing the X500 Rugged Mobile Server. The powerful new device provides a large amount of secure data storage in the field when access to a secure network is not possible.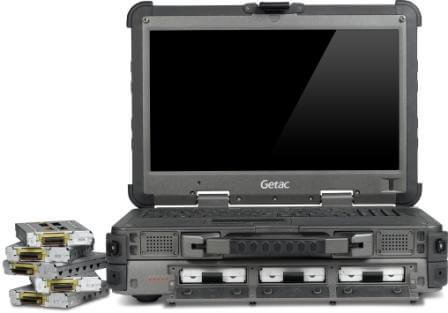 For use in military, utility, or emergency scenarios, the X500 Rugged Mobile Server offers high-speed performance thanks to its Intel Core i7 quad-core processor. Heavy multiple application demands are well catered for with 16GB of RAM.
Sean Kennedy, Head of Technical Services with Helyx SIS Ltd, a Gloucestershire-based consultancy providing strategic services to the defence industry and government departments, says: "Getac's new X500 Rugged Mobile Server is the ideal server solution for those working in tough and challenging conditions. It can provide a desktop or portable server solution and with additional RAID storage it becomes a powerful tool for most field work requirements.
"The device enables Helyx to provide customers with a portable, stand-alone solution that offers web-based geospatial information services for the delivery of vital information – even when field teams are disconnected from internet resource. It will also allow us to develop a virtualised platform with a fully integrated mobile network solution for field-based users, for a fraction of the cost of a rack mounted system," he concludes.
The expansion chassis hold up to five shock protected disk drives, offering up to five terabytes of storage and a cluster of three or four X500 units will equal the power of one heavy rack mount server. In the event of hardware failure a back-up device can automatically wake up to continue operations.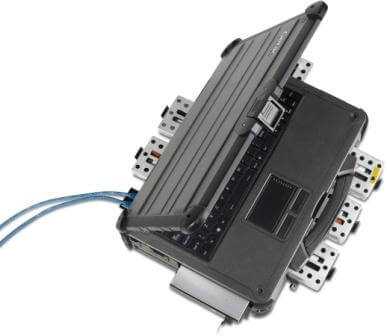 Emergency services teams often operate with multiple crews in the most extreme circumstances and setting up a central command network can be particularly difficult. Until now their only option was to use commercial technology not designed for use in remote or harsh terrain. The X500 Rugged Mobile Server offers fast, effective, data consolidation with seamless connectivity to ensure teams work with optimum efficiency and effectiveness wherever they are needed.
"The X500 Rugged Mobile Server has been designed and manufactured in response to customer demands and offers a solution for those who require a commercial off-the-shelf (COTS), high performance mobile rugged server that can be deployed quickly in the field," says Peter Molyneux, President, Getac UK. "It specifically meets operational requirements and packs an immense amount of storage capability. The device weighs in at just 8.6kg and provides a portable solution for those who need high performance network capabilities with secure data storage to operate in difficult environments," adds Mr Molyneux.
MIL-STD-810G certified and IP65 rated the X500 Rugged Mobile Server offers as standard a large 15.6" QuadraClear sunlight readable display (800nits) with NVIDIA® GeForce® GT330M superior performance and 1GB VGA controller, enhancing screen readability under sunlight and graphic capability in the outdoor environments.
Further details on the full functionality and specification of the formidable new device can be found here
Key features of the X500 Rugged Mobile Server :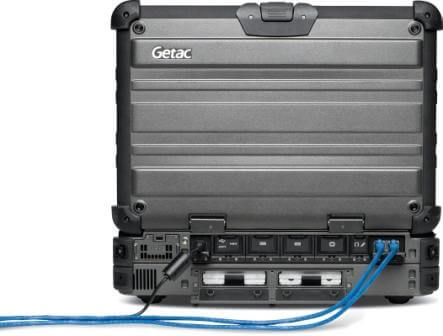 –Windows Server 2012
–Weight: 8.6kg
–Dimension: 410 x 290 x 119mm
–Intel Core i7-820QM 1.73 GHz quad core processor
–16GB RAM
–NVIDIA® GeForce® GT330M discrete VGA with 1GB memory
–15.6 inch 800nits QuadraClear sunlight readable display
–500GB SATA Notebook Storage
–Up to 5TB RAID storage (RAID 0 ,1 or 5 disk management)
–Dual 10/100/1000 base-T Ethernet ports
–Three USB 2.0 ports and one USB/eSATA combo port
–Two serial 9-pin D-sub ports
–802.11 a/b/g/n high power WLAN (up to 1,000 metres)
–Bluetooth (v2.1+EDR class 2)
–Full-sized LED backlit membrane keyboard with integrated numeric pad