Rugged computer designer and manufacturer Getac is today launching its next generation S400 series rugged laptop, the Getac S410 in response to increased customer demand. The laptop has the footprint of a business notebook but with the features of a full-rugged device.
"The S410 builds on our success in the semi rugged notebook space, providing a combination of design, performance and versatility," says Chris Bye, President of Getac in the UK. "The S410 offers the functionality and reliability that our customers can depend upon".
The rugged laptop is resistant to dust and water ingress, three foot drops, plus it has features that support critical working environments such as a hot-swappable battery, a high-visibility touchscreen that works when using gloves or if it's wet, a superior aerial, communications capability and GPS.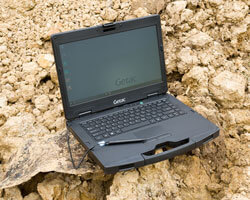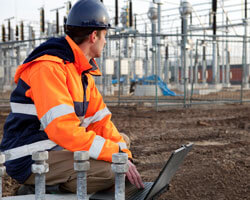 "Mobile technology has become more and more central to companies IT, business operations and digital transformation initiatives," says Nicholas McQuire, Vice President of Enterprise Research at CCS Insight. "However, as enterprises become more dependent on the technology, device requirements such as durability, reliability and high quality are becoming more important than ever in the minds of users and decision makers.
The S410 offers:
Rugged design: IP51 rating for dust and rain and the S410 is also MIL-STD 810G certified; it has a wide operating range for both hot and cold climates; incorporating the S410 uses Getac's newest proprietary composite materials; the S410 has a splash-proof keyboard; rugged I/O door; flexible and durable handle and rubber bumper and footpad, with ventilation provided by the footpad, for example, from the bottom of the unit.
High performance: the S410 integrates Intel's 14nm Skylake U-Series CPUs which offers, for example, a CPU performance boost. The S410 is also developed with Intel's latest Dual Band Wireless-AC 8260, improved RF coexistence and complete Windows 10 support for faster and more reliable data speeds. Finally, the laptop has enough battery to support a full day's shift.
Indoor and outdoor solution: weighing in at 2.2Kg and 34.9mm wide the S410 has a hot swappable battery with a light indicator to flag to users if there's enough power left for the main battery to be switched; LumiBond 2.0 which offers for example, Touch, Glove and Pen modes. For indoor usage, the S410 offers, for example, high accuracy GPS, optional RF Triple Pass-through; vehicle dock and vibration resistance.
Versatility: the laptop offers a wide range of I/O options including a docking connector slot, USB 3.0 connectivity and expansion bay for example, for PCMCIA. The laptop also offers multi-factor authentication as well as capacitive fingerprint touch technology. There's also the option for expandable storage e.g. up to 1TB.
Accessories include vehicle and office docking units; a battery charger and vehicle as well as AC Adapter. Also, as with all Getac equipment, the S410 can be up specified and customised to suit a vast array of sector-specific demands. For more information on the S410, visit here.