Getac, a leading innovator and manufacturer of rugged computing devices, has launched two new mobile devices that combine state-of-the-art performance with fully rugged design.
The new F110 tablet and V110 convertible notebook tablet both offer 11.6″ high-definition screens, the latest Intel® 4th generation Haswell processing technology and LTE compatibility. Additional market-leading features include Getac's new 3D aerial technology, dedicated SiRFstarIV™ GPS and dual hot-swap battery (providing 8-10 hours' operating time). The F110 includes optional Barcode reader (1D/2D) and RFID technology.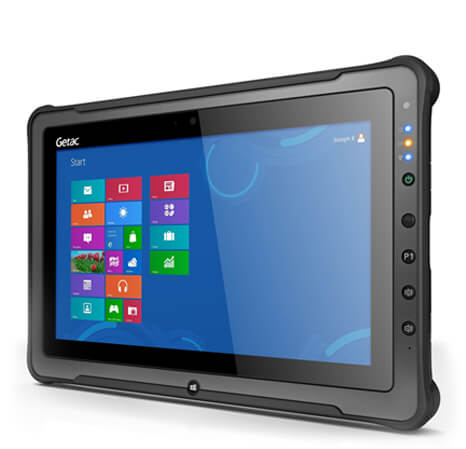 Peter Molyneux, President Getac UK, says the new devices demonstrate Getac's world-class design, engineering and manufacturing capabilities – signifying a new era in rugged computing.
"These devices have been created to meet market demands for lighter, thinner and more powerful rugged tablet and laptop technology. Using the latest materials and our manufacturing expertise, the fully integrated F110 with dual battery capability boasts a weight of just 1.39kg and a thickness of only 23mm.
"The V110 is one of the world's thinnest and lightest devices of its type in the world. We have reduced the thickness by 30% and the weight by 15% compared to the industry standard. This is a remarkable achievement and gives the customer the viable choice of a powerful, fully rugged tablet with a keyboard.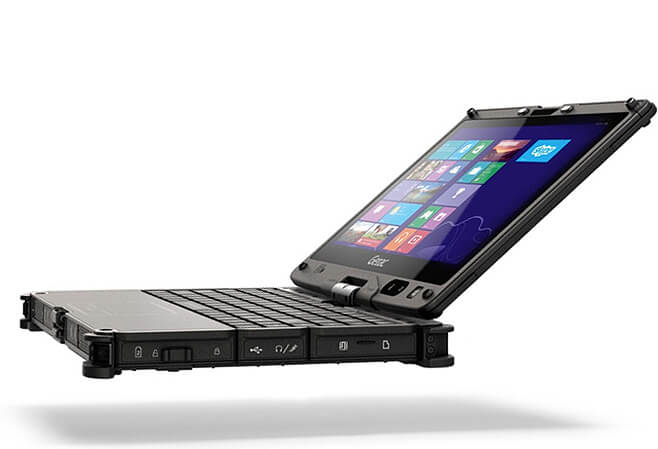 "Rugged technology has advanced considerably with tablets changing the way our customers do business. Users need the performance, look and interface of a consumer device but with a rugged specification. These new devices offer the performance and connectivity enabling users to complete their work efficiently and accurately."
Further details on functionality and specification for each device can be found as follows:
Getac V110: V110
Key features: V110 Convertible Notebook Tablet
• Intel® Haswell 4th Generation processor – Intel® Core™ i5-4300U (1.9Ghz) or
i7-4600U (2.1Ghz) with Turbo Boost
• Windows 7 or Windows 8 OS
• Notebook size: 29.9cm x 22.3cm x 3.4cm; 11.6 inch screen
• Weight: 1.98kg
• Multi-touch display
• Intel HD 4400 graphics
• SSD (3 times faster than HDD)
• SiRFstarIV™ GPS (average accuracy between 1.5m to 2.5m)
• Fully Rugged, MIL-STD 810G IP65, ANSI certified
• Ultrafast Wifi Connection: 802.11 ac
• Battery life: 8-10 hours, dual battery design, hot swappable
• Strong Connectivity, in-house patented 3D antenna design
• Full size keyboard
• Tri RF pass-through (WWAN & WLAN & GPS)
Key features: F110 Tablet
• Intel® Haswell 4th Generation processor – Intel® Core™ i5-4300U (1.9Ghz) or
i7-4600U (2.1Ghz) with Turbo Boost
• Windows 7 or Windows 8 OS
• Tablet size: 31.4cm x 20.7cm x 2.30 cm; 11.6 inch screen
• Weight: 1.3kg
• Multi-touch display
• Intel HD 4400 graphics
• SSD
• SiRFstarIV™ GPS
• Fully Rugged, MIL-STD 810G, IP65, ANSI certified
• Ultrafast Wifi Connection: 802.11 ac
• Strong Connectivity, in-house patented 3D antenna design
• Expandability: Optional barcode reader/RS232/Mini SD card/RJ45/USB2.0
• Battery life: 8-10 hours, dual battery design, hot swappable
• Tri RF pass-through (WWAN & WLAN& GPS)