Paris, 14th May 2018 – Getac, a leading manufacturer of rugged computers, will attend Eurosatory, the world's largest international Land and Airland Defence and Security tradeshow. This flagship event gathers 1,571 exhibitors from 57 countries. Olivier Roques, Pre-Sales & Project Manager at Getac, will lead a conference on the use of rugged IT in the Defence sector. With its range of portable systems dedicated to the Defence sector, Getac has revolutionised field mobility thanks to its new concept of ruggedized products.
For nearly 30 years, Getac has been a world-leading manufacturer of NoteBooks, Tablets and ruggedized solutions enabling the use of information systems and tactical management in the field.
Getac masters the design of its products meets the most stringent criteria for use (screen readability in full sun, optimum processor power, reduced heat dissipation, long battery life, etc.). The company has extensive knowledge of the constraints associated with difficult military operating environments. Rugged GETAC products are covered by a 3 to 7 year accidental breakage and damage warranty, which includes removal and return to site.
During the Eurosatory tradeshow, the Getac team will present several of these hardened tablet models and solutions.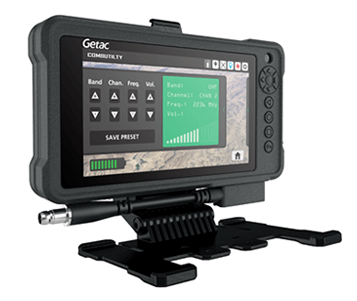 MX50
The MX50 is a 5.7 inch tablet that offers a consumer device-like experience but packs in more power, robustness, security and functionality.
The MX50 is powered by the latest Intel mobile system on chip (SOC) processor giving, defence personnel high processing speeds and low power consumption so they can quickly view, manipulate and send/receive data, access battlefield applications, disseminate blue and red forces tracking, fire control orders, and mission command information. The device has undergone rigorous testing and is certified to Military Standards 810G and 461G, meets the current, legacy and future GSA standards
The 5.7" IPS display gives a wide viewing area and includes Getac's signature LumiBond® screen technology for readability in sunlight, and brightness of up to 480 nits. Multi-touch mean dismounted soldiers can use glove, touch or and pen modes even in the rain. Rubber directional input buttons on the screen ensure the device can continue to be used even if the screen breaks.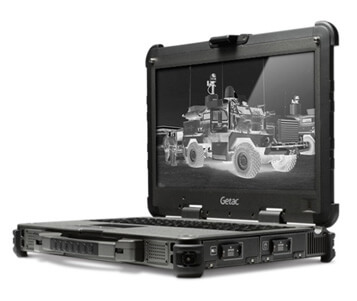 X500
The fully rugged 15-inch X500 is Getac's most powerful notebook available today with the latest high performance processors, wifi and connectivity capabilities. It allows deployed soldiers to rapidly access and process high density data such as 3D graphical mapping of an operational location or terrain for situational awareness, while keeping them agile in extreme environments.Getac's X500 mobile server, a portable device that resembles a rugged briefcase, can store up to 6TB of data. It meets the intensive data and mobile cloud storage needs of temporarily deployed, rapid early entry and emergency response teams. It can be used to capture analytical and mission data from dismounted troops, ground or air platforms using X500 notebooks or other mobile data devices. Teams can also use the device to analyze platform, mission and engine data to ensure operational sustainability in high demand environments.
To attend Getac's conference:
Thursday 14 th June at 10.30AM
Please contact the PR Agency
About Getac
Getac Technology Corporation, a key subsidiary of MiTAC-Synnex Business Group (2017 consolidated revenue $34.07 billion USD), was established in 1989 as a joint venture with GE Aerospace to supply defence electronic products. Getac's business coverage includes rugged notebooks, rugged tablet PCs, and rugged handheld devices for military, law enforcement, government, communications, manufacturing, and transportation applications ranging from fully rugged to commercial-grade rugged. Getac's strong R&D capabilities allow it to provide a high level of bespoke engineering and all-aspect hardware-software integration solutions. For additional information visit: Getac
Contact presse Open2Europe
Barbara Coumaros
01 55 02 15 03